Browsing articles in "The Blog"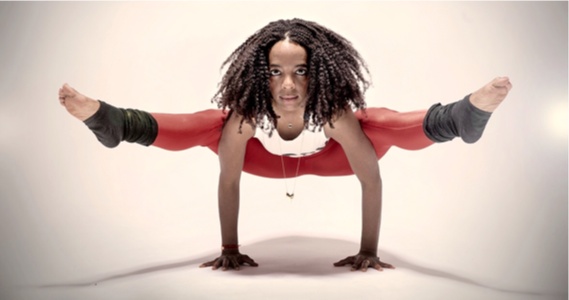 Yoga District (YD) is proud to showcase its wide variety of teachers in periodic "Teacher Features" – Q&A's with the instructors on our blog. Today's Teacher Feature highlights a thoughtful, compassionate instructor, Klydie.
Klydie's class was recently praised in the DC online news source The Hill is Home. She provides insights about her students like: "It takes a deep sense of compassion for self as well as some good ol' courage for a student to speak for themselves if they aren't comfortable. This is empowerment in its rawest, most immediate form, yet so many feel they should stay quiet and not upset things even if they are screaming on the inside."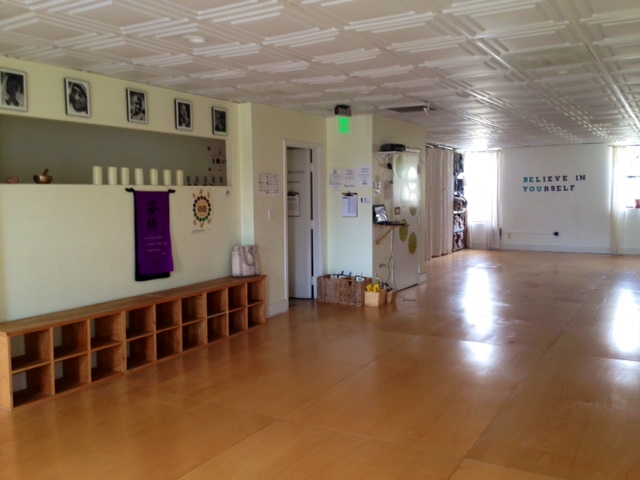 We love it when people reach out to learn more about Yoga District (YD) — especially when they share what they learn with others. DC blogger Lauren Walens recently got in touch with YD to interview our founder, Jasmine Chehrazi, and get the inside scoop on our H-Street studio, which she featured on the online news source, The Hill is Home.
We're sharing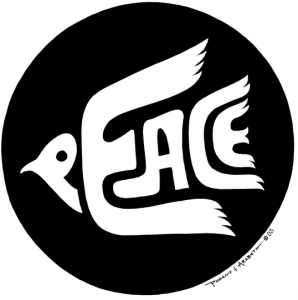 videos of one-minute meditations dedicated to various causes we believe in. You can practice with us in any of the posted one-minute meditation videos and please do contribute your own video of yourself meditating for a cause–we will happily post if you send it to us at oneminuteforacause@yogadistrict.com.
We're not doing anything new–dedicating one's practice to a cause, being, or intention is an age-old traditional practice. It's a misunderstanding of the teachings when folks align yoga and meditation with being passive.
With wars, environmental destruction, human rights abuses and more, we all struggle with how to act and avoid passivity in these scary times. How can individuals meaningfully respond and live in this world when we often feel powerless to change it? Yoga's teachings have a great answer:
No offense intended, but when the Tea Party arrived on the DC scene something cracked in me. I asked one of my teachers, Ram Das, how I could love and find peace with the Tea Party despite disagreeing with them so deeply. Without pause, Ram Das said something like, "You'll never find peace like that on the outside. Go inside and find peace, then you'll become an instrument of peace." And so it clicked.
Hopefully and with practice, as we go inside during our meditations we can find peace and align ourselves with it so deeply that when we open our eyes we can't help but act according to that peace.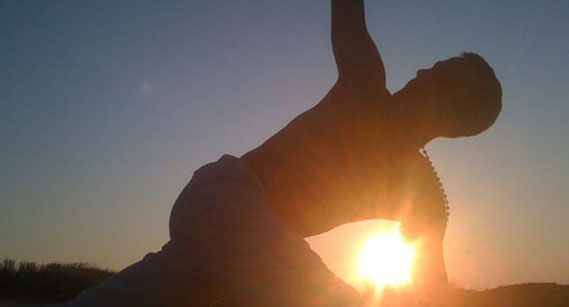 Check out this blog post by Yoga District teacher Mike Hazzard on how yoga is teaching him to let go.
If yoga is "99% practice and 1% theory," my yoga 1% is on the mat and my 99% interacting with others at home, work, in traffic, etc.
Progress "on the mat" for me comes through letting go, rather than through control. When I can let go, I can breathe, allowing my body to settle into a posture — my variation today. When I slip in to control, my breath gets erratic and my body clenches. Here, injuries happen; progress reverses. When I can get out of my own way and let things evolve, I almost always get a better result on and off the mat.
On November 23, I'll be leading a "Yoga for Letting Go" workshop. We'll do some asana with the intention of letting go of compulsions and habits, rather than trying to "control" them. Hopefully students will come away with ideas for setting intentions on the mat, and strategies for learning to let go of the things that block us from being ourselves and having the best possible relationships with others.
Goals are helpful, and through practice, goals may evolve or come to fruition over time. We make no demands, however. "All is coming" through practice. How it comes will be revealed over time.
Lots of om to you. I hope to see you November 23, or otherwise around town. Be receptive to the grace within you, and be kind; everyone you meet is going through a difficult struggle.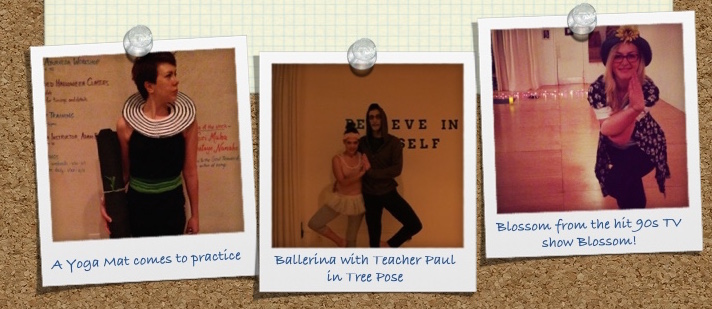 Halloween flair isn't just for parties; it's also for yoga!
On Friday night our 14th St., H St., and Bloomy studios hosted costume-friendly all levels extended classes. Students showed up wearing all kinds of fun costumes and those with the most lovely Halloween flair won a free five class pass. We're grateful to everyone who attended and made the practice a memorable one. If you missed last week's fun, no worries at all — just start thinking about your costume for next year! Check out the fun!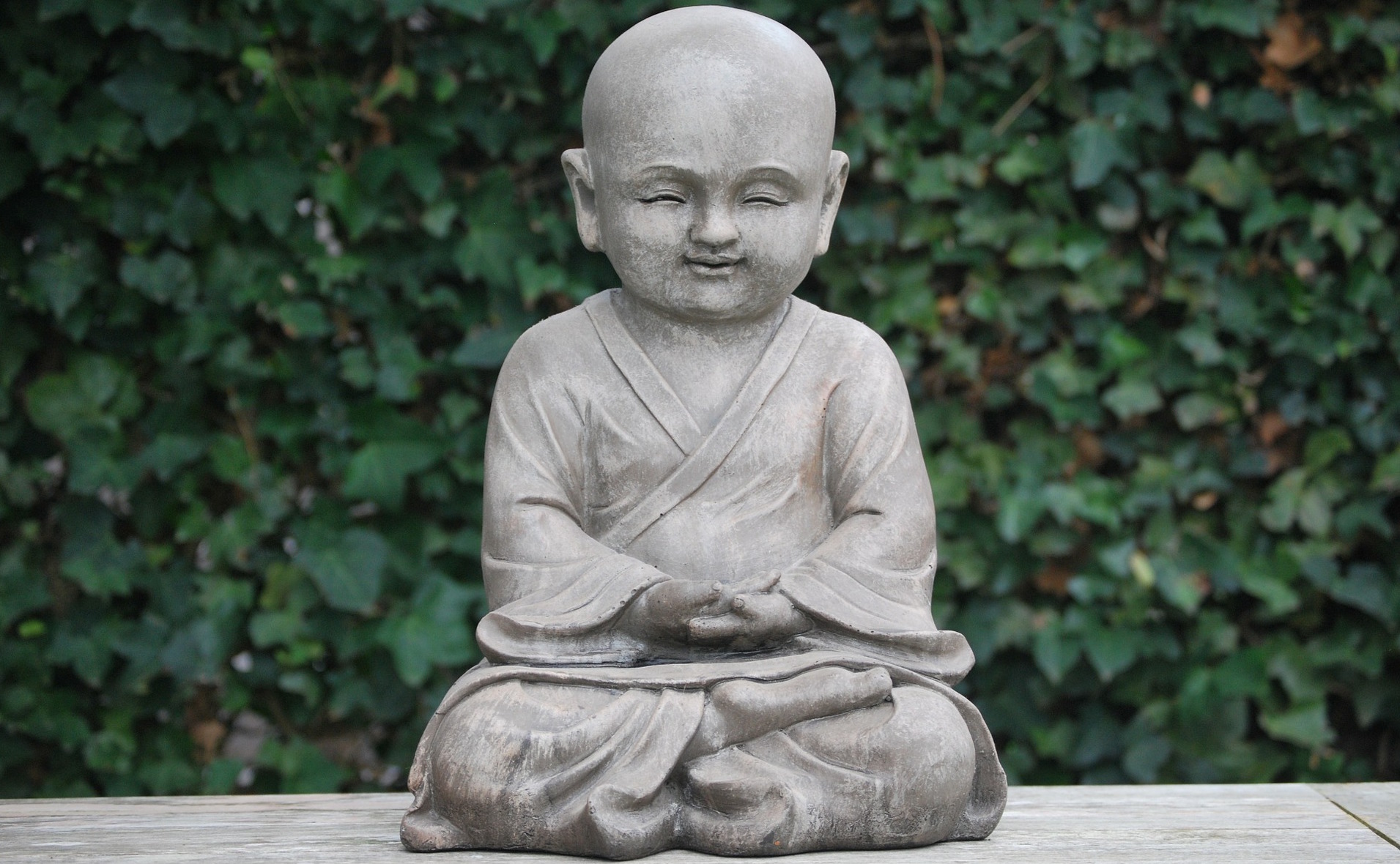 Check out this blog post by Yoga District student Dan Carter on his journey turning away from bars, returning to yoga.
The alarm screeches at 5 a.m. I can't move. My head, my body, everything is sore. It's only Tuesday and I know I have countless days and nights of commuting, working and writing papers ahead. There's seems to be only one solution: drink… A LOT.
That was 2.5 years ago. I had made the sage decision to take on my first full-time job a month before graduating college, which meant commuting hundreds of miles in addition to my pre-existing job and school. There was a finish line to this marathon, but it was long enough to build a habit. That was a daily routine of unhealthy eating, heavy drinking and zero exercise. "The 'gym' is my stress release," began to sounds a whole lot more like 'gin'.
After graduation, I moved to DC so my commute disappeared, but my bad behavior didn't. Being in the city just meant more people who wanted to go to bars. I was getting more sleep and leisure time, but feeling just as sluggish every morning.
Thank god for swimsuit season.
That summer my friend posted a picture of me in my bathing suit on Facebook. I couldn't believe how I looked. No amount of 'sucking it in" could hide my belly. That's when it clicked: I looked and felt worse than ever before. I needed a change.
I tried going to the gym, but found myself unhappy there. My waistline began to shrink, slowly, but I had no passion. The gym felt lonely and unwelcoming. I decided to return to yoga.
In high school I practiced yoga, but only as frequently as my part-time salary could afford. I didn't remember much about how the practice made me look, but I remembered how I felt.
I did some research and settled on Yoga District.
The next few months of my life were transformative. I found myself wanting to wake up at the crack of dawn to practice, I made friends who took me on runs instead of to bars, and I began worrying less about the stress of work. I felt good again.
By the time swimsuit season rolled around I took a look in the mirror and my lips curled into a smile. My belly was gone, well almost…But more importantly, I was happy with my body (Who says that these days?!). I was no swimsuit model, but I was proud of those hours in the studio and their effect on my body. But more importantly, I felt great in my body.
My life continues to change at a startling rate, but one thing has remained constant since that summer: I've felt good. And when you feel good all the time, even a bit of a Buddha belly is nothing to worry about.
Photo by Ben Kerckx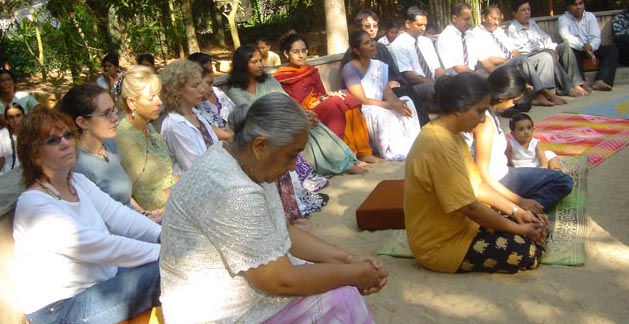 Yoga District offers by-donation meditation classes weekly because meditation has so many benefits including improved concentration, emotional regulation, stress reduction… and now research indicates we can add youthfulness to the list.
Nobel laureate and UCSF biochemist Elizabeth Blackburn conducted experiments on how meditation may slow the process of aging. Her research proved that telomeres (the "cap" found on the ends of human chromosomes protecting our chromosomes from deterioration as we age) shorten dramatically if we have high levels of stress. Yet Blackburn found that with meditation, telomeres lengthened. These results suggest that meditating on a regular basis can combat stress and promote a more youthful life. So in case you needed yet another reason to join us for a meditation class at 14th Street, Dupont, Glover Park, H St.,or I St., you've got it.
Photo Credit: Early Morning Meditation by Sarvodaya Shramadana from Colombo, Sri Lanka (Flickr) [CC-BY-2.0 (http://creativecommons.org/licenses/by/2.0)], via Wikimedia Commons

For years, Yoga District has been keeping the studios eco-friendly out of concern for student and staff health as well as environmental love and respect. Check out some of the ways we've been keeping it green.
Wind Power and Energy Conservation
By partnering with Viridian Green, Yoga District studios (except for one location in which the landlord controls the utilities) are powered by renewable energy including wind power. The student community at Yoga District is also graciously tolerant of our efforts to reduce cooling energy expenditures by opening a window and turning on fans until the DC heat compels us to turn on the AC. In cooler seasons, we try to avoid overheating the studios, relying on vigorous warm-ups to get students sweating (exceptions of course being a few hot yoga classes on our class schedule).
Green Products
From toilet paper to handsoap, the products you use when you visit Yoga District studios are as eco-friendly as can be. This isn't lip service though– we aren't fooled by manufacturers using slick packaging to pretend their products are green ("greenwashed" products). Instead, we've done our research to ensure the products we use are truly green, cost friendly and effective. For instance, the manufacturer of the dish soap we use (Earth Friendly Ultra Liquid Dish-mate) ensures that no carcinogenic 1, 4 Dioxane is left behind in the production process, which is incredibly common in production of regular dish soaps (read more scary stuff about regular dish soap here). If the first ethical guideline in yoga is non-violence / active love (ahimsa) then the least we can do is use dish soap that won't cause cancer! Another favorite eco product around the studios is biodegradable garbage bags made from recycled content at a facility with 100% green energy.
Keeping It Clean
With many regular household floor and surface cleaners being rather poisonous we consider it part of our duty to keep Yoga District studios clean using non-toxic options. Thankfully we're not sacrificing any cleaning power by using natural alternatives to commercial cleaning products– anyone who has taken whiff of our rental mats cleaned with a vinegar cleaning solution knows that this is powerful stuff! It's true that if someone adds a bit too much vinegar to the solution, your mat might smell like a pickle, but as long as the recipe is followed, the refreshing smell of tea tree oil helps to calm the vinegar's bite. In case you want to make the vinegar and tea tree all-purpose cleaning solution for use in your home or on your mat, here's the recipe Yoga District relies on:
– 3 tbsp eco-friendly dish soap
– 9 cups of water
– 3 cups of vinegar
– 3 Drops of 100% pure tea tree oil
Make sure you add the soap to the water first and then that mixture to the vinegar–otherwise it may curdle. This powerful and non-harming mixture is said to combat "gram-negative" bacteria and denature the proteins in viruses. It also wipes out soap residue, mineral deposits and it's safe to use on wood and carpets–pretty handy.
If you don't already use tea tree oil at home, you might want to try it out. It's known as a natural antiseptic and anti-fungal treatment with antibiotic properties and infection-reducing benefits. The oil is created by heating and pressing the leaves of the narrow-leaved paperbark tree. Some of its uses include:
– Skin clearing and spot checking
Some organic cotton swabs and a few drops of tea tree oil on acne spots or blemishes can result in clearer skin for the long-term. The disinfecting and soothing properties can fight bacteria in your pores without disrupting the normal ph balance on your skin or irritating your sebaceous glands.
– Moisturizing hair follicles and combating dandruff
The moisturizing properties of tea tree oil can soothe dry hair and split ends and it can also help with dry itchy scalps that cause dandruff and flaky skin. It can also be applied to razor burn.
– Yoga mat sanitizer
Tea tree oil happens to be the ultimate yoga mat cleaning tool. Make sure you're diluting your solution with water or vinegar like we suggest in the recipe above. Just spray your mat and wipe it down – it's easy, doesn't leave a residue, and it smells amazing. There's no reason to smell toxic chemical cleaners in down dog ever again.
Recycling
Every Yoga District studio has large recycling bins and we try to ensure what ends up in those bins meets Washington DC's recycling guidelines.
Collaborating
As a founding member of the Green Yoga Association, Yoga District tries to work with others to find ways to integrate yoga studio practices and eco-friendly practices. We feel being eco-friendly, supporting eco-friendly products and informing our students about steps they can take to be more eco-conscious are essential to the ethical precepts in yoga philosophy.
If you have any other eco-friendly practices and products, please share them with us so we can spread the word. Namaste and stay green.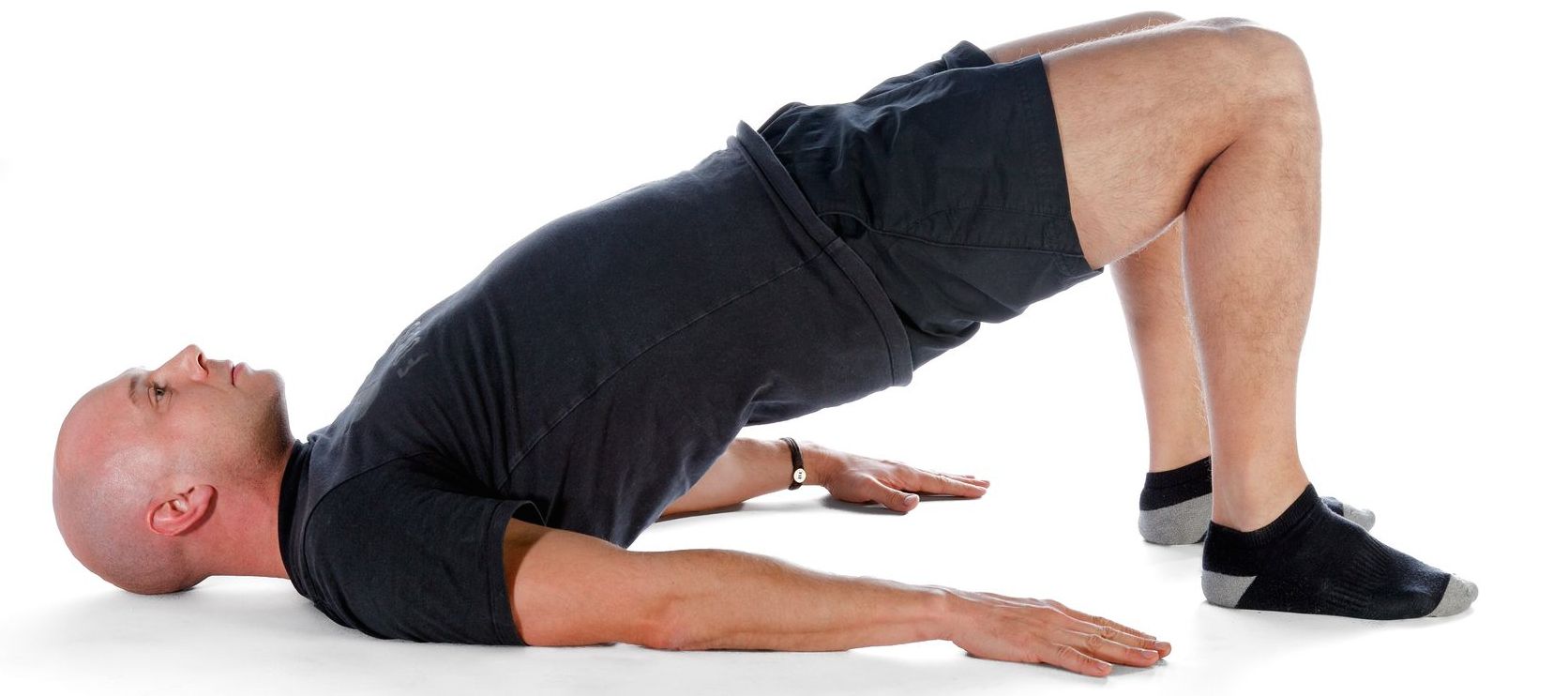 Keeping the Yoga Community Healthy
The yoga studios are a cozy refuge from this season's the tornado warnings, rain and cold… but they are only a refuge from seasonal colds and the flu if we work together as a community to keep the spaces healthy. Yoga District takes every precaution to minimize transmission of germs to keep students, teachers and volunteers happy and healthy. Every day we are wiping down door knobs, pens, and mats with a vinegar and tea tree oil solution that acts as a non-toxic, natural disinfectant (to learn how to make the same solution at home, check out our blog post about our eco-cleaning practices).
We also ask that anyone feeling under the weather practice at home rather than risk infecting fellow yogis. To jumpstart your home practice when you're not feeling well enough for a visit to the studio, we've put together a couple of immune-boosting practices you can try on your own… including a full length yoga nidra (yogic sleep) meditation recording by Jasmine.
But first, try bridge pose (pictured above). This pose is said to massage the thyroid glands, kidney and adrenals as well as help with lymphatic circulation. It can also open the chest to promote fuller breathing. The slight inversion this pose offers also can help promote circulation to the sinuses to improve circulation and clearing. For bridge, follow these steps and be sure to adjust the pose to ensure it is safe for you:
1. Lie down on your back
2. Press your arms into the floor alongside you with your palms facing down.
3. Bend your knees to firmly plant your feet hip-width apart on the floor near, but not touching, your fingertips.
4. Press into your feet and arms as you gently lift your hips into the air, ensuring your heels are either directly beneath your knees or further towards the top of your mat.
5. Roll your shoulder blades towards each other.
6. Take deep breaths, allowing the chest to expand.
7. Exhale as you lower back to the ground.
After you've tried out bridge a few times, check out this yoga nidra recording. Yoga nidra is a practice of deep relaxation and sense control/withdrawal. Dharma Mittra often says that "relaxation is the best antidote for impurities" so try to relax and rest deeply as you tune into this yoga nidra recording.


First Impressions from a Yoga First-Timer
Brand new yoga students often feel anxiety about coming to a studio yoga class for the first time: being able to keep up, what to wear, whether they'll be the only one who wobbles in balances. Read on to see how one student was welcomed to her first class and how the experience has impacted her since.
Yoga District strives to make our studios a welcoming place, where students of all ages, races, shapes, sizes, genders, and creeds can come to practice together. With a variety of styles and lots of diverse teachers, we hope everyone can find a class they're comfortable in and that they can come to call Yoga District their studio.
Yoga District Presents: Instructor Klydie

Yoga District (YD) is proud to showcase its wide variety of teachers in periodic "Teacher Features" – Q&A's with the instructors on our blog. Today's Teacher Feature highlights a thoughtful, […]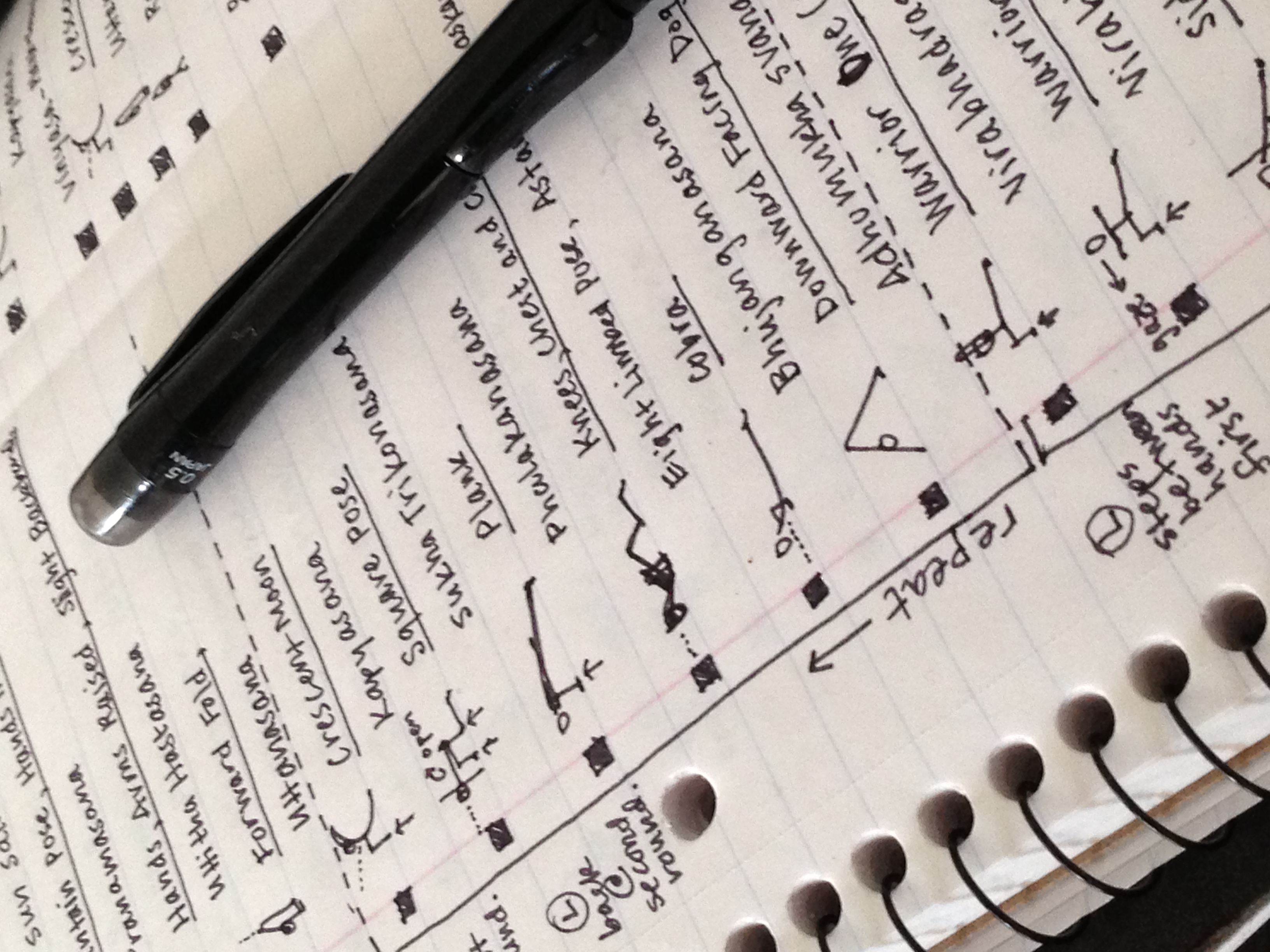 The Yoga District 200 and 500 hour teacher training certification programs, registered by the Yoga Alliance
are unique in their emphasis on diversity of teaching styles studied, personal attention, and trauma sensitive yoga. It's no coincidence that Yoga District is regularly voted the leading studio in the nation's capital, and that most of its classes are taught by graduates of its training program. As a full time yoga school, small group trainings are led up to eight times a year by a dedicated faculty including
Jasmine Chehrazi
, contributor to the Harvard Karma Yoga Project teacher training, teacher training faculty at George Washington University, Yoga Alliance Standards Committee Advisory Board Member, Yoga Activist Founder, and Yoga Service Council Advisory Board Member. So take your practice and community involvement to the next level by joining a training. There's a reason why our graduates call the training "transformative."
Check out the yoga teacher training »