Browsing articles in "The Blog"

Wear gratitude like a cloak and it will feed every corner of your life. ~Rumi
Don't grieve. Anything you lose comes round in another form. ~Rumi
There's a complicated relationship between grief and gratitude. They can destroy each other. Gratitude can be just as much about having as not having.
Kelly, a student who came to YD's philosophy class on Sunday, has the kind of eyes that are inspired, smiling in the corners– the kind of eyes that remind you everything is going to be all right. Kelly described how she spent two hours on top of Old Rag Mountain the other day, freezing, until everything just disappeared.
Courageously, Kelly just quit her job. She didn't want to define herself by her job title anymore. That's a pretty bold move, especially in what some say is a workaholic city, famous for residents asking, "What do you do?" before they ask for your name.
Jen, sitting to Kelly's left, is going home for the holidays. She explained there was a loss in her family, so things would be different and difficult this year. I mentioned I facilitate yoga for grief workshops, exploring how pain and loss manifest in the body.
In the grief workshops, we examine how we breathe, hold our muscles, and experience our skin. We explore postural grief—how we use our brows, gaze, chest and shoulders to help us physically and energetically move inward to find our foundation of self. As we release these physical manifestations of grief, we have greater capacity to develop healthier grieving methods, bringing honor to what/who we perceive as lost.
Jen and Kelly are in totally different situations, but the issue is the same. When someone or something essential to our sense of self is lost, how do we re-define ourselves?
If our sense of self is reliant on too many external factors, e.g. a job, reputation, loved ones, bank account balance, body image, car, home, etc., our dependence on these external factors leaves us vulnerable to the never-ending, maddening cycle of fulfillment and loss relating to those external factors. Perhaps Jen and Kelly are finding ways to re-define themselves, with a little less reliance on the outside world, and more of a sense of the inner self.
This inner self is the still spot within us, around which our experience revolves. It's our center. It's who we are before we're born and after we pass, and every moment in between. It's the "you" that doesn't have a name. Some say it is awareness itself. Our inner self is what we can tap into when we're letting everything disappear in warrior one, savasana, meditation, or on top of Old Rag Mountain …
Do our daily situations deserve the drama we allow them? When we rest in our own true nature, whether we're in a natural position like a yoga pose, in a natural setting, or anything else that helps us tune into our individual place within a larger natural order, we often experience the clarity we need to know and value ourselves. So the drama falls away. Like Kelly said, it all just disappears… so there is more space for you to just be. That's part of why Yoga District came about- so we can re-learn how to just be and befriend our deepest sense of self.
When we're looking at all the things we have to be grateful for this year, let's look back at what we've lost and let go of. How did these losses give us an opportunity to tap into our deeper selves? What else can we let go of? Can we overcome the "cult of busy," the excitement of self-importance, and just be grateful for our raw selves?
I'm committed to letting go of the holiday drama. I'm going to forget about measuring up in my family's eyes. I'm losing my sense of pride as I ask for forgiveness. I'm losing my sense of judgment as I forgive others. I'm trying to let go of it all until everything disappears (in a good way).
May our yoga practices remind us how special we each are, just the way we are. From that place of self knowledge and self acceptance may we have the spaciousness and love we need to make radical change so that we can fearlessly live according to our highest values and deepest self.
My highest value is being of service to you. Thanks for the opportunity and here's to many more!
From Jasmine Chehrazi, edited by Cory B.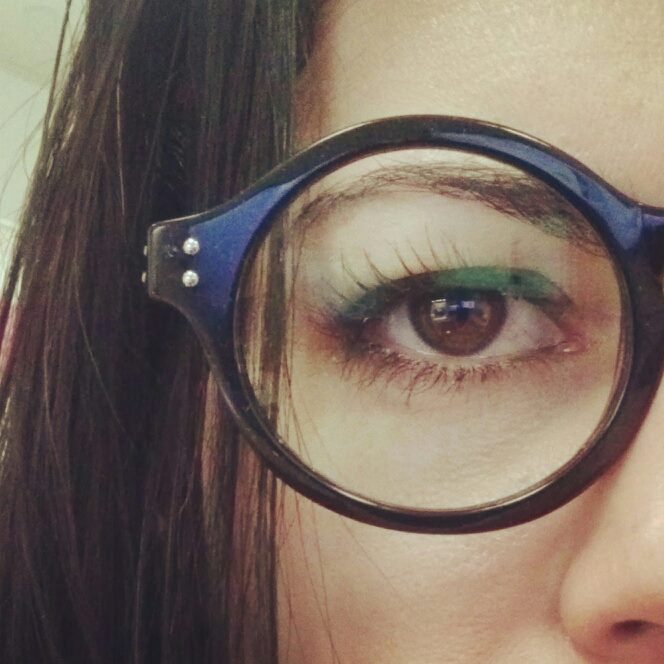 Dear Yoga District,
My relationship to yoga is constantly evolving. It shifts and offers me different things in different times of my life, as I'm sure it does for all of you, too. Recently my practice has been deeply empowering and clarifying and strengthened some of my beliefs, and I'd like to share some of my observations and thoughts.
Yoga teaches us to not get caught up in our mind, to try and let moments of frustration and anger go and to rise above in pursuit of our highest-self. That said, I don't believe that these teachings tell us to remain quiet or to let go at the expense of losing our voice, our courage, our strength, our individuality. In this regard, Audre Lorde is my guru: "When I dare to be powerful, to use my strength in the service of my vision, then it becomes less and less important whether I am afraid."
Yoga gives us the tools to access and to nourish our big, bright, shining light. And as I interpret these teachings in my own life, I realize that using my voice is one way to nourish that light.
So I write to you all today because I want to talk about being a woman and being a yogi – my observations and my experiences. I'm so glad that we set-out to create a warm, inviting and accessible environment for our students, but even in a yoga studio, there are still deep-rooted ideas about women + gender that play out in ways that we may not even be aware of. The majority of our students are women and I think it's important to have awareness around what that means for us as teachers and community members.
There have been times in my life when I have felt strong, and times where I've been lost. Yoga has been a place for me to navigate the whole spectrum of experience and emotion, and accessing the yoga within has brought me grounding, love, connection, positive vulnerability, openness, courage, and clarity. The practice is magic! It's absolutely, positively the best thing that has ever happened for me. But, yoga studios and communities are made up of humans on different paths, with different beliefs and different challenges and I would be lying if I said that I had never been disrespected as a woman in yoga community. And it doesn't feel nice to be disrespected- plain and simple. I've also had experiences where, as a woman, I felt scared to use my voice and to speak the truth within a yoga community out of fear of creating tension, though I see now that tension actually builds when you don't speak the truth. The commercialization of yoga hasn't helped – open the pages of any yoga magazine and you will most likely find a half-naked model in a sexualized asana. The photography always highlights her body, not her voice or her spirit.
As teachers and community members, we simply point to yoga's magic and create space for students to access all of the things they already have: strength, beauty, clarity, courage and love. We aren't the magic, we just point to it and it's harder to point to the magic if we are holding on to deep-rooted and limiting beliefs (about women, sexuality, gender, race- or anything!). We have to confront those deep-rooted beliefs so that we don't make others feel disrespected in a place where they have come to feel strong, beautiful, courageous and calm. We all have them. It's hard to admit and it's hard to confront them- but doing so is another way to nourish our light.
The same goes for our interactions with one another. Be respectful. Be kind. Empower each other. Encourage. Love. Complement strength, not the color or fit of yoga pants. And most importantly, speak the truth and don't shy away from using your voice in the service of your vision.
Rock on yogis,
Cara
By Bree Barton
"I have learned silence from the talkative, toleration from the intolerant, and kindness from the unkind." ~Khalil Gibran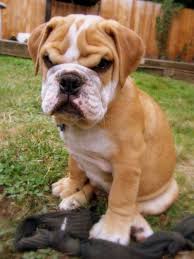 I recently traveled to Malaysia for a friend's wedding where I spent four delicious days communing with wild monkeys and feasting on sticky rice. The people were kind and warm, the culture rich, the trip magical.
On my last day in Kuala Lumpur, I was headed out to buy souvenirs for family and friends when I stumbled across the most beautiful temple—filled with ornate gold and red statues, air thick with sweet-smelling smoke.
I wandered around, overcome with majesty, trying to breathe it all in. I was still under the temple's spell when someone spoke to me.
"Your dress is ugly."
I looked to my right where the voice had come from. A woman was sitting on a bench, not looking in my direction.
"Sorry?"  I said, thinking I must have misheard. She waved me off.
I stood there for a moment, trying to decide on a course of action. She was American, the first and only other American I'd met during my trip.
Had she really just said my dress was ugly? It was a simple blue affair, uncomplicated and perfect for traveling. Maybe she said my dress was pretty, I thought. I must have misunderstood.
The hurt and confusion was rising to a crescendo in my head. But if I've learned anything over the last few years, it's that we all have a choice of how we choose to respond to what we are given. I chose to engage.
"Did you just say my dress is ugly?" I asked.
"Yeah," she said. "I did."
I took a deep breath and replied, calmly, "Why would you say that to me?"
"I'm entitled to my opinion," she said. "Your dress is ugly; I can tell it's not well made. Your purse is dirty. I am free to voice my thoughts and those are my thoughts about you." 
To say it felt like getting slapped in the face would be an understatement; it was more of a punch to the gut. My blood boiled, my heart raced, and still I kept my voice at an even keel.
"You are entitled to your own opinion," I said. "But we also live in congress with other human beings. Why would you say something so aggressive and unkind?"
At which point she reiterated her insults. Her words sliced coolly into the way I looked and the clothes I wore. That's when I said the one thing I regret saying.
"I wish there were fewer Americans like you traveling abroad," I told her. "You give the rest of us a bad name."
I turned and walked away, and she yelled one more barb at my back as I walked out of the temple. I didn't turn around.
My hands were shaking as I walked down the street. I felt a strange knot of emotions in my chest: hurt, anger, fear.
I was irrationally terrified that I would run into her again, that she would be sitting in the seat next to me on my flight home and I would be subjected to seventeen hours of her cruelty, unable to escape.
But most of all I felt baffled. Why did this woman choose to attack me? Why had she said what she said?
I couldn't call my boyfriend, who was back in our sunny home in California, or my best friend in DC—both of whom were sound asleep halfway across the world. So I was left to process what had happened on my own, in a foreign country, without my normal triumvirate of "healthy coping mechanisms": yoga, conversation, tea.
And here's what it all came down to: kindness.
I had just read the wonderful convocation address given by George Saunders to the Syracuse class of 2013. George talks about something he calls a "failure of kindness," and those three words were very much on my mind.
Yes, you could say I had suffered from a failure of kindness. But what I realized was that I, too, had been unkind.
I wish I hadn't said what I said to her. That came from a place of being wounded, of feeling the need to fight back. I wish I had said: "I hope the people you meet are kind."
Because I do hope that for her. I hope that she is bathed in loving-kindness, that she is inundated with so much that she cannot help but share it with the world.
While it's true that kindness engenders kindness, the lack of it can be a powerful teacher.
For my remaining hours in Kuala Lumpur, I was abundantly kind to everyone I met. I complimented a girl on her joyful spirit, told shop owners how beautiful their merchandise was, smiled widely and genuinely. I made a point to be kind to these warm, generous people who had so kindly shared their country with me.
And every time I was shown kindness, no matter how small, I felt immeasurably grateful.
That woman gave me a great gift. She reminded me that we all have a choice to be kind, and we are presented with that choice many times a day.
Say a kind word to someone you don't know.
It doesn't have to be an eloquent oration—a simple compliment can make someone's day. If you like a man's tie or a woman's necklace, tell them so. And if you are struck by someone's personality or spirit, thank them for it.
Write a note to someone you appreciate.
Tell a co-worker, family member, or friend what you appreciate about them. Don't hold back. These are the sorts of gifts people treasure, often keeping that little slip of paper (or Facebook post) for many years to come.
Tip someone who doesn't normally get tips.
This was easy in Malaysia, where tipping is rare—one young woman was so happy she went dancing down the hall. Tipping can be a great way to show people you are grateful for their service. I still remember the night I gave $10 to a tired young man at a Taco Bell drive-thru. His eyes lit up like fireflies.
We've all committed failures of kindness when we are hurt, angry, or tired. But each of us holds within us the power to achieve triumphs of kindness every day.
By Bree Barton. Bree is a freelance writer living in Pasadena with her boyfriend and little black dog. She has ghostwritten a handful of books and penned articles under her own name for USA Today, LA Times, and Huffington Post. She's also got an exciting young adult novel in the works, so stay tuned. This post was republished with permission from tinybuddha.com.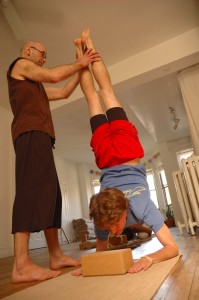 "The men, I think, are missing out," explains Yoga District instructor Mike Graglia, on why there are relatively less men in yoga classes than women. In this Washington Post video, Henry Kerali wonders why so few men take to yoga.
Well guys, Yoga District offers a Men-only all-level flow class on Thursday nights at 8:15pm. Make it your space to explore the benefits of yoga.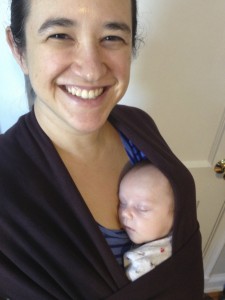 Thanks, Yoga District, for inexpensive and "gentle" yoga in our neighborhood.
I did it. After over a year, I returned to a yoga class. A "gentle" yoga class. Pregnant, I had tried following prenatal yoga DVDs, but I gave up after quickly feeling (even more) nauseous.
I had been taking yoga classes on and off for the last four years. The regular stretching and exercise helped to center me physically and mentally. Yoga helped me when I was grieving and trying to return to my body after witnessing death. I finally found the courage to attend a class hoping that the movements would connect me to this new body of mine.
Pregnant, miscarrying, pregnant again, giving birth and now nursing, my body has changed a lot these last two years. Sometimes my cesarean scar feels like a warrior's mark. Often my stomach just feels flabby. I don't exactly fit into my old clothes even if I've technically lost the pregnancy weight.
By starting to exercise again, I hope that I can both look even better than my old self, even if that's vain and shouldn't matter, and feel stronger. I don't get as winded as I did when I was pregnant, but I haven't  yet built up my muscles.
I love to take walks and carry the bambino in the carrier, but now that he's grown so much, it is harder to keep up any kind of speed. His legs dangle down and he tends to push against my thighs as I walk, too. (I guess that's a fun game for one of us.)
The "boys" in my life have been models on how to strengthen a body. After serious training, my husband ran the Chicago marathon. My son is now practicing holding his head up, sitting up and standing. I'm hoping to join my husband in modeling good, healthy behavior towards physical activity for our son as he learns to crawl, walk and then run. And he might even join me in doing a downward facing dog one day.
Re posted with permission from Chloe Yelena Miller. Miller writes and lives with her husband and infant son in Washington, D.C. She blogs about writing & parenthood here: http://womanmotherwriter.blogspot.com.

"Why a ladies-only yoga class?  Aren't most yoga classes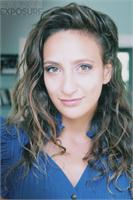 mostly women anyway?"
It's a question that I get often.  Accessibility, I usually reply.  It's my attempt to make yoga accessible for women regardless of cultural or religious backgrounds, to accommodate a diversity of levels in modesty and comfort in exploring a physical asana practice.
Yoga Just for the Ladies began as response to a need first identified within the Muslim community. When I first began teaching yoga about 5 years ago, a lot of women from my community, especially those who are veiled or muhajjiba, were reluctant to attend my regular yoga studio offerings.  Those classes, they explained, were not a guaranteed safe space for them to explore a physical asana practice if men were potentially in the room.
And so it began; I offered my students a space that was held just for them, where they could enjoy the benefits of this ancient healing system to increase strength and flexibility, reduce stress, and relieve pain.
Dalia Mogahed began practicing yoga five years ago. The practice, however, became particularly important for her a year ago when she made the leap: moving back from overseas to the DC area and launched her own consulting firm specializing in Muslim societies and the Middle East.  The transitional stress took a toll on her body.  By the time she came to the ladies-only class, she had developed back pain that made it hard for her to walk, work or sleep. Our yoga practice together provided her relief during that time in her life.
Students cultivated personal yoga practices that informed not only their physical bodies and consciousness, but even their devotional practices.
Nada Zohdy, a student at the Harvard Kennedy School has been practicing for almost 7 years and was one of my very first regulars in the class.  Yoga offered her tools create deeper spiritual awareness and connection.  She writes:
"As a person of faith who prays on a regular basis, I really find that practicing yoga actually can help me be more conscious and present in my prayers by training me to detach myself from distracting thoughts that always arise and work toward being fully present in what I am reciting during my prayers.  Yoga also helps make me attuned to my breathing, which for me is a beautiful, constant reminder of the physical miracles that happen with us all the time."
It's purpose and the communities it serves continues to evolve. It's not just a class for Muslim women.  It's a space for women — all women — to truly explore their breath and their bodies without worrying about who's watching.
We often see a very sexualized image of yoga in popular culture, in part because the consumer audience is traditionally male. For many women who already struggle with self and body image, what's projected and perceived, this is a space to not play into that imaging.
"Some women," Nada explains, "might find themselves becoming more self-conscious at a co-ed gym. I enjoy being able to practice yoga in a women-only, judgement-free space."
The ladies-only environment provides a venue for all women to tune out those nagging image issues and be fully present in their yoga practice, fully present in their breath and its innate reserves for healing.
"It's wonderful," Dalia says, "to have a 'room of one's own' to practice."
By Dahlia Shaaban, Yoga Instructor at Yoga District and founder of Dahlia Nutrition & Wellness.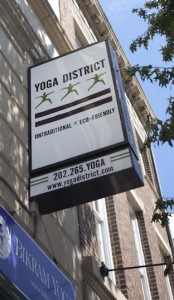 Never been to Yoga District's DuPont Studio? This video should answer some questions and give you everything you need to know about visiting.
This is the first video in a series that will highlight all six of our studios. This is also my acting debut with Yoga District, so, my apologies. Enjoy!
Filmed and edited by Barrett Jones, recent teacher training graduate.
By Arielle Weaver, Public Relations Manager for Yoga District.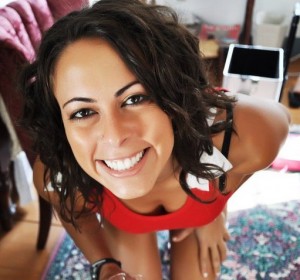 "Marie Belle is, by far, the best Ashtanga teacher I've come across in this city," says Kristin, student of Yoga District, "her inspiration is always an extra treat to add to my practice."
Self-led practice is very important when practicing Ashtanga, but it can also be extremely intimidating. With Marie Belle's warmth, kindness, and one-on-one guidance, she makes her students feel comfortable, while challenged to reach their full potential. Students rave that Marie Belle's easy-going and encouraging attitude inspires them to try new poses they had not tried before, giving them confidence and an easy-going attitude towards their practice.
"I practice so that I reside in a calm, awake, and balanced state of being," Marie Belle explains, "The self-led aspect of Ashtanga encourages me to manually put myself in meditation. Although yoga practice does not influence what happens to me, I am aware that when I do practice, I am in a harmonic and poised state which influences how consciously I respond to what life offers me."
This healing element of yoga was particularly important for Marie Belle after she experienced the emotional toll of the Virginia Tech shootings. "When my practice stabilized, the emotional ups and downs that followed the shootings at Virginia Tech became gentler," she explains, "I have realized that a heavy practice brings about a light spirit and our ability to heal is greater than anyone has permitted us to believe." Through her practice and teaching, Marie Belle found healing peace.
The way Marie Belle teaches and practices Ashtanga is empowering. "This practice is ultimately about the sincere and committed maximization of our potential and self-actualization," she says.  Ashtanga is taught in a sequenced form, through the art of awareness, focused strength, acceptance and of being aware of the breath and body. The format of Marie Belle's self-guided Ashtanga practice always remains the same; one always begins with sun salutations, concludes with lotus and rest, and various postures and movements gradually fill the space between these two ends. For each movement, there is a breath. Students learn the sequence by heart and eventually learn how to breathe into meditative movement. The purpose of connecting the breath with movement is to purify and internally cleanse the system, as Marie Belle explains. Students learn to place their attention on posture, breath, and gaze. These three dimensions of the practice, referred to as Tristhana, cover the three levels of purification: the body, nervous system, and mind. They are always practiced in conjunction with the other.
So what is next for this teacher, yogi, and Doctor in Psychology? Marie Belle will be travelling to Mysore, India (the source of Ashtanga) in December to delve more deeply into the roots of Ashtanga yoga for a month of intensive training with Sharath Jois, a worldwide-recognized expert on Ashtanga Yoga. If you are interested in joining Marie Belle's open practice, join her on H street every Sunday, Tuesday, Wednesday and Thursday mornings.
Fifteen days ago at the close of business for fiscal year 2013, my small team of federal co-workers gathered around a conference table to receive our instructions for an "orderly shutdown" should there be a lapse in funding starting the next day.  Always an optimist, I believed we would be back in the conference room the following morning to mark our accomplishments in 2013 and to establish goals and a shared vision for fiscal year 2014, a sort of New Year's celebration.  My more seasoned co-worker had already booked his tee-time for the next morning.  Again, an optimist and an early-riser, I crawled into bed around 9:30 that night and set my alarm as usual for the morning walk to Kelly's 6:15 yoga class at the H Street Studio.  Around 2:30, my eyes popped open and I checked OPM's website.  "Due to a lapse in appropriations . . . ."  Until the alarm went off a couple of hours later, I stared at the ceiling in disbelief, my heart racing a bit.  When time came, I made my way to yoga class, certain this nonsense would only last a day or two.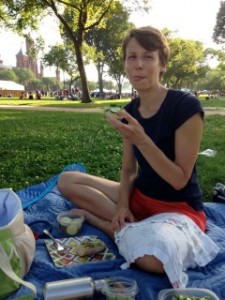 I was introduced to yoga by a mentor while in law school, and found myself choosing the practice more often when I moved to DC to begin my legal career with the government.  For some years now, the practice teaches me anew about foundations, dedication, exploration, and trust.  The practice also teaches me about kindness, attention, patience, and joy.  Indeed, there is a joy that is pigeon pose!  And so, during this truly strange time of the government shutdown, I have continued my practice of early morning class.  As I reflect in these moments awaiting the final votes in Congress to reopen our federal government, I understand a bit more why I continue to come to my early morning practice and simply notice how the practice has benefitted me these last fifteen days.  My furlough has been the process of noticing, accepting, and being more mindful of the present moment.
On that first day of the government shutdown, I met other furloughed friends for breakfast after my morning practice.  After we shared our meal, we stared at each other in a sort of disbelief and lingered a little too long at our table.  What were we supposed to do?  How long would this go on?  Should we start making lists of tasks in case we would be furloughed tomorrow or the rest of the week?  Or, would it be better to let go of the list and see the shutdown as an unexpected gift to just enjoy time without schedules and deadlines?  Honestly, we just wanted to go back to work.  As we left the café, I listened to a quiet calling within and started to walk.  I had nowhere to be, just the present moment.  Before I made it home that day, I walked almost ten miles, through DC neighborhoods I hadn't seen in months, through Rock Creek Park, along the National Mall, around the U.S. Capitol.  The best part of my walk was that I had no idea what time I started out or what time I returned home.
I noticed that without my usual fury, I slowly cleaned out most of the closets, drawers, and boxes in my house.  Then, I happily peaked out the window to see passers-by pick up bundles of fabric, lamps, various trinkets, and a bookcase I sat on the sidewalk.  There was joy and discovery in the process, not the stress of finishing by the end of the day because there is another list of things to accomplish tomorrow.  Not to mention the freedom from clutter.  When I noted the time in the day, there always seemed to be a bit more than I expected.
In these fifteen days, I noted the change from summer to autumn in a way that would not be possible from my office window.  The furlough began on a hot summer-like day when I walked in shorts and a tee shirt.  I spent time in my backyard repotting plants, planting new ones, and brushing up bags of leaves.  One morning, honeybees joined me for breakfast and I watched them slurp honey off of my spoon.  During the four or five days of rain, I took long walks in my silly green rain boots and talked with my elderly neighbors in the backyard about their upcoming fish fry.  The other day, I spread another blanket across my bed because the weather is changing again in a day or so.  I may have noticed all of these things, but my practice and unexpected time taught me how to slow down and notice more fully what each of these little gifts can offer.
My yoga practice enabled me to "just be" during the government shutdown.  I could reflect and try to draft a list of all the things I did, the projects I completed, new ones I noted in the process.  But the more lasting blessing is that I have noted the benefits of my practice.  Noticed ways to let go and the abundance of benefits and ease that come with being present, attentive, and accepting of what the day holds.  Noticed ways that I could experience my frustrations with the government shut down and be reflective about my own relationships with others.  My furlough helped me notice and give words to why I love my morning practice.  Each morning begins with new ways to observe and be.  My morning practice marks shifts and experiences that I might not notice, but for the time to practice on my mat.
Update:  Since I finished these reflections yesterday, our federal government reopened and my team greeted each other with smiles and an embrace.  As we shared our furlough experiences, I smiled and swiveled joyfully in my office chair.  This morning's yoga practice reminded me about gratitude.  Especially today, I am grateful to be a public servant and to be back at work with my co-workers.
Angie C., a yogi and (now formerly) furloughed federal employee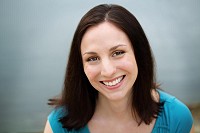 I came to yoga because I wanted a hot body. I signed up for my first class for the same reason that I occasionally did laps at the pool or a half-hearted twenty minutes on the elliptical: "Maybe this will give me hard thighs."
I don't know about hard thighs, but I do remember the yoga was hard. I remember the teacher trying unsuccessfully to lengthen my spine in down dog before giving me a reassuring pat and saying in her charming Wisconsin accent, "We'll getcha there with time." I remember I thought crow pose was the most ridiculous thing I could imagine a human body doing—and "imagine" is the key word here, because there was no way my feet were leaving the floor. And I remember, too, that the first time I did matsyendrasana, a simple seated twist, I felt like I was arriving home.
I write this without hyperbole: it was my first yoga class; most of the experience was painful and awkward and confusing; and somehow around or beneath all of that, some part of me recognized the practice and said, "You'll do this for the rest of your life."
Of course, change doesn't happen in a single flash as we twist sublimely into matsyendrasana. I did continue to do yoga consistently, but I was broke and busy, and so for many years, my only teacher was Rodney Yee on DVD. And my primary motivation continued to be having a hot body, so here and there I cheated on yoga with Pilates, spinning, and even a regrettable tryst with P90X. I didn't think much about that first matsyendrasana; mostly I thought about what I looked like, and what I could do to look better. But here's the thing: studies of human motivation tell us that future gains like improved health and fitness have a very tenuous influence on what we do here and now, particularly if what we have to do here and now to get those future gains is something we perceive as unpleasant, like exercise. So, pretty quickly, the other forms of exercise I was doing would fall by the wayside, traded in for the next fad.
But yoga didn't. If you had asked me why I was able to stay consistent with yoga and not anything else, I would have said, "I dunno, I like how it feels." I might have heard of the Bhagavad Gita, but I didn't think it had much to do with sweating through a vinyasa. I might have felt a little less harried and a little more centered, but I'm not sure that I consciously went to the mat to achieve peace. It wasn't until I came to Yoga District five years after that first yoga class that it first hit me: there's something more to this.
I took Jasmine's midnight New Year's Eve class, a sweaty ninety-minute flow followed by a long yoga nidra, a deep relaxation process that I had never done—or even heard of—before. At that time, I'd never met Jasmine; I happened into the class because it was across the street from the New Year's Eve party I planned to go to. I didn't know that Yoga District was collectively run or that it had a non-profit outreach arm, Yoga Activist, or even that yoga outreach is profoundly beneficial for communities that experience chronic stress or hardship. But by the end of that class, that same matsyendrasana feeling had returned: "This is home." I asked Jasmine as we rolled up our mats and put on our shoes if teaching yoga was her career; she said yes. And I said, "I want your life."
That was three years ago. A year after I met Jasmine, I did Yoga District's 200-hour teacher training, where I finally gained an intellectual understanding of what my body had known for years. Yoga is more than exercise. Yes, it strengthens our muscles, including our heart muscles; yes, it burns calories and fat; yes, it gives us a boost of endorphins. But mindfully coupling breath and movement works on the whole human organism—body, mind, and spirit—in much more subtle ways. The simplest explanation I've found for how yoga works is that human brains are complex enough that it is possible for different systems and processes in a single body to work against one another. We have enough going on in our multi-layered brains that, unlike any other animals, we are capable of feeling at odds with ourselves. Yoga works to realign all the systems of the brain and body. It puts us back in sync with ourselves and with the world.
If that's what's happening inside my being when I do yoga, Yoga District has become the outward expression of that realignment. I teach almost every day, in a community where I know my students' names and practices. Yoga District is a place where people share more than a workout; we pick up our weekly Community Supported Agriculture (CSA) goodies at 14th Street; we drink a kombucha together at District Tea Lodge on I St; and we share group meditation and discussion at Bloomingdale. Continually, we realign ourselves with each other so that we can all grow further and more profoundly as a community. More than once, a student has told me that he or she came to Yoga District just to work out and unexpectedly, found new friends, self-acceptance, a sense of home. Sometimes they're surprised when I tell them, "Yeah, it happened the same way for me, too." It's true: yoga teachers aren't immune to wanting hot bodies. But the practice is cleverer than we are; it shows us the path we're ready for, and then it carries us further than we could ever have dreamed up on our own.
By Teresa Spencer, teacher at Yoga District.