Browsing articles in "The Blog"


First Impressions from a Yoga First-Timer
Brand new yoga students often feel anxiety about coming to a studio yoga class for the first time: being able to keep up, what to wear, whether they'll be the only one who wobbles in balances. Read on to see how one student was welcomed to her first class and how the experience has impacted her since.
Yoga District strives to make our studios a welcoming place, where students of all ages, races, shapes, sizes, genders, and creeds can come to practice together. With a variety of styles and lots of diverse teachers, we hope everyone can find a class they're comfortable in and that they can come to call Yoga District their studio.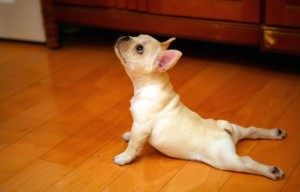 Breaking Down Yoga's Transitional Poses by Veronica Grant
If you go to a flow yoga class, the sequence will almost certainly include the downward-facing dog, plank, chaturanga, upward-facing dog, then back to down dog transition. Referred to as a connecting vinyasa or just vinyasa, it is an integral part of most flow classes, and it is used to warm up or reset the mind and body between sides or new sequences.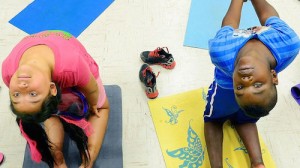 Mindfulness in Children blurb by Danielle Bulgrien, article by Crystal Schelle
photo credit: Ric Dugan
We often hear about how mindfulness can help us manage the stress of our busy, over-scheduled lives. What we may not realize is how mindfulness can be as useful for children as it is for adults. Children may not always grasp the meaning behind an emotion or how to respond to something they don't like. As a result, they may act out or they resist an experience simply because they don't have a full understanding of why they're upset. Finding a way to practice the thought pattern, "this is something that may be negative now, but it will pass," could be a great way to prepare children for the obstacles they face in elementary school, high school, and into adulthood.
The following article discusses how two Maryland mothers came to the realization that mindfulness training, coupled with yoga practice, would be a great method for helping children work through difficult experiences and emotions.
Open Minds Wants to Expose Children to Mindfulness by Crystal Schelle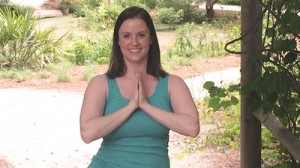 Prenatal Yoga: Community & Preparedness by Brittany Dowell
Brittany Dowell teaches a Tuesday night Prenatal + Postnatal Yoga class, from 5:45-7:00 at the 14th St. Studio. Brittany tells the Yoga District community how she got involved in teaching prenatal yoga and why teaching this class is her favorite hour of the week. She discusses why an expectant or new mother should consider yoga as part of her preparation for and recovery from birth.

Yoga service teachers seek to help people in underserved communities change their own lives through yoga and mindfulness practices. Yoga service instructors must first educate themselves about the complexities and needs of each community and be willing to adapt their style and the teachings in order to suit its specific needs. It is critical that instructors approach the situation as one that's mutually beneficial to two equal parties, rather than coming in as someone charged with "fixing" a problem. In the article linked below, Jasmine Chehrazi, founder of Yoga District and Yoga Activist, explores these and other best practices for yoga service teachers.
Teaching Yoga in Service Settings: Best Practices and Common Mistakes by Jasmine Chehrazi
Can Yoga Save a Profession? by Rachel Gang
Finding a balance between personal and professional life is certainly no easy pursuit. It is often the clients, communities, or populations that serve as students that become the focus of researching the benefits of yoga and other mindfulness practices. However, when I started my Masters of Social Work classes this past year I began to wonder what professionals are doing to help themselves. Working with vulnerable populations whether it be as a teacher, social worker, nurse, case worker, or other health care professional is no walk in the park. It was my own experiences as a public school teacher and current social work student that prompted me to consider how can yoga and mindfulness practices assist fellow social workers, teachers, and other helping professionals in working with clients and communities?

Ivan is only ten years-old and he's already completed his 200-hour yoga teacher certification with Yoga District and is finishing up the requirements for a 500-hour certification. You may have seen him around Yoga District studios — he's the quiet, self-possessed kid doing the absolutely amazing poses. Read on to learn more about our youngest yogi and all-around awesome little dude, Ivan!
Acroyoga blends Thai Yoga Therapy, yoga, acrobatics, and other healing arts into a fun, supportive, and empowering practice. Acroyoga classes feature partner flow, flying and basing, strength training and inversions. No partner is necessary when coming to class since people pair up during class. Yoga District hosts a foundational acroyoga classes 7:45pm every Tuesday at the 14th Street studio for those newer to the practice, as well as an intermediate acroyoga class for those with more familiarity at 6:45pm Mondays at the 14th Street studio. Join us for class and read on for an informative interview one acroyoga teacher's journey with acroyoga.
Interview with Christine S. on her acroyoga journey
Yoga District:  How'd you find out about acroyoga and what inspired you to take part in it?
Christine S.:  I found out about acroyoga by getting involved in the abundant circus community in DC.  I was inspired to take part in the practice because the excitement and community feeling was infectious.  It looked like everyone was having so much fun and working together so beautifully while gaining strength, flexibility, trust and getting to experience the world from another perspective.
YD:  It seems like it's a partner-based activity, but also immersed in a community.  What kind of acroyoga community is present in DC, and do
you partake in it?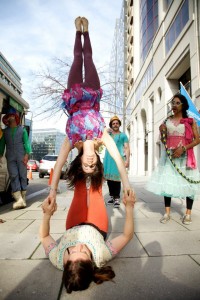 CS:  It is a partner-based activity, but also very rooted in the idea of building community with an attitude of play.  There are ongoing classes at studios around DC and in Bethesda.  Groups get together to "jam" on their own time, as well.  It's also always happening at the drum circle on Sundays in Meridian Hill Park, which is where I first started to experiment with it.
YD: What are the various roles in acroyoga?  There seems to be a base and a flyer.  Could you explain these roles?
CS:  There are actually 3 roles in acroyoga:  A base is the person who supports the flyer and is often on the ground with their arms and legs reaching the sky at 90 degrees.  This person focuses on stacking their bones to achieve ease and stability while flying the flyer.  The flyer is the person who balances on the hands and feet of the base who moves through various poses, or series of poses that flow together.  The third roles is that of the spotter who makes sure the flyer is safe at all times and can also help give advice or directions to the base or flyer if their alignment is off course.
YD:  How does acroyoga differ from standard yoga?
CS:  It differs from traditional practices of yoga because it fuses a few practices together to then form acroyoga and it is done with a partner.  It combines the wisdom of yoga, the fiery excitement of partner acrobatics and the sweetness of Thai massage.  I love this combination because it opens up space to experience a feeling of connection, communication, and trust.
YD:  Do you have any favorite routines/poses?
CS:  I love washing machines which are flows that rotate you through a set of dynamic positions in a circular flow.  Here's an example of one called Catherines Wheel.  Some of my favorite poses right now are: High hand to hand, High bird, Mermaid, Nataraj, Star and all therapeutic flying poses where I get to be inverted and let gravity lengthen and decompress my spine.
YD:  What are some health benefits?
CS:  I think the health benefits of acroyoga are endless.  The most obvious one for me is the happiness I feel while doing it and the way it decompresses my spine creating more length and ease.  It eases my mind and relieves me from stress, which can only be positive for all of my internal systems and overall well-being.  Performing inversions and backbends in acroyoga or yoga has so many health benefits. The lymphatic system is stimulated which in turn strengthens your immune system.  Being upside down is great for your cardio-vascular system because it helps improve your circulation and allows fresh blood to go to the heart.  The endocrine system is stimulated which helps regulate your hormones and metabolism.  The feeling of happiness and balance you achieve through acroyoga, which also engages the breath, soothes the the parasympathetic nervous system thus increasing the function of the immune system. Opening your heart in a backbending pose allows you to take that deep breath into each lobe of your lungs fully.
YD:  Some say that acroyoga is a healing art.  Do you agree?  If so, how is it a healing art?
CS:  I do agree that acroyoga is a powerful healing art not only for the physical body systems but for the spiritual body, as well.  It forces you to be fully present in the moment and asks you to look at the world from another perspective.  It helps you to energetically clear blockages or to bring them to your attention to be addressed.  It conditions the mind and body and roots itself deep within the ancient healing widoms of Yoga and  Thai Massage while daring you to trust in the strength of your body.  It fuses together parts of our inner and outer selves, as well as, supports us to build communities from a place of play and loving kindness.  It's the yoga of relationship that's undeniably beautiful to look at the way people can work together to create beautiful shapes, feats of strength and flexibility while moving as one, like a divinely choreographed dance.

As many of you probably know, today is Marie Belle's last day at Yoga District! We are so sad to see her go but we are so supportive of her exciting relocation and upcoming travels. We look forward to having Marie Belle as often as possible as a visiting teacher and teacher trainer–we we will be sure to keep you posted when she is in town for classes and trainings.
In the meantime, Marie Belle is handing her classes to Patrick McLeaf, who has trained with Marie Belle for quite some time. Read on for Patrick's bio, and check out a great video about his teaching journey here.  We hope you'll enjoy classes with Patrick and join us in wishing Marie Belle well!

On May 28, legendary author Maya Angelou died at the age of 86. She never went to college, but earned more than 30 honorary degrees. "I created myself," she has said. "I have taught myself so much."
Please take a few minutes of your time today to learn more about this fascinating woman and read some of her moving writings.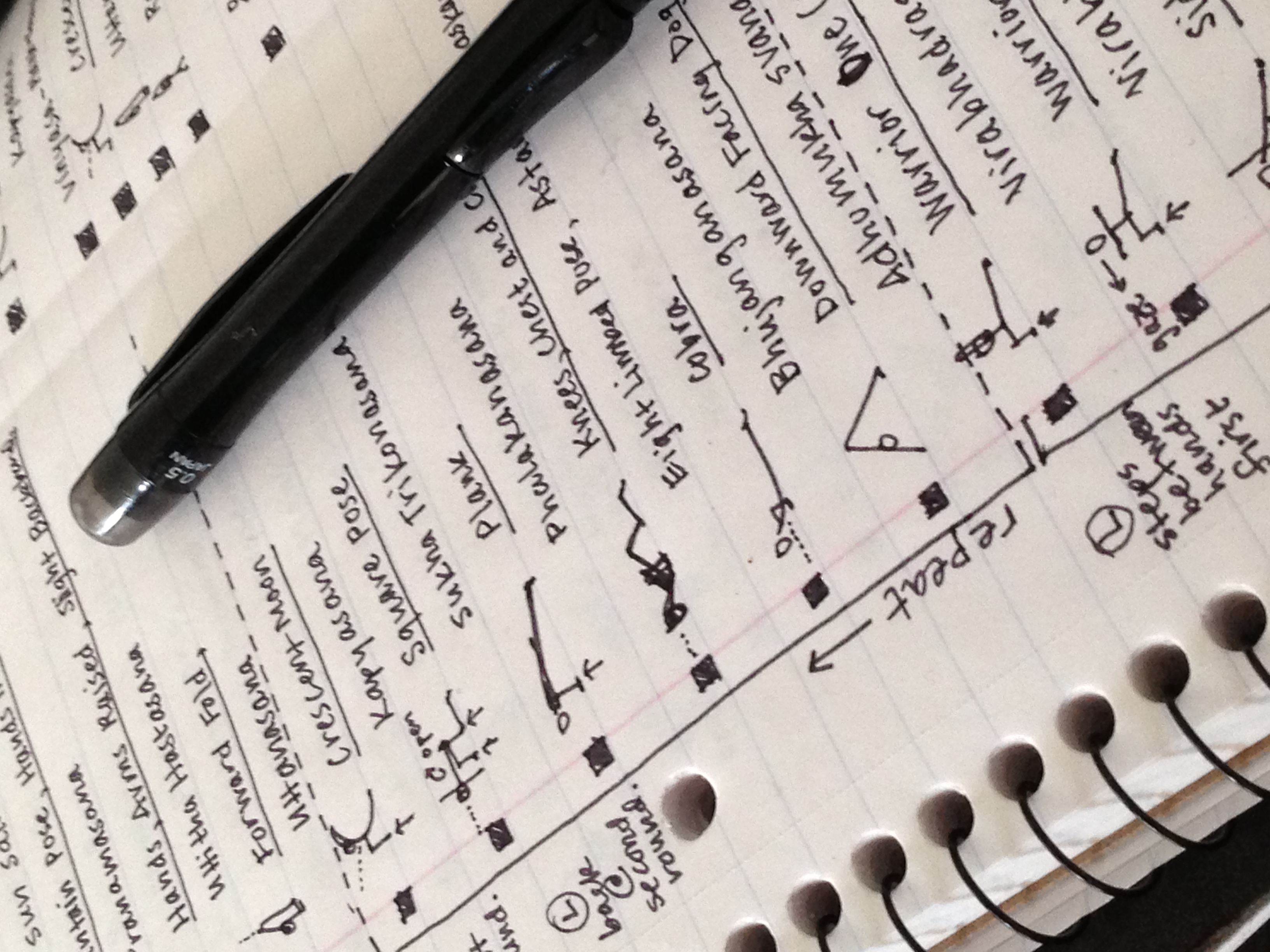 The Yoga District 200 and 500 hour teacher training certification programs, registered by the Yoga Alliance
are unique in their emphasis on diversity of teaching styles studied, personal attention, and trauma sensitive yoga. It's no coincidence that Yoga District is regularly voted the leading studio in the nation's capital, and that most of its classes are taught by graduates of its training program. As a full time yoga school, small group trainings are led up to eight times a year by a dedicated faculty including
Jasmine Chehrazi
, contributor to the Harvard Karma Yoga Project teacher training, teacher training faculty at George Washington University, Yoga Alliance Standards Committee Advisory Board Member, Yoga Activist Founder, and Yoga Service Council Advisory Board Member. So take your practice and community involvement to the next level by joining a training. There's a reason why our graduates call the training "transformative."
Check out the yoga teacher training »