Browsing articles in "The Blog"

Many of us have heard of Thai yoga massage and know that other yoga practitioners are drawn to it, but if you're like me you may not know many specifics about it and the kind of benefits it can offer. In the piece below, Yoga District teacher Gracy, a specialist in Thai yoga massage, describes her discovery of the art and the great joy her years of studying and teaching Thai yoga massage have brought her. Gracy will be leading a two-day immersion in Thai Yoga Massage at our I Street studio on June 28 & 29. Read more to learn more about Gracy's experience and the immersion workshop she will be leading.
From Daisaku Ikeda's "To My Friends" Series:
Determine to face and challenge
any suffering or hardship head on!
Continuous, ceaseless efforts to
challenge your situation will
enable you to strengthen and
deepen your life condition.
Engrave in your life a personal
history of triumph and glory!

I think it's safe to say many of us know what the healthiest foods are for us to consume: more fruits and vegetables, whole grains, and the importance of eliminating or at least limiting the amount of processed foods we take in. So the first step towards achieving a healthier diet is to have a plan at the grocery store. Here are three shopping tips to help you get a little closer to your goal: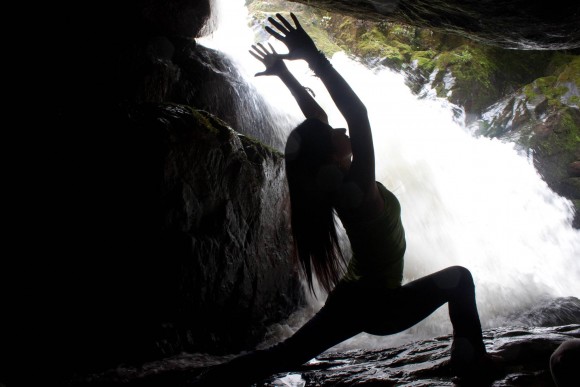 Again and again, we hear Yoga District teacher trainees reflect on the training as an experience that went far beyond learning to teach the poses. The training is designed to take the trainees' whole selves into account—because yoga is a practice that asks us to call upon all aspects of who we are and because teaching yoga must come from every part of us, body, mind, and spirit. In the piece below, Sophia Cedillos Guth reflects on what drove her to leave the sun of Costa Rica to teacher train at Yoga District during a bitter Washington winter—and how she transformed far beyond what she could ever have expected.

Did you know that every time you come to a Yoga District class, you are helping to share the benefits of yoga with diverse communities far beyond our Washington, D.C., studios? At Yoga District, we believe that every being deserves the holistic benefits of yoga, and that's why proceeds from our classes go to Yoga Activist, our non-profit outreach arm.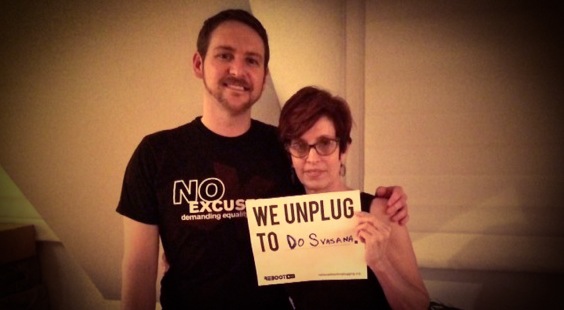 Jake at Yoga District Dupont with his DC yoga teacher Jayanti Harrison
Do you work in front of a computer all day? Do you carry a work Blackberry in one hand and a personal cell phone in the other? Do you read news sites, Facebook feeds and Twitter scrolls constantly?
I bet you do. And I bet you could use a break.
Fortunately, there's a solution right around the corner, and it fits right in with the mindful practice we enjoy with every class at Yoga District.
For 24 hours, I hope you'll join me for a growing movement to unplug and reconnect with yourself, your friends and your community. It's called the National Day of Unplugging, and it's happening from sundown to sundown March 7-8. The challenge is simple: unplug from technology – and all the physical and emotional implications that go with it – for 24 hours. People all around the world are taking the "unplug challenge" as we speak, and I invite you to do the same.
Read on for three reasons to participate, and three reasons I'll be uplugging with Yoga District.
Read more >>
I practice so that I reside in a calm, awake, and balanced state. This practice has gradually stripped away the layers of accumulated baggage that weigh on my mind, body, and spirit. Through Ashtanga Mysore practice, I have learned to consciously build myself up with energy and reduce the fluctuations of the mind.

Little did I know that chanting in yoga classes will get me addicted to Kirtans!
It all started a year ago when I found myself chanting and singing in yoga classes. In the beginning, I was judgmental ('why are we chanting and singing in a yoga class?'), resistant ('will this turn me into some fanatic?') or reluctant ('I cannot sing or chant in public'). Despite growing up in India, chanting or yoga was not a familiar territory for me. However, for some reason (don't know what), I continued chanting and singing in the yoga classes. Soon, I found myself listening to Kirtans and chants at home and within weeks I was completely "hooked on"!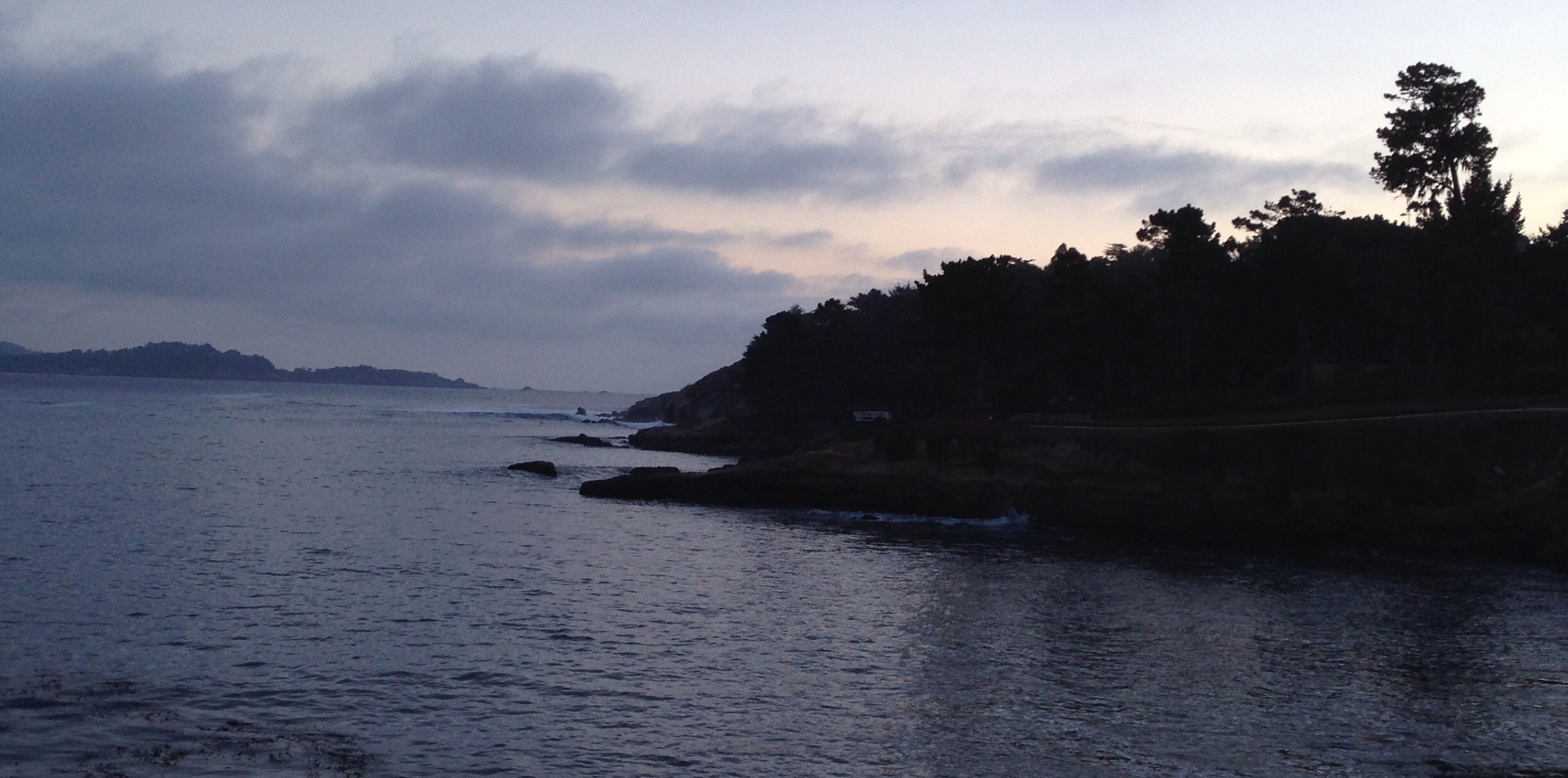 For many of us, the words "yoga practitioner" conjure a very specific — and very narrow — image. Although yoga philosophy emphasizes inclusion, individual expression, and non-judgment, modern yoga, particularly in the United States, has gained a reputation for being an exclusive, elite physical fitness activity. Yoga District's aim is to turn this misunderstanding of yoga on its head. A major part of our operation is our non-profit outreach arm, Yoga Activist, which brings free yoga to underserved communities like shelters, nursing homes, and inner-city schools. Moreover, we strive to make classes at our six Yoga District studios affordable and accessible to all by offering low class fees, a sliding scale, and work-study internships. Yoga is about connection, breath, health, and release, and we believe its profound benefits belong to everyone.
For a fascinating look at inclusivity and exclusivity in the practice of yoga, check out this article on the new documentary series, "Yoga and Diversity," produced by the non-profit Global Mind Body.

Dear Yogis,
I just wanted to write and ask you to let me know if my ego ever gets inflated. Please pull me up by my yoga toes and let me know.
I say that to say that we all know of famous yoga teachers who have slid down a slippery slope because of unchecked ego. I remember when I got my 200 hr. certification around 8 or 9 years ago and I felt like I was queen of the hill. Because I could talk about Yoga Chitta Vritti Nirodha in front of a bunch of people, had a lot of life experience under my belt and knew about chakras way before I did teacher training, that I could solve everyone's problems and maybe even effect world peace. I found myself doing anything BUT mindful listening. I could not wait for a student/friend/partner to finish their sentence before I was saying "You need to …. (whatever).
Read more >>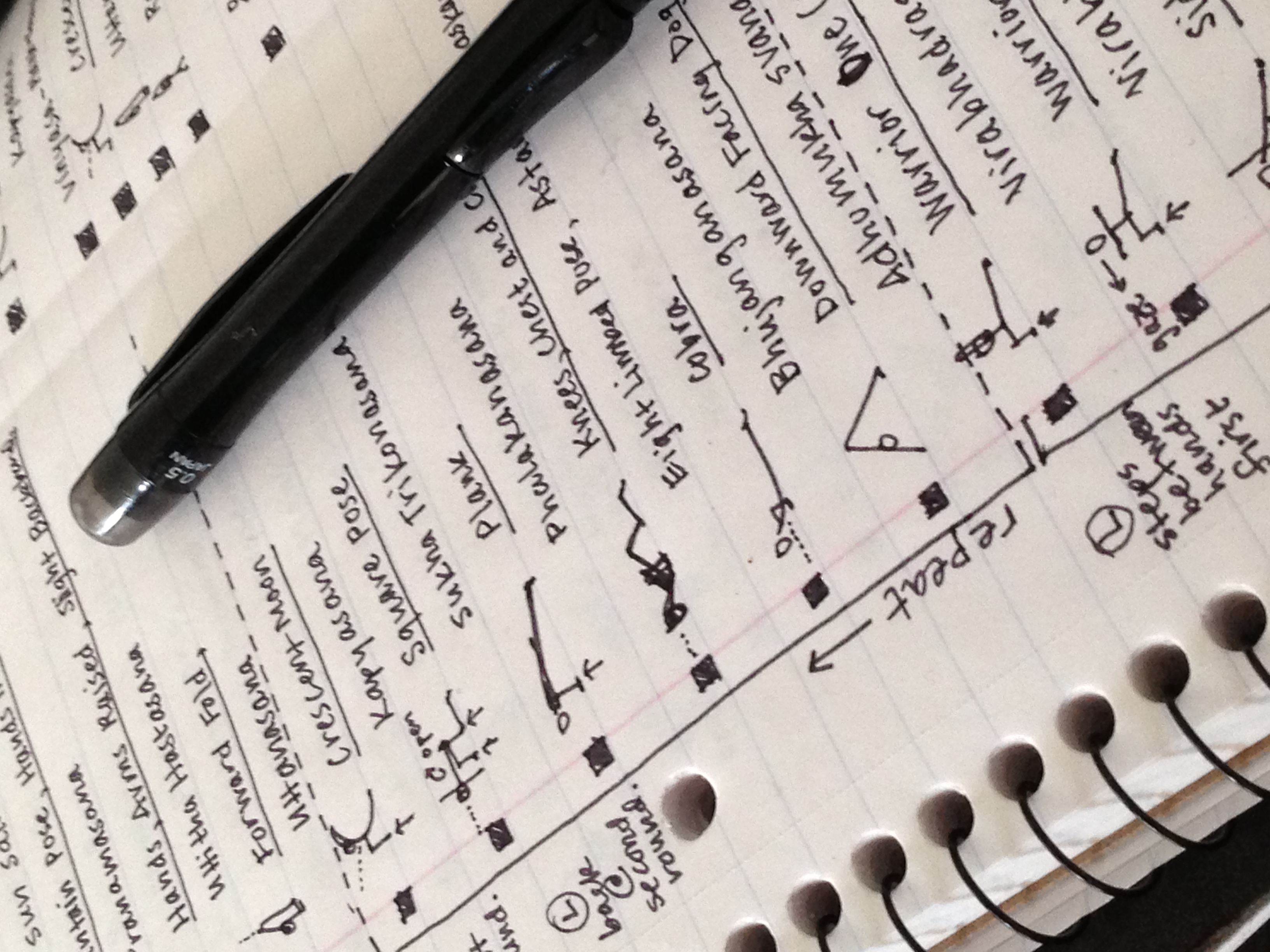 The Yoga District 200 and 500 hour teacher training certification programs, registered by the Yoga Alliance
are unique in their emphasis on diversity of teaching styles studied, personal attention, and trauma sensitive yoga. It's no coincidence that Yoga District is regularly voted the leading studio in the nation's capital, and that most of its classes are taught by graduates of its training program. As a full time yoga school, small group trainings are led up to eight times a year by a dedicated faculty including
Jasmine Chehrazi
, contributor to the Harvard Karma Yoga Project teacher training, teacher training faculty at George Washington University, Yoga Alliance Standards Committee Advisory Board Member, Yoga Activist Founder, and Yoga Service Council Advisory Board Member. So take your practice and community involvement to the next level by joining a training. There's a reason why our graduates call the training "transformative."
Check out the yoga teacher training »