Browsing articles from "July, 2012"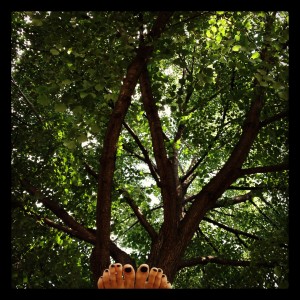 About six months ago, I went through some pretty big life changes… moved to a city I had never even visited before… started a new job… turned a new relationship into a long distance one. I should preface by saying that for the past few years, my yoga practice has been my sanity. No matter what I was feeling – happy, stressed, anxious – I could find what I was looking for on my mat – a few quiet moments to revel in something good, think through a problem, or completely forget about everything outside the studio.
Needless to say, I was somewhat thrown off when, with so many changes happening in my life, I seemed to steer clear of yoga. I couldn't seem to get excited about finding a new studio. I had excuses for why I couldn't even attend free classes around town. Sure, during this time, I rolled out my mat in my tiny apartment and flowed through a few suns, or I would take my mat down to the park to practice inversions, but I would find myself laying on my mat minutes later. Laying there, eyes soft, mind quiet, breathing steady.
About a month and a half ago, and with just slight hesitation (probably because I had not moved through a full 1.5 hour class in a while!), I began taking classes. Laying in savasana at the end of class, I realized something… something more than just how sore my body would probably be the next day. I realized that while I may have stepped away from the asana portion, I never abandoned my practice. It just didn't look like what I thought it would look like. At a time when things seemed somewhat crazy in life, I needed quiet, I needed stillness. And now, feeling more secure in my space, I'm ready to amp it up on the mat. It's just the way these things work – it's an ebb and flow.
In reality, the thing that draws me to yoga is the idea of staying present, to thoughts, to the breath… and ultimately to life. And the beauty of the practice is that it always welcomes you back, no judgement.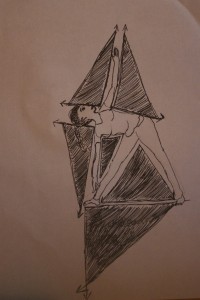 Have you ever taken a try at Triangle, or Trikonasana?  It's a pose that can expose you to the power of applying angles, corners, and shapes to stretching.  Trikonasana taps into three targeted areas, the shoulders, torso, and hips, and turns the extremities into expanding axes.
The hips, the base of the spine, and the lower half all benefit from practicing Trikonasana.  Being a standing pose, the legs serve as the foundation, so it's important to have solid footing yet enough space between each foot to achieve full potential from the stretch. Blocks come in handy with this pose, so feel free to set one up by your front foot.  The first angle and imaginary triangle starts on the floor with your feet.  Let's put our right foot forward on the mat with both feet pointing out straight and running parallel.  Then turn the left foot out to about 60 degrees, or to a ten o'clock position.  (Degrees and clock-references vary).  Make sure your heels are still on the same axis, they're keeping you in firm position!
The second triangle shape forms with your pelvis.  Now that your feet are in position, your legs are like opened scissors, holding a wide stride.  Keep your pelvis facing forward for a moment, as you would in warrior pose, just to be aware of your pelvic plane.  Trikonasana is a great hip opener.  You'll feel your joints activation once you swivel them to be parallel with your heels.  If your hips and heels stack up though, that means your stride is too short!  Don't be afraid to slide your front foot forward a bit more to make a wide triangle!   You'll want to make sure that your front leg is straight and diagonal.  This pose is full of oblique planes!
It's time to activate your arms.  Let them rise into a T-bar, again, like you would in warrior pose.  Now let your torso move forward so that it hovers over your extended right thigh.  Drop your right hand to the ground or to a block on the outside of your right foot, and extend your left arm and palm skyward. Your arms should now be in a vertical axis, creating a series of angles between hips, shoulders, and the neck.  Make sure your head doesn't hang, as it should be on the same plane as your torso, but feel free to look skyward.
It's the last few minutes of class and the quick-moving asanas have come to a close.  There's only one move left, savasana, and it carries the connotation of being the easiest.  People anticipate savasana in different ways; some embrace it as a moment of relief, while others feel anxious during the pose due to their wandering thoughts.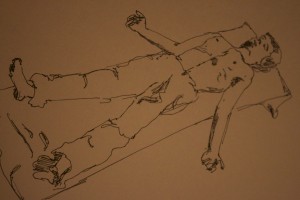 Perhaps it should be accepted with neutrality.  After all, the body is kept in a neutral position during the duration of savasana.  Don't get mistaken though; although it's no shoulder stance or inverted triangle, savasana isn't exactly easy.  Sure, the body remains in corpse pose with the back on the ground.  Some people even take this physical break as a moment to sleep.  It's actually the chosen pose to hold during yoga nidra practice (or yogic sleep), but it's important to acknowledge that staying conscious and aware of yourself it where the activity happens, especially in savasana.
"Why must I lie still for that long?" I heard someone ask before in regards to savasana.  We were discussing the different parts of classes that we enjoy, and they found savasana to be a nuisance, just because they came for the movement of the course.  "The last thing I want to do in yoga is lie down!"
There's actually a lot of movement happening during savasana.  It's just really subtle.  The aim with savasana is total relaxation, which for many people, requires practice to obtain.  For starters, it's simple enough to lie on your back with eyes closed and palms up, but on YogaJournal.com, there's multi-paragraphs of step-by-step instruction full of intricate details, like broadening "the base of the skull too, and lift[ing[ the crease of the neck diagonally into the center of the head".
It's probably best to explore these physical adjustments over time, after you've gotten accustomed to calming the mind of thoughts as well as everything else internally, such as your sensory organs.  Things like the sounds around you, the lighting of the room, as well as the temperature, should be taken in as observations that are part of the moment rather than distractions.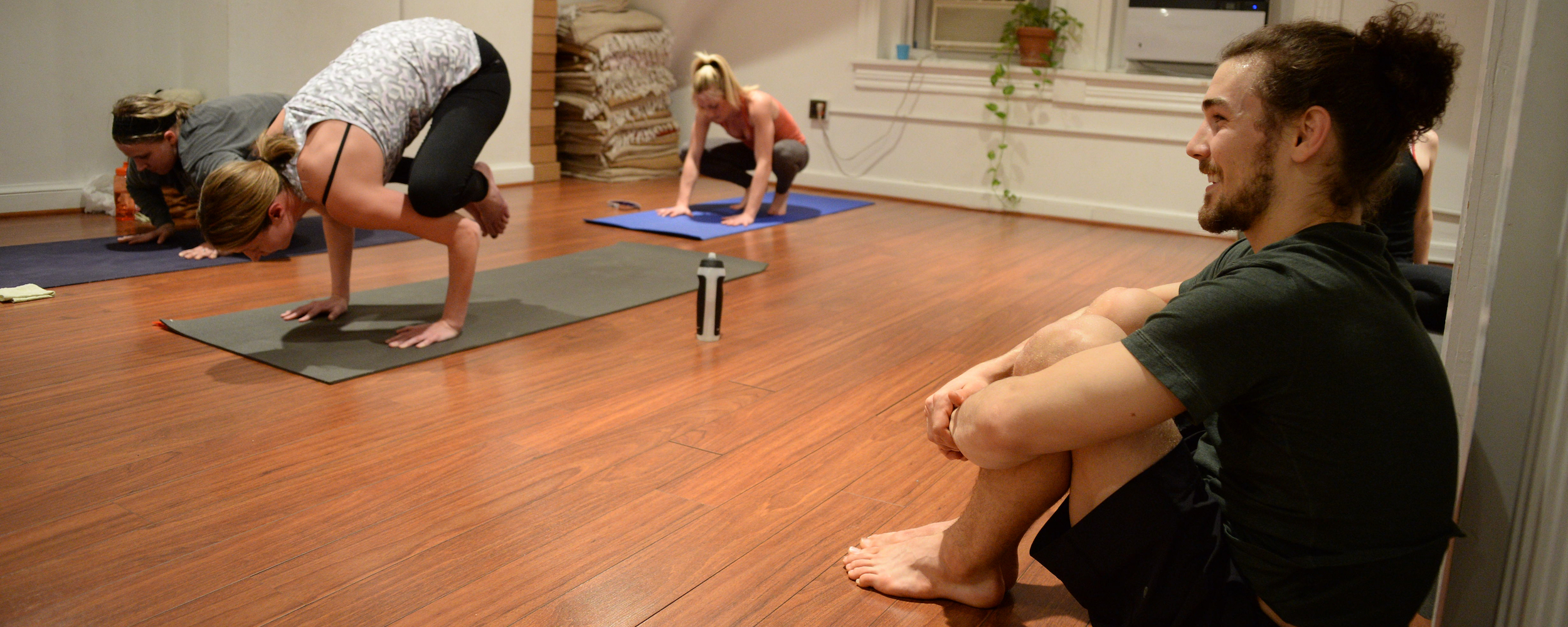 The diverse family of DC yoga teachers at Yoga District are dedicated to making yoga accessible to everyone through a huge variety of yoga class types, from vinyasa flow to restorative and beyond. Most Yoga District teachers are graduates of Yoga District's nationally-attended 200 hour teacher training program. All Yoga District classes focus on coordinating breath with body movement to promote flexibility, strength, and peace of mind. We strongly believe in yoga as therapy, so catch one of our classes whenever you need a healthy dose of self-care.
See all yoga teachers »

The Yoga District 200 and 500 hour teacher training certification programs, registered by the Yoga Alliance are unique in their emphasis on diversity of teaching styles studied, personal attention, and trauma sensitive yoga. It's no coincidence that Yoga District is regularly voted the leading studio in the nation's capital, and that most of its classes are taught by graduates of its training program. As a full time yoga school, small group trainings are led up to eight times a year by a dedicated faculty including Jasmine Chehrazi, contributor to the Harvard Karma Yoga Project teacher training, teacher training faculty at George Washington University, Yoga Alliance Standards Committee Advisory Board Member, Yoga Activist Founder, and Yoga Service Council Advisory Board Member. So take your practice and community involvement to the next level by joining a training. There's a reason why our graduates call the training "transformative."
Check out the yoga teacher training »