Browsing articles from "October, 2012"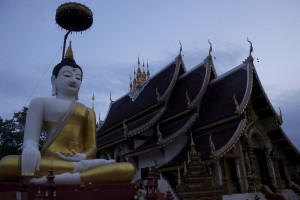 Chiang Mai is known as the "New City", but it's built around a square mile of ground called the Old City Center.  There are over 300 wats scattered about the area of Chiang Mai, the second largest city in Thailand, and over 50 of them lie within the parameters of the Old City.  What is a wat exactly?  It's a Buddhist monastery school that's also commonly called a temple.  Can you imagine 50 temples in one small area, all with their own individual decor, personality, and purpose?
I briefly visited Chiang Mai last month during a trip to Thailand, and stayed with my friends in the Old City Center.  There were three stunning temples sitting just a few streets apart from each other.  Right along her alleyway was Wat Kuan Kama, or what we called the Horse Temple, due to the flanks of golden horses positioned around the wall.  Down the road there was a huge sitting Buddha overlooking Wat Morthean, and directly opposite was Wat Moklee.  A temple with a sparkly mirrored wall sat a couple of blocks west.  Each wat had a wall around it's parameter, creating a distinct separation of space between temple grounds and the city streets.  Boundary walls are a standard architectural design for wats in Thailand, so those enclosures adorned with equine icons and resembling rectangular disco balls carried both form and function.
I didn't enter too many wats for I felt a little intimidated.  They're beautiful pieces of architecture, but they're also very sacred.  I felt stuck in a "look don't touch" mentality, out of respect and for not feeling knowledgeable enough to fully appreciate and understand the wats.  At least I adhered to the dress code; when entering temple grounds, the etiquette is to cover your shoulders and knees (no shorts and no tank tops).  No shirt, no sleeves, no service, as it's rude, but when you're on temple grounds, definitely remove your shoes.
There are other "don'ts" that I picked up while asking friends how to behave in a temple.  One of them was to always bow at the image of Buddha and to never have your head higher than the Buddha, whether it be a statue or painting.  Also, never, never, never show the bottom of your feet to anyone, and don't use that part of you to point at anything.  The bottom of your feet is seen as the dirtiest part of the human body in Thailand.
It would of been nice to spend more time exploring the wats, but it was hard to pack 300, let alone 3, into just one day in Chiang Mai.  The ornateness of each wat, from its wall to its shrines, was almost overwhelming.  Some wats had hand-painted panels depicting passages from ancient texts, and those alone sparked so much curiosity.  There were many statues of various animals and characters around the temple grounds, and I wished to know more about each of them.  The temples in Thailand have so much history and living stories inside their grounds, from the stone carvings that have stood the test of time against earthquakes to the monks making their everyday offerings and practicing their rituals.  It's a wonderful things that Thailand offers secular visitors a chance to experience their sacred grounds.
For those of you who have been known to wake up in cold sweats because your life feels dangerously akin to George Clooney's in "Up in the Air," this post is for you.
One of my favorite things about my current job is how much I get to travel. It is also the greatest challenge to my personal commitment to leading a healthy and active lifestyle. No matter how good my intentions are to maintain a workout routine and nutritious diet while on the road, I have a hard time sticking to it. Honestly, it's hard to find time between meetings and emails to fit in your fitness. And when your job involves networking events and client dinners as mine does, it's not always so easy to resist temptation when the friendly waiter offers you another yummy cocktail or the dessert menu.
So how do you avoid blowing all your hard work in a week or two on the road? Find balance.
First of all, do what you can, when you can. Over the course of the last two weeks on the West Coast I managed to go for two runs, attend one yoga class, do a 30-minute yoga podcast, fire-up my Jillian Michael's "Butt & Thighs" DVD twice, and get my ass kicked in my first TRX circuit training workout (so much fun!). Not bad, but not my normal regime. Each of these activities took 30 minutes to an hour–i.e. long enough to maintain my fitness level but not so time-consuming that they threw off my tight meeting schedule.
Second of all, be compassionate with yourself. It's easy to start feeling guilty for a few days without a workout or splurging on that delicious huevos rancheros with a side of bacon at breakfast, but cut yourself some slack. Always keep in mind that life is to be enjoyed–remember moderation–and stressing won't do you any good. In fact, it activates Cortisol, a hormone found in your body which makes you store fat, in particular around that muffin top/love handle area–fun fun! So relax because we all fall off the horse at times. The important thing is that you don't throw in the towel just because you let yourself indulge a little in that bomb brunch or red velvet cupcake. Rather than wallowing in self-judgment after an indulgence, get up and go for a long walk or skip the elevator and take the stairs. Balance.
Finally, be creative. While it is important to work physical activity into your busy days and be forgiving of occasional gluttony when you're on the road, it's also important to take advantage of opportunities to be good to your body. Case in point, San Francisco International Airport's "Yoga Room." Not every airport or city will have a tranquil space devoted exclusively to yogis just after getting through security, but when it's there, you best use it! Since I always travel with my yoga mat as carry-on–and tend to be in Lululemon pants and slouchy tops on my travel days–I was prepared to capture this golden opportunity and get in 45 minutes of playful flow before heading to my gate. My 5+ hour flight back to DC was so much more manageable having had the opportunity to move and stretch beforehand.
Whatever you do, wherever your busy life takes you, be kind to yourself—both in body and mind. You'll come home feeling much happier, relaxed and prepared to take flight again.
     The yoga teachers training program has matured me instantly.  Studying the Sutras, Meditating and Practicing Asanas all at the same time, which I had never done before, has made me feel a sudden upliftment. I feel more comfortable with my mind, body and soul. It has brought a certain calm in me and I feel control over myself. I feel like my body is safe for my soul to reside.  With all the command you need over your body while doing the asanas and all the discipline you need over your mind to meditate and all the focus you need on your soul to understand and apply the sutras, I am confident I now have the knowledge and tools through the Eight Limbs of Yoga to take care of myself. I feel assured that my body is capable of peace. This revelation is HUGE. It is necessary and has made me feel very powerful. I would love to see people around me benefit in the same way I have from Yoga. 
      The teacher's training program has opened new doors for me. For the first time, I am seeing Yoga as love. Before, it was just a way to make my body look better. But now, I feel like I am doing so much more for myself than just changing how my body looks. I am teaching my mind and body and soul that they can love and harmoniously care for each other and pass on that energy of love back into the universe. 
      The training program has made me aware, that all these revelations I am having are revelations others could also experience. Yoga activism is an important part of the training and I learned a lot from the various speakers who talked about their work with army troops and their work with kids in Haiti. I discovered the various ways in which I can contribute to society through yoga.  I learned about the need and the use of yoga in communities. I soaked up information on what it means to do yoga. I learned that I can trust my mind to operate my body to treasure my soul and keep it safe. I don't see my body as something I have to constantly worry about wearing and tearing. I now see it as a safe (a treasure box) for my soul to dwell, reside and be at peace. 
      The training is powerful because it has made me value myself more and made me value everything around me. All these personal changes I am experiencing in me are worth experiencing for many more bodies and souls out there. Whether its underprivileged children in Haiti or army troops, we all deserve and want calm and peace within ourselves. I hope to keep yoga and its continuing education as part of my daily life from this point on.  One of my favorite authors said, "My advice to anybody is: Get born". As a follow up on the same lines, I would like to say, 'My advice to anybody after getting born is: Try Yoga'.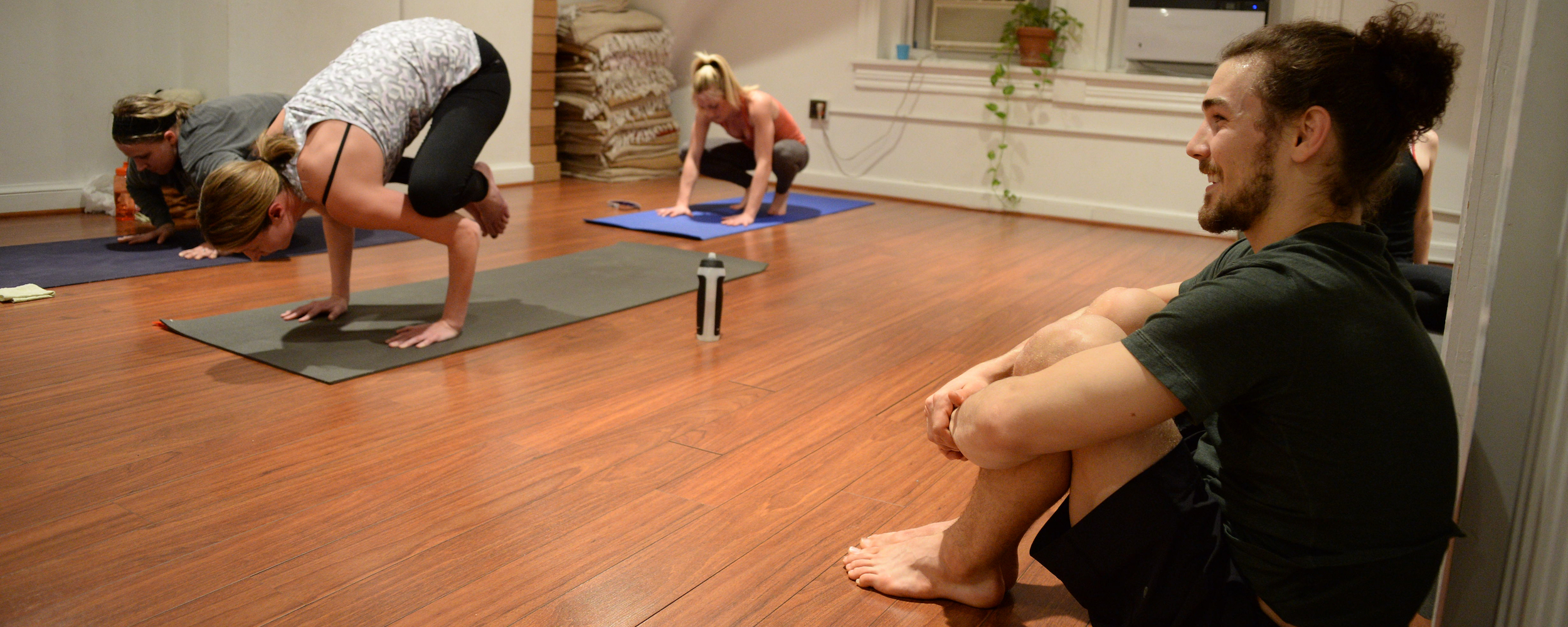 The diverse family of DC yoga teachers at Yoga District are dedicated to making yoga accessible to everyone through a huge variety of yoga class types, from vinyasa flow to restorative and beyond. Most Yoga District teachers are graduates of Yoga District's nationally-attended 200 hour teacher training program. All Yoga District classes focus on coordinating breath with body movement to promote flexibility, strength, and peace of mind. We strongly believe in yoga as therapy, so catch one of our classes whenever you need a healthy dose of self-care.
See all yoga teachers »

The Yoga District 200 and 500 hour teacher training certification programs, registered by the Yoga Alliance are unique in their emphasis on diversity of teaching styles studied, personal attention, and trauma sensitive yoga. It's no coincidence that Yoga District is regularly voted the leading studio in the nation's capital, and that most of its classes are taught by graduates of its training program. As a full time yoga school, small group trainings are led up to eight times a year by a dedicated faculty including Jasmine Chehrazi, contributor to the Harvard Karma Yoga Project teacher training, teacher training faculty at George Washington University, Yoga Alliance Standards Committee Advisory Board Member, Yoga Activist Founder, and Yoga Service Council Advisory Board Member. So take your practice and community involvement to the next level by joining a training. There's a reason why our graduates call the training "transformative."
Check out the yoga teacher training »