Browsing articles from "January, 2013"

Name: Hannah Allerdice
Hometown: Lawerenceville, Georgia
Now Lives In: Trinidad, DC
Year of first yoga class: 2000
Yoga Training: 200 & 500 Hour Dharma Life of a Yogi Teacher Training (NYC)
Education: University of Georgia, B.A.Political Science, Graduate Work, Political Science
Favorite spot in DC: The National Aboretum Herb Garden
1. What drew you to yoga? I was always searching for ways to settle my mind and experience something deeper. I knew there was more to life than making a lot of money or finding the perfect partner.
Yoga started because I was going to be fit in college, I wanted to look nice for other people and feel good in the body. Then I got into meditation after college and I really started to become fascinated with people like Ghandi and Mother Teresa. Both of them, would not typicall be thought of as yogies, but they utilized yoga techniques in one form or another to help them do good in the world.
With my academic work in political science I sought to affect change in world through conflict resolution. The more I got into yoga the more I realized that these are the tools everyone should have.
2. How did you decide to become a yoga teacher? Some folks will do teacher training soon after beginning to practice yoga – it took me nine years, training really extensivesly. I trained in the dharma tradition for two and a half years. I wanted to train with Dharma Mittra as my guru. What held me back at first was the money. Then, I got a call to teach a conflict resolution class. I would be paid the exact amount of money Dharma teacher training would cost. I knew this was the right thing then.
3. What was teacher training like? I did the 200-hour and 500-hour courses with Dharma Mittra in New York City. These two experiences were some of the most transformative experiences of my life. Dharma's theme is "The Life of a Yogi." He teaches is how to be a yogi in the modern world and how to take classical yoga teachings and apply them to out present problems.
4. What is Dharma yoga? It's classical yoga that Dharma learned from his guru. In every class there are asanas that move energy throughout body, an extended relaxation, breathing into concentration. All of the eight limbs of yoga are representated in the class. The teachers try to be quiet, calm, and balanced so that students themselves can find that stillness in themselves.
5. Why do you feel drawn to Dharma? The emphasis on self realization. We become in union with a higher self by settling the mind. When I went to my first Dharma class, there were all these neat poses I'd never seen before. I left feeling so calm and I thought – this is it! I found it!
6. What are your thoughts on the new H st. studio? what it offers to the community?
It couldn't be in a better place because this community is just right for more opportunities to find healthy ways of living. I live in Trinidad, seven blocks from studio and my neighbors know I'm a yoga teacher. They've all been asking where and when are the classes. I sense there's a real yearning for these practices in this neighborhood. The H Street Studio is a space where people from all walks of life can join together in community, we're all in these bodies that have the same issues. Yoga philosophy is that we're all the same. The studio will be the perfect place for people to come together and see our similarities.
Like a mountain, it's important to have a firm base, and prominent peak.  Let's start of with the base and explore weight placement in our feet.  Take notice of the three weight-bearing parts of your feet; your heel, the ball of the foot at your big toe, and the ball of the foot at your pinky toe. Once you've acknowledged these parts, lift your toes for an upward stretch and plant them, then raise you heels.  With each raise, front and back, you should feel the front and back of your calves activate.
Then, make your feet firm, flat and forward.  Your feet may be touching, but you can also keep them separated if you choose, hip distance apart.  Check to see if your hips are aligned with your legs, which should be aligned with your feet, and then let your tailbone drop.  This will extend your lower back, which will in turn, lift your chest.  Remember that the formation of mountains are caused by lateral movement, so bring your shoulders back and center them between the front and back of your body.  This should free your upper back a bit, allowing the head and neck to feel buoyant.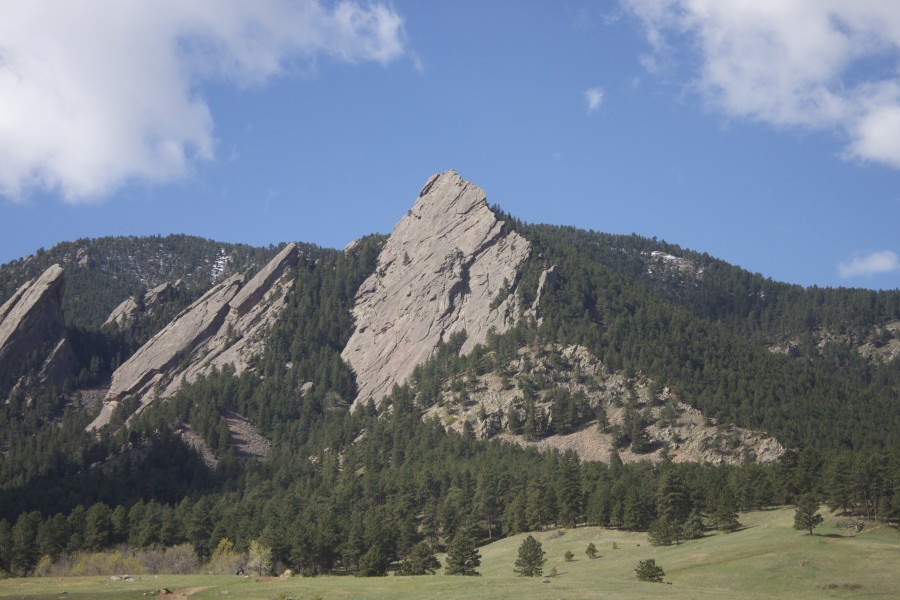 Mountains are recognized for more than just their height.  You're not just going to resemble a mountain by being vertical.  Feel the slow expansion and movement inside of you and take note of the symmetry in your body, yet acknowledge each individual physical plane; your left, your right, your front and back…In doing so,you can move slowly by rocking back and forth. Think of how even though mountains are solid structures, they too move, over time, in very subtle ways.
Now find your stillness.  You could to concentrate on your dhristi and gaze forward.  In On the Road one of Jack Kerouac's characters named Japhy often meditated on mountains and thought that, to him, " a mountain is a buddha. think of the patience, hundreds of thousands of years just sittin there bein perfectly perfectly silent and like praying for all living creatures in that silence and just waitin for us to stop all our frettin and foolin."
My job keeps me on my feet for long periods of time.  Sometimes there's downtime during my shifts, but because I must be ready to step into action, I'm not always allowed to sit down for it.  Practicing mountain pose throughout these lulls not only helps the time pass, but makes me more aware of my own posture and stance.  So take advantage of situations like that too.  Idle time can always be transformed into positive periods of meditation.  You can make a resting pose out of periodic standing.
Speaking of peaks, here's a moving and humbling video of time-lapse shots capturing the ethereal, yet rugged surroundings of the Matterhorn peak in Switzerland.  Feel free to watch, standing up, in Tadasana.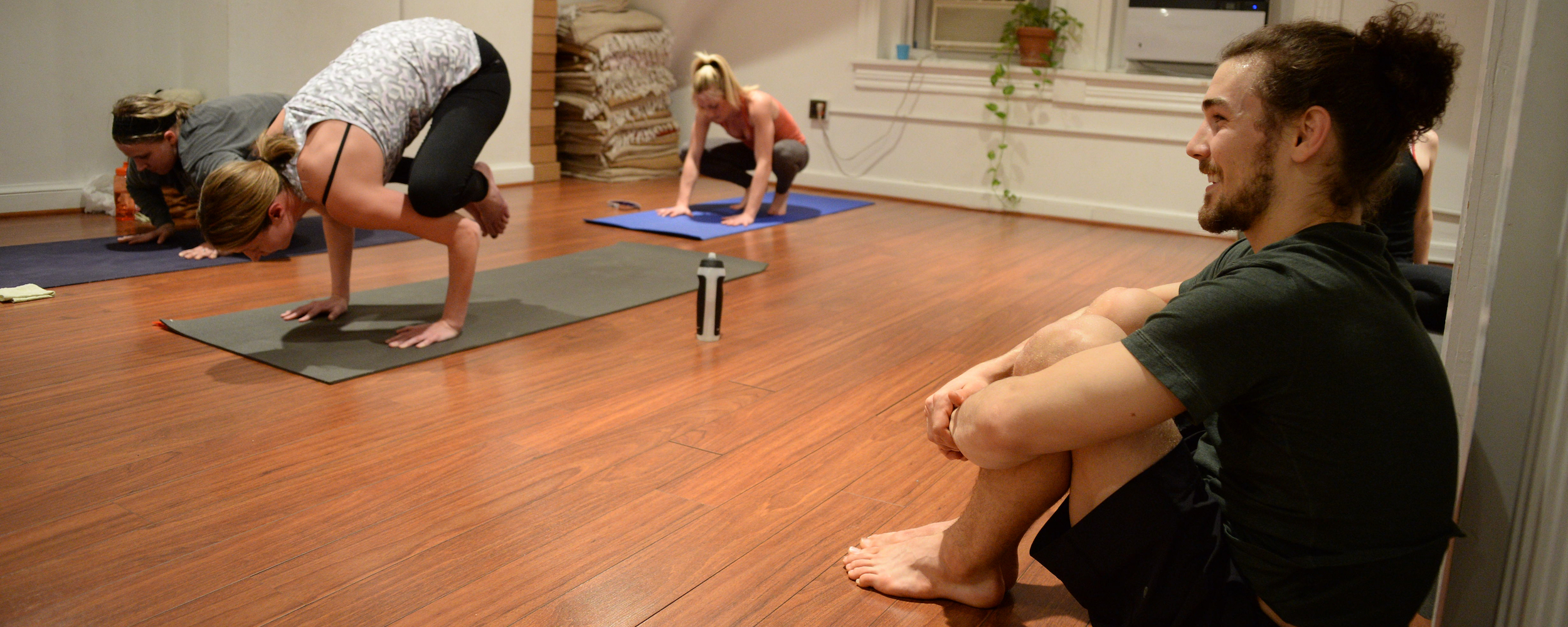 The diverse family of DC yoga teachers at Yoga District are dedicated to making yoga accessible to everyone through a huge variety of yoga class types, from vinyasa flow to restorative and beyond. Most Yoga District teachers are graduates of Yoga District's nationally-attended 200 hour teacher training program. All Yoga District classes focus on coordinating breath with body movement to promote flexibility, strength, and peace of mind. We strongly believe in yoga as therapy, so catch one of our classes whenever you need a healthy dose of self-care.
See all yoga teachers »

The Yoga District 200 and 500 hour teacher training certification programs, registered by the Yoga Alliance are unique in their emphasis on diversity of teaching styles studied, personal attention, and trauma sensitive yoga. It's no coincidence that Yoga District is regularly voted the leading studio in the nation's capital, and that most of its classes are taught by graduates of its training program. As a full time yoga school, small group trainings are led up to eight times a year by a dedicated faculty including Jasmine Chehrazi, contributor to the Harvard Karma Yoga Project teacher training, teacher training faculty at George Washington University, Yoga Alliance Standards Committee Advisory Board Member, Yoga Activist Founder, and Yoga Service Council Advisory Board Member. So take your practice and community involvement to the next level by joining a training. There's a reason why our graduates call the training "transformative."
Check out the yoga teacher training »