Browsing articles from "November, 2013"
Wear gratitude like a cloak and it will feed every corner of your life. ~Rumi
Don't grieve. Anything you lose comes round in another form. ~Rumi
There's a complicated relationship between grief and gratitude. They can destroy each other. Gratitude can be just as much about having as not having.
Kelly, a student who came to YD's philosophy class on Sunday, has the kind of eyes that are inspired, smiling in the corners– the kind of eyes that remind you everything is going to be all right. Kelly described how she spent two hours on top of Old Rag Mountain the other day, freezing, until everything just disappeared.
Read more >>

Dear Yoga District,
My relationship to yoga is constantly evolving. It shifts and offers me different things in different times of my life, as I'm sure it does for all of you, too. Recently my practice has been deeply empowering and clarifying and strengthened some of my beliefs, and I'd like to share some of my observations and thoughts.
Yoga teaches us to not get caught up in our mind, to try and let moments of frustration and anger go and to rise above in pursuit of our highest-self. That said, I don't believe that these teachings tell us to remain quiet or to let go at the expense of losing our voice, our courage, our strength, our individuality. In this regard, Audre Lorde is my guru: "When I dare to be powerful, to use my strength in the service of my vision, then it becomes less and less important whether I am afraid."


By Bree Barton

"I have learned silence from the talkative, toleration from the intolerant, and kindness from the unkind." ~Khalil Gibran
I recently traveled to Malaysia for a friend's wedding where I spent four delicious days communing with wild monkeys and feasting on sticky rice. The people were kind and warm, the culture rich, the trip magical.
Read more >>

"The men, I think, are missing out," explains Yoga District instructor Mike Graglia, on why there are relatively less men in yoga classes than women. In this Washington Post video, Henry Kerali wonders why so few men take to yoga.
Well guys, Yoga District offers a Men-only all-level flow class on Thursday nights at 8:15pm. Make it your space to explore the benefits of yoga.

Thanks, Yoga District, for inexpensive and "gentle" yoga in our neighborhood.
I did it. After over a year, I returned to a yoga class. A "gentle" yoga class. Pregnant, I had tried following prenatal yoga DVDs, but I gave up after quickly feeling (even more) nauseous.
I had been taking yoga classes on and off for the last four years. The regular stretching and exercise helped to center me physically and mentally. Yoga helped me when I was grieving and trying to return to my body after witnessing death. I finally found the courage to attend a class hoping that the movements would connect me to this new body of mine.
Read more >>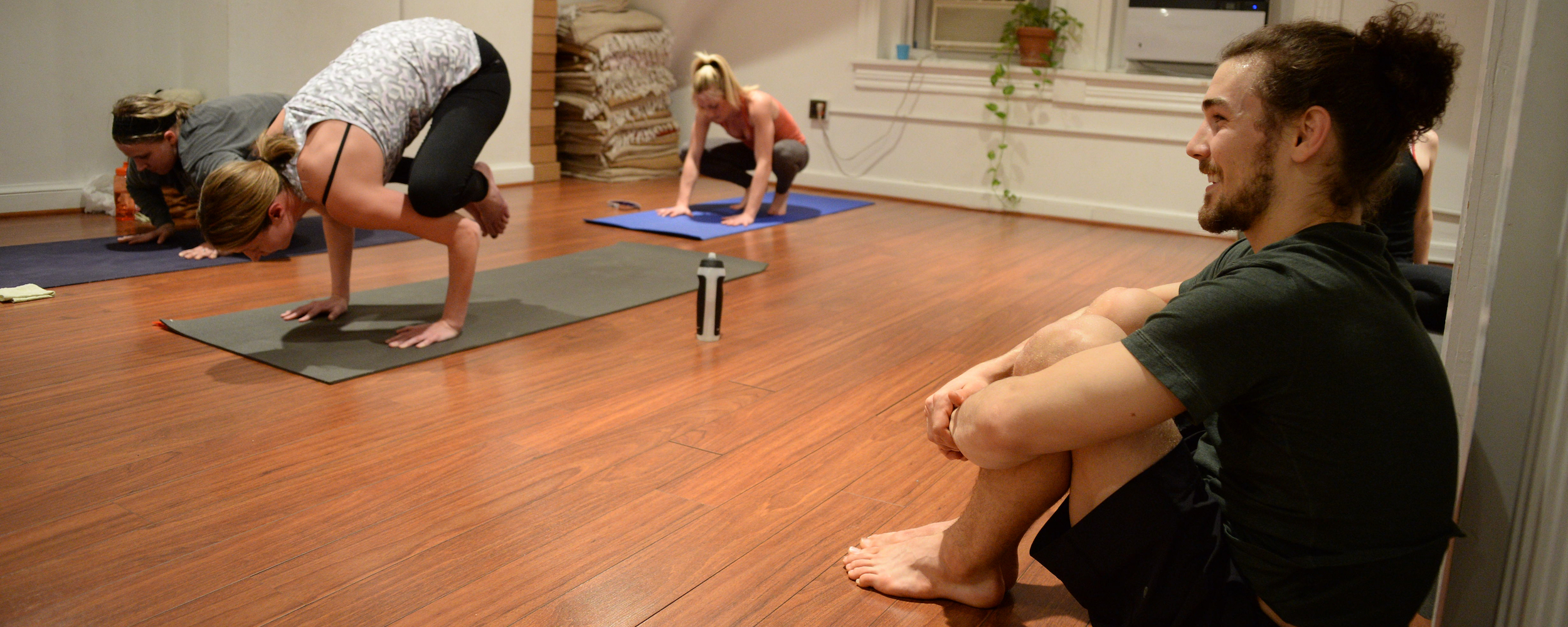 The diverse family of DC yoga teachers at Yoga District are dedicated to making yoga accessible to everyone through a huge variety of yoga class types, from vinyasa flow to restorative and beyond. Most Yoga District teachers are graduates of Yoga District's nationally-attended 200 hour teacher training program. All Yoga District classes focus on coordinating breath with body movement to promote flexibility, strength, and peace of mind. We strongly believe in yoga as therapy, so catch one of our classes whenever you need a healthy dose of self-care.
See all yoga teachers »

The Yoga District 200 and 500 hour teacher training certification programs, registered by the Yoga Alliance are unique in their emphasis on diversity of teaching styles studied, personal attention, and trauma sensitive yoga. It's no coincidence that Yoga District is regularly voted the leading studio in the nation's capital, and that most of its classes are taught by graduates of its training program. As a full time yoga school, small group trainings are led up to eight times a year by a dedicated faculty including Jasmine Chehrazi, contributor to the Harvard Karma Yoga Project teacher training, teacher training faculty at George Washington University, Yoga Alliance Standards Committee Advisory Board Member, Yoga Activist Founder, and Yoga Service Council Advisory Board Member. So take your practice and community involvement to the next level by joining a training. There's a reason why our graduates call the training "transformative."
Check out the yoga teacher training »