Public Relations Manager
Open Position: Public Relations Manager
We want to work with people who love yoga, love people, love life. We need a self-motivated and self-managed person who loves making to-do lists and crossing things off, getting things done, finding peace in order, fearlessly fighting back chaos. Yeah, this is kind of Jedi stuff, where you work for the greater good and get satisfaction knowing that the job is well done. You don't need experience in any of the duties listed below, but it would be helpful. We're really looking for someone who wants to stick with us for a while, who really cares, and who understands the sky is the limit in terms of upward mobility in this non-hierarchical yoga studio collective, by the people, for the people. Duties include:
Social media on multiple platforms (FB, Twitter, etc.) for Yoga District, Yoga Activist and District Tea
Monthly newsletter for Yoga District, Yoga Activist and District Tea
Weekly blog posts for Yoga District, Yoga Activist and District Tea
WordPress site updates for Yoga District and Yoga Activist; site updates for District Tea
Monthly reports and emails to students with account issues
Manage customer service interns ensuring all inquiries are responded to in a timely, courteous fashion
Answer all student and staff emails with student account issues
Assist with answering student phone calls, and keep other phone attendant updated on any relevant policy changes.
Manage promotion interns, fliering interns, class announcements, promotions/marketing, promotional events, etc.
Update fliers events and class schedule, and assist with signage at studios
Additional responsibilities as assigned to ensure consistent messaging across brands and channels
Background check and drug test may be requested. Position available immediately. This is a full time position where you can work remotely aside from visiting each studio for a few meetings each week. Compensation includes includes free unlimited yoga, flexible schedule, half off our yoga teacher training after six months of service, health care credit (most full time staff here are using DC open HMO through Carefirst until each state offers options in October 2013), continuing education compensation potential after six months of service, the ability to make an impact and be creative, and $31,000/year.
No later than July 8th, please send within the text of an email (no attachments, please) a summary of relevant experience / resume, statement of interest, first available start date, desired length of commitment (ideally at least one year), your long term life goals, two references, and any other relevant information to info@yogadistrict.com with subject "PR MANAGER APPLICATION."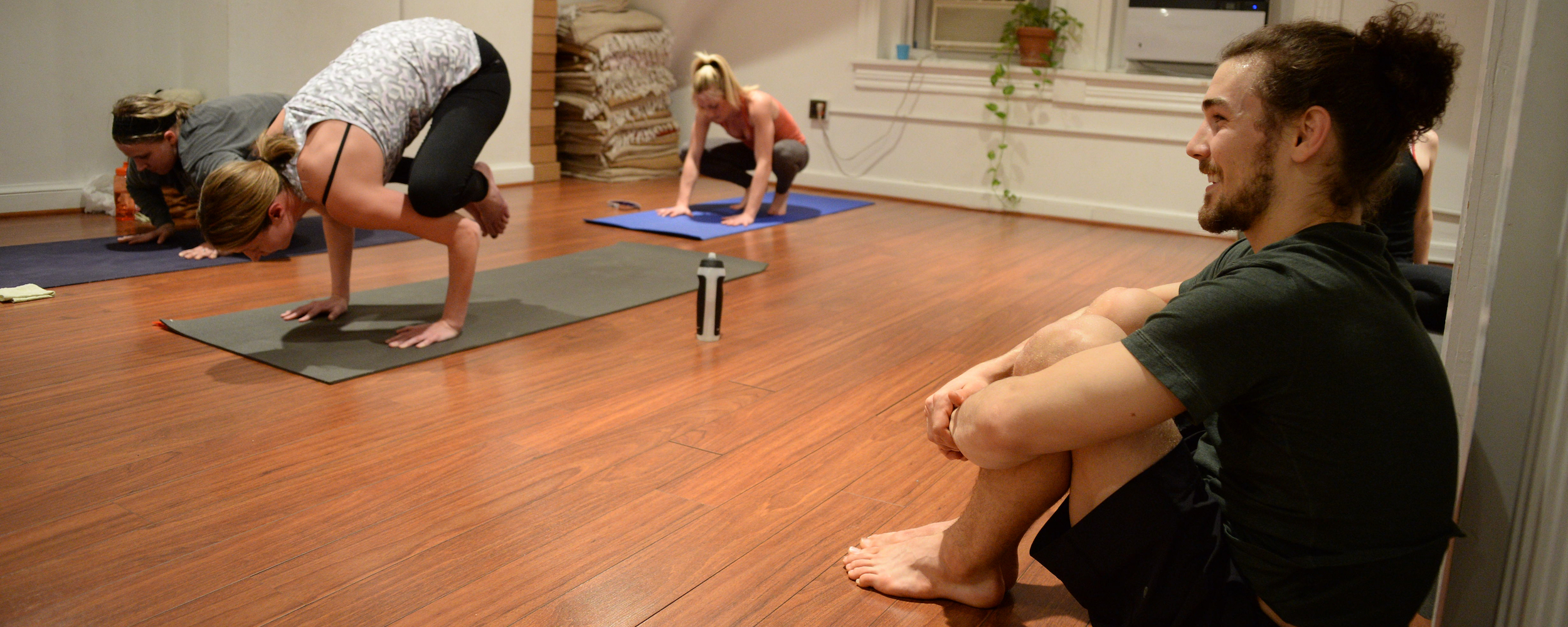 The diverse family of DC yoga teachers at Yoga District are dedicated to making yoga accessible to everyone through a huge variety of yoga class types, from vinyasa flow to restorative and beyond. Most Yoga District teachers are graduates of Yoga District's nationally-attended 200 hour teacher training program. All Yoga District classes focus on coordinating breath with body movement to promote flexibility, strength, and peace of mind. We strongly believe in yoga as therapy, so catch one of our classes whenever you need a healthy dose of self-care.
See all yoga teachers »

The Yoga District 200 and 500 hour teacher training certification programs, registered by the Yoga Alliance are unique in their emphasis on diversity of teaching styles studied, personal attention, and trauma sensitive yoga. It's no coincidence that Yoga District is regularly voted the leading studio in the nation's capital, and that most of its classes are taught by graduates of its training program. As a full time yoga school, small group trainings are led up to eight times a year by a dedicated faculty including Jasmine Chehrazi, contributor to the Harvard Karma Yoga Project teacher training, teacher training faculty at George Washington University, Yoga Alliance Standards Committee Advisory Board Member, Yoga Activist Founder, and Yoga Service Council Advisory Board Member. So take your practice and community involvement to the next level by joining a training. There's a reason why our graduates call the training "transformative."
Check out the yoga teacher training »