Browsing articles from "February, 2011"
You've probably been asked to chant "Aum" at the end or beginning of a yoga class. Here's the breakdown so you can "Aum" with confidence:
Say "ahhhhh" like you'd say for the doctor, or like in the word "father." Notice where you feel that sound vibrating in your body. Probably in the abdomen somewhere. Do this a few times.
Next, just like you'd say in "who," say "ouuuuuu." Repeat a few times, trying to sense where the body vibrates. Most likely in the chest/throat. Try to make an "O" shape with the lips.
Then say "mmmmmmmmm." Less like "mmm-mm" to cookies, and more like "hmmmm" when you're thinking about something. You'll probably feel this sound vibrating on your lips, and with practice, you might feel the space between the eyebrows, the crown of the head, or the entire head vibrating. Repeat a few times to get the hang of it.
Finally, there is a period of silence after each "Aum" which is very important- it is said to vibrate above the head, symbolizing that which is beyond thinking.
So go ahead and put it all together, giving roughly equal duration to "ahh," "ouuu," and "mmm," preceding a moment of meditative silence.  Of course, some traditions recommend different durations, such as making the "mmm" rather short… perhaps try it out figure out what your preference is. Aum loudly, softly, silently, in the dark, in your car, by yourself, in the shower, before meditation, and as often as possible.
If you're interested in some deeper explanations of "Aum," consider this:
– Realms of experience: "Ahh" represents the waking state, "ouuu" represents the dreaming state, "mmm" represents the deep sleep state, and silence represents the spiritually awakened state.
– Levels of mind: "Ahh" represents the conscious mind, "ouuu" represents the subconscious, "mmm" represents unconscious, and silence represents super-consciousness.
– Realms of time: "Ahh" represents the present, "ouuu" represents the past, "mmm" represents the future, and silence represents timelessness.
– Everything and beyond: If we hold E= mc2 to be true, all matter is simply an expression of energy. At matter's tiniest level, it's simply a vibrating particle or string. Many believe that the vibration of these super tiny strings or particles of energy that form all matter and all life resonate with "Aum."  The ancient Mandukya Upanishad describes "Aum" as a primordial vibration, symbolizing everything manifested in the universe (yet originating from the un-manifested universe). Think big bang. Or think New Testament: "In the beginning was the word…"
Meditate on that.
For more details, read this or find a scientist, psychiatrist, or ideally a guru such as Dharma Mittra in NYC.
A Washington Post article on meditation:  "This is really, clearly, where we can see, for the first time, that when people say, 'Oh, I feel better, I'm not as stressed when I meditate,' they're not just saying that – that there is a biological reason why they're feeling less stress," says senior author Sara Lazar, a psychology instructor at Harvard Medical School.
That meditation integrates so well into yoga classes isn't a coincidence. Meditation is one of the 8 limbs of classical yoga, and we prepare the body for meditation through our yoga asanas (postures). I prefer meditating after I've done asanas, when the body is open and the mind is settled.
If seated meditation isn't your think, yoga asanas can also be practiced in a way that makes them more like "meditation in motion" than aerobics. One of my favorite ways to practice yoga more meditatively is to just stay mindful as I sweat into even the most uncomfortable asana, offering my practice to that which unites us all. "That which unites us all" might mean God for some people, but for me it means that underlying energy that unites all of us. Union is a big theme in yoga. In fact, yoga translated means "to yoke" or "unite." You can unite your body and breath in rhythm with yoga, but it doesn't stop there…
Learn about the brain and think about how you choose to use it.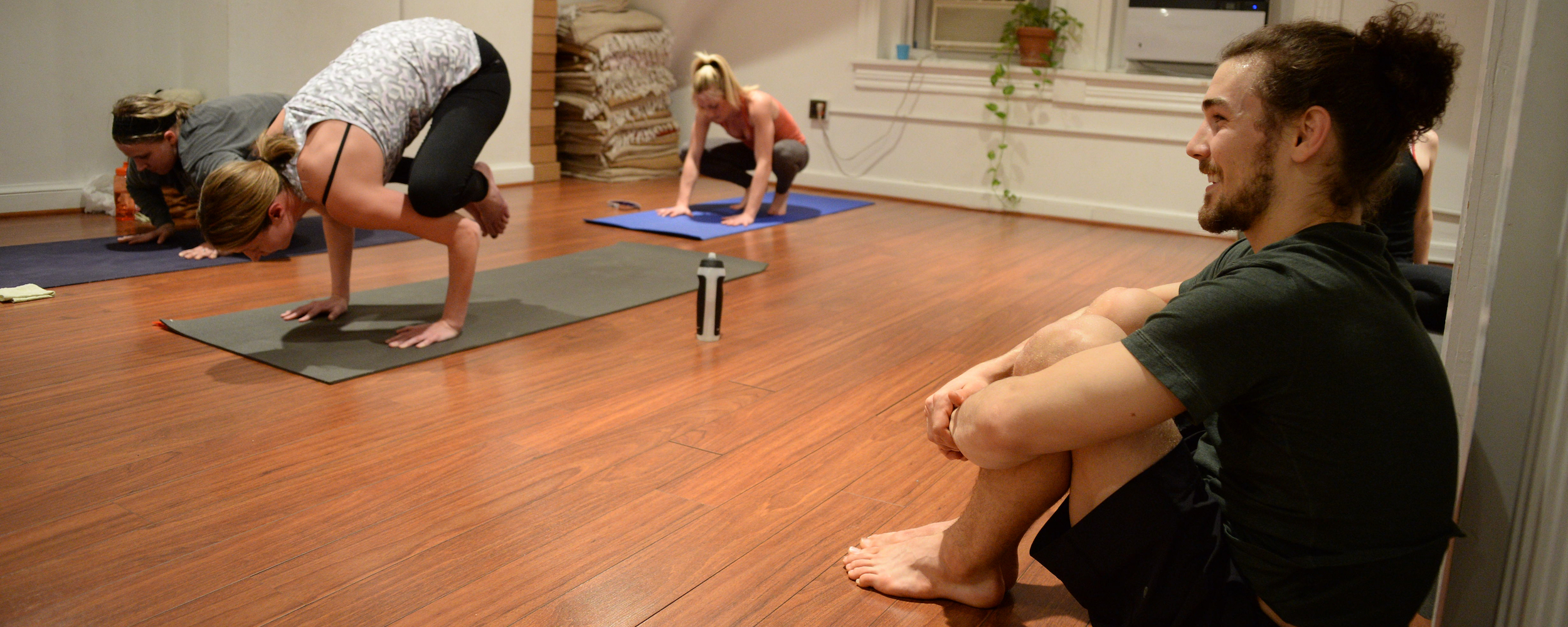 The diverse family of DC yoga teachers at Yoga District are dedicated to making yoga accessible to everyone through a huge variety of yoga class types, from vinyasa flow to restorative and beyond. Most Yoga District teachers are graduates of Yoga District's nationally-attended 200 hour teacher training program. All Yoga District classes focus on coordinating breath with body movement to promote flexibility, strength, and peace of mind. We strongly believe in yoga as therapy, so catch one of our classes whenever you need a healthy dose of self-care.
See all yoga teachers »

The Yoga District 200 and 500 hour teacher training certification programs, registered by the Yoga Alliance are unique in their emphasis on diversity of teaching styles studied, personal attention, and trauma sensitive yoga. It's no coincidence that Yoga District is regularly voted the leading studio in the nation's capital, and that most of its classes are taught by graduates of its training program. As a full time yoga school, small group trainings are led up to eight times a year by a dedicated faculty including Jasmine Chehrazi, contributor to the Harvard Karma Yoga Project teacher training, teacher training faculty at George Washington University, Yoga Alliance Standards Committee Advisory Board Member, Yoga Activist Founder, and Yoga Service Council Advisory Board Member. So take your practice and community involvement to the next level by joining a training. There's a reason why our graduates call the training "transformative."
Check out the yoga teacher training »