On January 26th SFO welcomed the new 150-square-foot yoga studio with a celebratory sun salutation. Travelers can use free mats to have a respite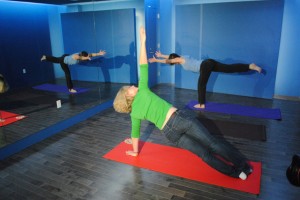 from the crazy and rushed atmosphere that is a modern airport. Located just past the security checkpoint in the recently renovated Terminal 2, the new yoga room has blue painted calming walls, a floating wall said to symbolize a buoyant spirit and enlightened mind, and felt-covered rocks to add to the Zen garden atmosphere. Lights in the room are low and warm to counteract the bright concourse.
Airport officials think this is the first in-airport free yoga studio. Travelers are encouraged to use it for they own personal practices.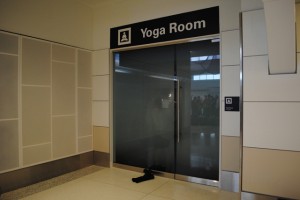 Melissa Mizell, design director for Gensler, the architecture firm behind Terminal 2, said in a statement that the room "gives modern travelers a space that fosters and supports quiet and reflection," MSNBC reports.
I personally would love an airport yoga studio. While traveling abroad I noticed the Qatar airport offers a sleeping room, showers, and inexpensive massages. Sometimes with a long layover these extra perks are just what a traveler needs.
Would you use an airport yoga studio?