"Why a ladies-only yoga class?  Aren't most yoga classes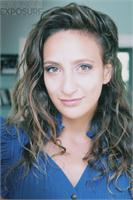 mostly women anyway?"
It's a question that I get often.  Accessibility, I usually reply.  It's my attempt to make yoga accessible for women regardless of cultural or religious backgrounds, to accommodate a diversity of levels in modesty and comfort in exploring a physical asana practice.
Yoga Just for the Ladies began as response to a need first identified within the Muslim community. When I first began teaching yoga about 5 years ago, a lot of women from my community, especially those who are veiled or muhajjiba, were reluctant to attend my regular yoga studio offerings.  Those classes, they explained, were not a guaranteed safe space for them to explore a physical asana practice if men were potentially in the room.
And so it began; I offered my students a space that was held just for them, where they could enjoy the benefits of this ancient healing system to increase strength and flexibility, reduce stress, and relieve pain.
Dalia Mogahed began practicing yoga five years ago. The practice, however, became particularly important for her a year ago when she made the leap: moving back from overseas to the DC area and launched her own consulting firm specializing in Muslim societies and the Middle East.  The transitional stress took a toll on her body.  By the time she came to the ladies-only class, she had developed back pain that made it hard for her to walk, work or sleep. Our yoga practice together provided her relief during that time in her life.
Students cultivated personal yoga practices that informed not only their physical bodies and consciousness, but even their devotional practices.
Nada Zohdy, a student at the Harvard Kennedy School has been practicing for almost 7 years and was one of my very first regulars in the class.  Yoga offered her tools create deeper spiritual awareness and connection.  She writes:
"As a person of faith who prays on a regular basis, I really find that practicing yoga actually can help me be more conscious and present in my prayers by training me to detach myself from distracting thoughts that always arise and work toward being fully present in what I am reciting during my prayers.  Yoga also helps make me attuned to my breathing, which for me is a beautiful, constant reminder of the physical miracles that happen with us all the time."
It's purpose and the communities it serves continues to evolve. It's not just a class for Muslim women.  It's a space for women — all women — to truly explore their breath and their bodies without worrying about who's watching.
We often see a very sexualized image of yoga in popular culture, in part because the consumer audience is traditionally male. For many women who already struggle with self and body image, what's projected and perceived, this is a space to not play into that imaging.
"Some women," Nada explains, "might find themselves becoming more self-conscious at a co-ed gym. I enjoy being able to practice yoga in a women-only, judgement-free space."
The ladies-only environment provides a venue for all women to tune out those nagging image issues and be fully present in their yoga practice, fully present in their breath and its innate reserves for healing.
"It's wonderful," Dalia says, "to have a 'room of one's own' to practice."
By Dahlia Shaaban, Yoga Instructor at Yoga District and founder of Dahlia Nutrition & Wellness.