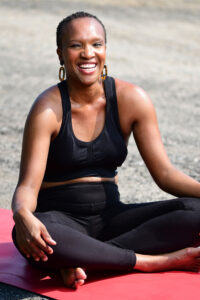 Meet Denesia, one of our teachers at Yoga District! Learn about Denesia's yoga journey and her reflections on being a black woman in the yoga space.
Denesia teaches Prenatal and Postnatal Yoga live-streaming classes on Mondays from 7:15PM-8:15PM. Sign up here!

How would you describe your yoga journey?
My yoga journey began in 2013. I was looking for comfort and healing in light of a lifelong struggle with scoliosis. With Bikram yoga I found relief in the combination of heat and posture (1). A few years later, when I was pregnant with my first child I began practicing prenatal yoga. I realized that I wanted to deepen my yoga practice and become a pre-and-postnatal yoga instructor.
Can you tell us about your background?
I was born in Port of Spain, Trinidad and Tobago. My family migrated to America when I was about 18 months old. I was raised in New Jersey, and I am one of four children. After completing my undergraduate degree at Johns Hopkins University, I received a master's degree in public health from Tufts University School of Medicine. I currently reside in Washington, DC, with my spouse, two children, and our four-legged American Akita. In addition to yoga, raising my family gives me purpose and makes me feel whole.
Why did you come to Yoga District? 
I stumbled upon Yoga District during my search for prenatal yoga classes. I fell in love with Yoga District's teachers and community. I always felt welcome and safe in Yoga District's spaces. This was extremely important to me as a person of color and a pregnant student. I also appreciated Yoga District's emphasis on diversity, equality, and activism. I decided to complete my yoga teacher training (YTT) through Yoga District. I immediately sought opportunities to give back to the Yoga District community by becoming a teacher at the studio and promoting its values.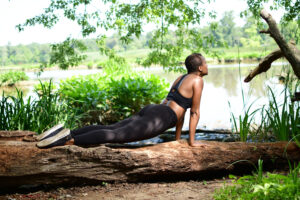 What's the best part about being a yogi?
My favorite part about being a yogi is participating in a practice that is personal and ongoing. In yoga, there are always opportunities to learn, grow, and deepen the practice.
What do you think about when you hear "Black History Month?" 
Black History Month: is a time to honor, remember, and learn about the history of the black struggle. Black History should not be confined to only the month of February, but it should be a continuous effort to address racial injustice in this country. We still have a long way to go in order to achieve a diverse and equal society.
Is there a specific black person from history who inspires you?
There is not one particular black individual who inspires me more than the rest. Rather, I am inspired by all black people who have set records, spoke out, and gone against the grain to shift how people see black people today. Every black person who has made history in this country should be remembered, honored, and celebrated for the sacrifices they made.
What does being a black woman mean to you? 
Being a black woman means being seen as a fellow human being. Being a black woman means being accepted into spaces which she was not historically welcome because of the color of her skin. Being a black woman means fighting for equality, accessibility, and representation. Being a black woman means making herself heard.

Sources:
Bikram Yoga, https://www.yogapedia.com/definition/5012/bikram-yoga