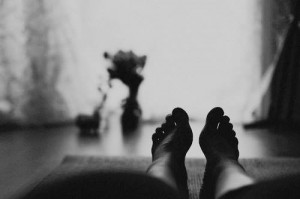 When I tried yoga for the first time before moving to Washington, D.C. a few years ago, I liked it. That was the most I could say about it. It felt good and I enjoyed myself, but my heart wasn't quite in it.
Many events occurred in my life over the past five years that changed my attitude and opened my heart to the practice. Within one year, I lost my grandparents and both of my parents, three of them having died suddenly. In 2009, I was fortunate to have been introduced to Nichiren Buddhism, a daily practice that strengthens my belief in my own potential and emphasizes the connection between all living beings. Things were going better for me, but there was still something missing.
I was quite familiar with loss, but was hit with it again when another important relationship ended in my life just over a month ago. I decided I wanted to take this as an opportunity to reconnect with myself and create the most value with my life. Looking back I realized I'd lost touch with what was important to me and set out on a path of rediscovery.
My seeking spirit ultimately led me to Yoga District. From my first class with the studio in April, I knew that something fundamental had shifted within me. I had never cried before in a yoga class. But I wasn't ashamed. I didn't feel the need to cover it up. It felt so natural. It felt good!
I couldn't explain my transformation, I just wanted to keep experiencing it. As soon as I placed myself on the mat, I felt I was affirming the value of my life. This was my time. Yoga strengthened my practice of mindfulness, self-kindness, and compassion- behaviors that began to trickle out into my life outside of the studio. As a result of my openness and commitment to Yoga District, I am uncovering a new me. All of these wonderful qualities were always there within me, but my yoga practice helped me unlock them and use them to their full potential.
Daisaku Ikeda, a Buddhist philosopher, writes, "you are more precious than all the treasures in the universe." Thanks to Yoga District, I truly believe this in my heart and can actualize it every day through my yoga practice.
Namaste.
Written by Kelley [Last name withheld]
Kelley attended Jasmine's Yoga for Grief Workshop on August 18. The next Yoga for Grief Workshop will be on Friday, September 27  Sign up for our Yoga for Grief Workshop here.