Transition into fall cooking with this quick and easy miso soup recipe that provides a little warmth.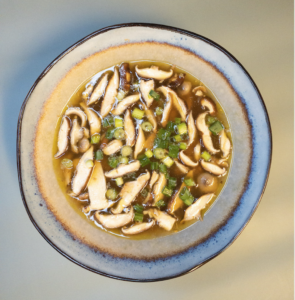 Try this pantry friendly soup.
Enjoy its highly coveted umami flavor.
Fill up without feeling heavy!

All About Miso
Miso is an amazing base for cooking that gives a nice umami layer to your food (1).  A miso base usually comes in the form of a paste. Derived from Japan, miso can be made by mashing up soybean and mixing them with a fungus called koji (2). Because of the process, misos can be very diverse in flavor, texture, and color (yay fermentation)!
I learned this easy take on miso soup from a colleague at work. The great thing about this recipe is that it can be made sans-stovetop, in a microwave, if you want to cut down the prep time. You can also use pre-cooked black rice or any other grain you love and integrate it into the recipe for some additional caloric content. As an added bonus, this recipe is gluten-free, dairy-free and vegan. 
Easy Mushroom & Tofu Miso Soup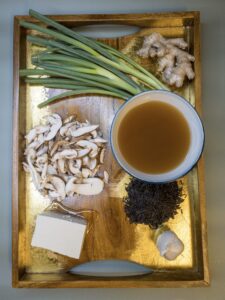 Ingredients:
2 Cloves Minced Garlic 

1 Tablespoons Finely Minced Ginger

4 Oz Assorted Mushrooms (I used Shiitake, Brown Beech and Oyster)

2 Tablespoons Preferred Oil (Olive, Avocado, Sunflower, etc.) 

1 Cup Tofu

1 Quart Miso Broth Base

2 Green Onions

1 Cup Preferred Rice (Black or Wild Recommended)*

1 Teaspoon Salt or Salt to Taste
* Note: Black Rice or Wild Rice is recommended because softer rice may not hold up as well in this recipe.  
Directions:
Measure out a cup of black or wild rice, place in a bowl, and cover with water. 

Allow the rice to sit on your counter overnight.

Bring 3 cups of salted water to boil in a saucepan.

Drain the rice and then add it to the saucepan.

Allow rice to cook for about 20 minutes.

While the rice is cooking, mince your garlic and your ginger
.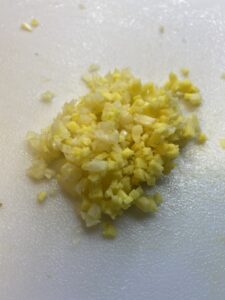 7. Heat up 2 tablespoons of avocado oil and sauté the ginger for about 1 minute. Add in the garlic and sauté for about 2 minutes or until the mixture is fragrant. Stir throughout to ensure the garlic doesn't burn.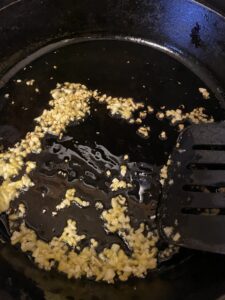 8. Your rice should be done by now. Drain off any excess water and set aside. 

9.  Prep your other ingredients: Cut the tofu into chunks. Do a quick rinse of your mushrooms but be careful not to soak them. Then pat them dry with a paper towel or kitchen cloth. Chop up your green onions.

10. In a soup pot, pour in the miso broth and spoon in the garlic and ginger mixture. Salt to taste.

11. Add the mushrooms, rice, and tofu and allow to cook for 6 – 8 minutes, until the soup is fragrant.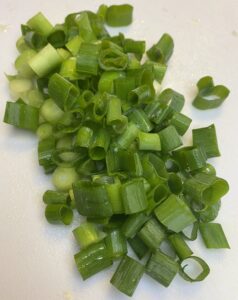 12.Dish out and top with green onions.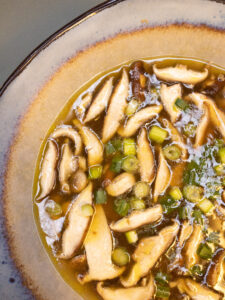 Check out other recipes on the Yoga District Blog!
Sources:
Umami

, https://food52.com/blog/22142-umami-the-5th-taste-explained

What is Miso,

https://www.bonappetit.com/story/what-is-miso