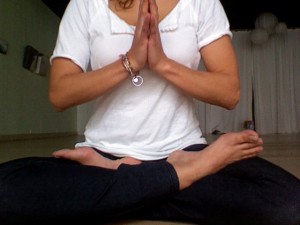 To meditate, you don't have to sit like this. Meditation doesn't look a certain way. It doesn't even have to feel a certain way. The only trick is, you just have to do it.
There's a meditation workshop coming up at Yoga District that will go over so many different ways to meditate that you're bound to find one that you connect with. Gracy, the delightful (I mean it, delightful) teacher who is leading the workshop, will share really down to earth meditation practices that you can easily integrate in your daily routine.
I credit my daily meditation practices with helping me find more peace, less reactivity (aka I don't "freak out" on people), and passion for my purpose in life. Research agrees that meditation lowers stress, improves brain function, lowers fatigue, improves emotional regulation, increases compassion, etc.
It has even been shown to improve attention and focus (and therefore productivity, I bet), which is probably why our meditative yoga workplace classes are such a hit in so many offices in Washington DC.
If you think you don't have time to meditate, one of my teachers even suggested starting a meditation practice by closing your eyes and focusing on your breath whenever you take a bathroom break or before a meal. If it's the only opportunity you have to pause in your busy day, it's far better than nothing and the benefits are too good to pass up!