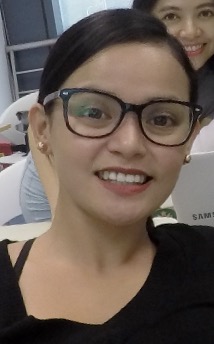 Meet Peach, one of our beloved teacher training graduates from Manila, Philippines! Read on for Peach's story about the journey which brought her to yoga–and the Yoga District teacher training all the way from the Philippines!
What is your name?
Peach Cristine P. Mascariñas

How long have you been practicing yoga?
I'm roughly on my 7th year now- on & off the mat. I was first introduced to yoga when I was in college. Back then, my priorities were different as I wanted something intense and pursued powerlifting.

Why did you choose to enroll in Yoga District's teacher training program?
Taking a yoga teacher training to deepen my practice was at the back of my head for quite awhile. There was too much going on in my personal life as well as at work for me to just leave everything behind. I told myself that if I find a good program that resonates with my life principles that will be my sign from God and the universe to give it a go. I've been searching for a yoga teacher training program for at least a year before I found Yoga District's Teacher Training Program. There were a lot of options to choose from – from celebrity yogis leading the training to training venues that seemed more of a vacation than a training, differences in curriculum and of course, tuition fees that ranges from reasonable to absurd. Unfortunately, most of them were too commercialized. Something didn't feel right.

I found Yoga District as one of the very few, if not the only one, that is in sync with the things that I value – a good curriculum with diverse yoga styles for diverse student communities, simplicity, educating others and sincerity in spreading yoga to everyone. It wasn't all about the money. YD has programs in place to help students pay for their trainings – payment plans, full and partial scholarships, work-study program. YD also hires their trainees which only means that they have confidence in what they are teaching them. What impressed me the most is that it also has FREE yoga teacher training for DC Public Schools teachers. Its vision to make yoga accessible to the many is not just all words.

I did my pencil pushing and weighed everything out – tuition fees, miscellaneous fees, airfare, lodging, transportation costs, food and thousands of miles away from my son. I am from Manila, Philippines and aside from the fees, I will be spending at least 24 hours flying to DC and another 24 hours flying back home. For me, time is money. I wanted to find a school that would use my money in doing something better for this world and only Yoga District met this requirement.

Aside from your 200 hour certification, what did you gain from your teacher training that you hope to share with others?
I gained not just a new set of yoga friends but I gained a family in DC! I love my co-trainees and my teachers/mentors!!! They provided a safe, non-judgmental space for me to be myself and to grow. We still keep in touch up to now supporting each other in life's struggles. YD community-vibe really felt like home.

If you had to describe your life in the form of a yoga pose, which pose would it be and why?
Hanumanasana! It takes a lot of work to get through life, to get into this pose. Nailing the splits doesn't happen overnight. To get to where I am now in life, I had to take it slow and steady. I have to know when to push myself and when to pull back. I had to work hard on opening myself up to a lot of things – and the pose requires open hamstrings as well as the hip flexors. There will always be times when u just have to let go and surrender yourself. And just like Hanuman, I've taken and still taking a lot of leaps of faith for the people I love.

What is your favorite thing to do in your community?
My favorite thing to do is to spend some quality time with my son traveling, playing, watching movies/tv series as well as getting massages together.

Describe your personal circumstances or experiences that made you want to share yoga.
Yoga saved me and is continuously saving me.

Sometime 2010, I was diagnosed with an autoimmune thyroiditis and my cortisol level was so high. Doctors couldn't give me any medications just yet for so many reasons. I got frustrated with my condition and felt helpless. That's when I decided to stop my monthly lab tests and doctor visits and instead, I decided to try out Bikram Yoga. I couldn't let a day go by without going to a class. My blood tests showed that my thyroid function and cortisol level went down to normal. This deepened my love for yoga even more. I eventually explored other types of yoga.

I started traveling a lot for work in 2013. I didn't have a home studio. Though the frequency of my yoga practice went down, the very few times I'm on my yoga mat, I felt like I was home.

Very few knew what I was going through or that I was even going through something in 2015. I knew that I have no control over the situation, over the people around me but I can control the way I respond to what's happening. I can't fix everything but I can fix myself. I decided to seek refuge to my yoga mat. Yoga became my tool for self healing. It taught me to love myself and to listen to my inner voice. I learned that I can better take care of others if I take care of myself. I redirected my negative emotions/energy to something productive- yoga classes. Physical strength and flexibility are just "side effects" of practicing yoga. Yoga gave me my inner peace. It taught me the value of self acceptance, self love and happiness in solitude.

What advice do you have to others sharing seeking to share yoga with others?
You have to start with yourself. Once they see it in you and see how yoga positively changed and is continuously changing your being, it is so much easier to share it with others.

Please describe a challenging moment that you have experienced in training, how you faced that challenge, and what you learned from it.
Long days, tons of information and unnecessary pressure I was putting myself into worrying about the final practicals can be overwhelming. For my final practicals, i decided to teach a sequence I prepared myself instead of the set sequences of Power Yoga or Dharma 1 which reflected more of my creativity and personality. During my actual practicals, my favorite teacher was assigned to observe my class, I felt even more pressured. I joined my students in the breathing exercise and the mini meditation part of the sequence because I badly needed it. It calmed me down. Laughing it out when I made mistakes made it so much easier.

I learned that taking time to breathe and meditate calms me down and gives me a fresher perspective of things. Always being my goofy self, not taking life too seriously is the way to go.

How did enrolling int the Yoga District teacher training affect you personally and professionally?
Before my training, my definition of deepening my practice is nailing advanced poses. Yoga District Teacher Training Program opened my mind about what yoga truly is. My teachers/mentors focused on yoga philosophy. Yoga is not just about getting into the poses. It's not a performance. The physical aspect is just a small part of the picture. Fitness is just a side effect of yoga. The training instilled the value of self-care. As a teacher, this is very important because students will look up to you. You can't pour from an empty cup.

I'm hyperactive. I've appreciated the value of breathing and meditation. They say that what you hate the most is what you need the most. Post training requirements strengthened the roots of these new habits I've gotten from my training.

I'm not there yet. And it's ok to be a work in progress.