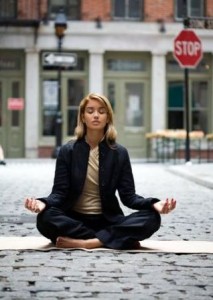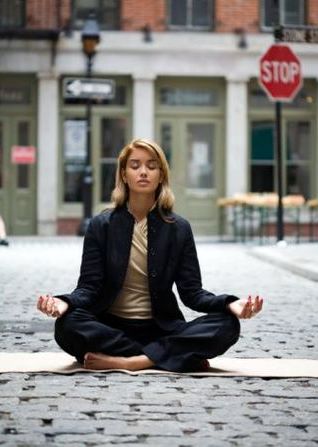 You close your eyes and breath in the smell of stuffing, mash potatoes, and pumpkin pie. For people celebrating Thanksgiving, it can be a time of mixed emotions. With this in mind Yoga District has compiled some mindful tips for dealing with Thanksgiving stress. Also, check out our two hour Post-Thanksgiving Restorative Workshop.
We hope that the following suggestions will guide you to a peaceful Thanksgiving. You can practice them anywhere at anytime. We would love to hear from you so please feel free to comment below and provide any of your recommendations for how to avoid stress during the Thanksgiving holiday.
MINDFUL TIPS
Breathing Techniques (Pranayama)
Please note: Stop any of our mindful suggestions if you become light headed or dizzy.  Make sure to practice within your own range of abilities and limits.  Please consult with a doctor before practicing if you have any medical concerns.
Belly (Abdominal) Breathing
Benefits: Calming mind and body
Either sit comfortably or lie down on your back. Place a hand on your chest with your other hand over the center of your belly. Take deep slow breaths in through your nose inflating the diaphragm (belly) not the chest. Exhale through your mouth letting out the entire breath slowly. Try to breath 6-10 times per minute.
Equal Breathing (Sama Vritti or Counting Breath)
Benefits: Calming mind and body also helps with focus
Either sit comfortably making sure your hips are higher than your knees or lie down on your back.  Exhale completely. Inhale through your nose for a count of four then exhale through your nose for a count of four. Change the length of breath to suit your needs.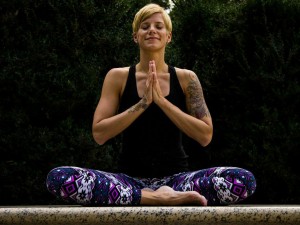 Alternate Nostril Breathing (
Nadi Shodhana
)
Benefits: Finding balance and centering
Note: If the suggested breath count below doesn't feel good to you, please adjust the count to fit your body's wants and needs.
Find a comfortable seat with your sit-bones on the ground and crown of the head lifted to create a long spine and open heart.

Rest your left palm on your left knee, moving your right hand towards the nose.

Gently close your right nostril using your right thumb, and slowly inhale through the left nostril for 6 counts.

Close your left nostril with your ring finger pausing for 4 counts.

Take thumb off right nostril and exhale slowly through the right nostril for 6 counts.

Close the right nostril with your thumb and then pause again for 4 counts.

Repeat starting at step three for 5-10 cycles with your mind focusing on your inhales and exhales. Ease back into normal breathing.
Guided Visualization
The moment you feel anxious try a guided visualization technique.To let go of your tension visualize using your 5 senses to either focus on the current moment or drift off to a restful place.
Grounding Visualization
If you prefer to feel grounded then with your eyes open observe your surroundings using all 5 senses. For example, if right as you sit down to Thanksgiving dinner you feel overwhelmed then take a deep breath and while exhaling you observe with each sense:
See the Thanksgiving dinner table
Hear people talking
Smell sweet potatoes
Feel comforting heat from the kitchen
Taste a sip of refreshing water
Calming Visualization 
If you would rather clear your mind then with eyes closed picture a restful place. For example, imagine standing on the shore of a beach you would: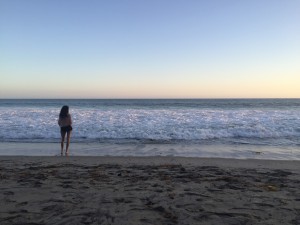 See the sun in sky over the water
Hear the waves crashing against the shore
Smell the seashore
Feel the warm water run over your toes
Taste the salty ocean air

Grateful for Being: A Special Two Hour Post-Thanksgiving Restorative Practice
If you are in town Sunday 11/26 then stop by our 14th street studio for a wonderful antidote for Thanksgiving stress. Come join our lovely teachers Emily and Christine for their two hour Post-Thanksgiving Restorative Workshop.
In the whirlwind of Thanksgiving your mind might get stirred up leaving your body tense and your emotions volatile with a sense of groundless. Restorative yoga offers a meditative practice with natural self-healing qualities that ground the body and calm the mind. Students will be guided through gentle yoga stretches along with comfortable fully supported restorative postures (blankets, bolsters, and blocks) to lubricate the joints and rejuvenate the muscles. Hands-on healing and aromatherapy available.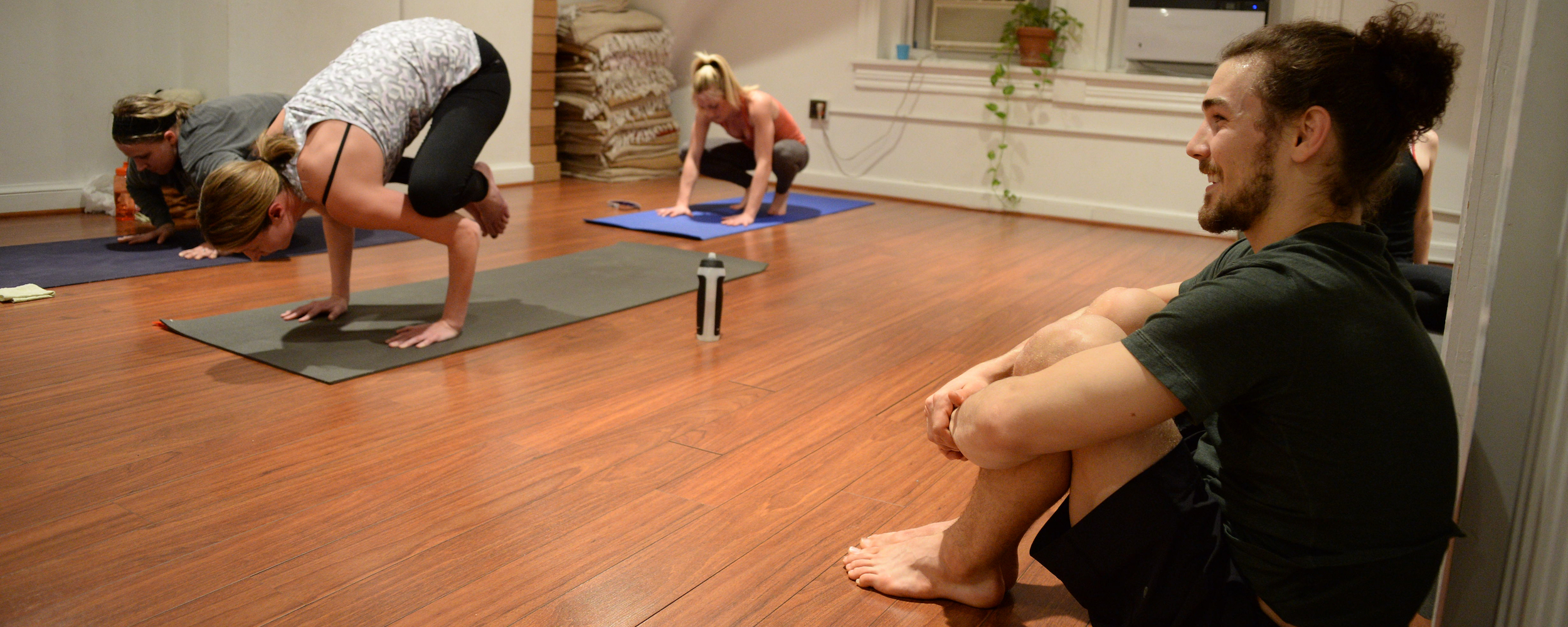 The diverse family of DC yoga teachers at Yoga District are dedicated to making yoga accessible to everyone through a huge variety of yoga class types, from vinyasa flow to restorative and beyond. Most Yoga District teachers are graduates of Yoga District's nationally-attended 200 hour teacher training program. All Yoga District classes focus on coordinating breath with body movement to promote flexibility, strength, and peace of mind. We strongly believe in yoga as therapy, so catch one of our classes whenever you need a healthy dose of self-care.
See all yoga teachers »

The Yoga District 200 and 500 hour teacher training certification programs, registered by the Yoga Alliance are unique in their emphasis on diversity of teaching styles studied, personal attention, and trauma sensitive yoga. It's no coincidence that Yoga District is regularly voted the leading studio in the nation's capital, and that most of its classes are taught by graduates of its training program. As a full time yoga school, small group trainings are led up to eight times a year by a dedicated faculty including Jasmine Chehrazi, contributor to the Harvard Karma Yoga Project teacher training, teacher training faculty at George Washington University, Yoga Alliance Standards Committee Advisory Board Member, Yoga Activist Founder, and Yoga Service Council Advisory Board Member. So take your practice and community involvement to the next level by joining a training. There's a reason why our graduates call the training "transformative."
Check out the yoga teacher training »