Say GOODBYE to 2017 and HELLO to 2018! If you prefer to ring in the NEW YEAR with a chant rather than a champagne toast then Yoga District has 2 different ways for you to celebrate NYE: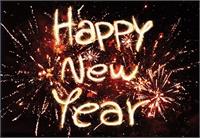 New Year's Eve All Levels Flow with Cider & Chocolates
12/31/2017      10:00pm – 12:00am      Bloomingdale      Sign up here
If you are in the mood for an lively and energetic close to 2017 then spend NYE with Jennifer.  Her playful yoga practice with a funky playlist and will be held from 10:00-11:30pm. Followed by a renewal mediation from 11:30-11:45pm then together ring in the new year with a sparkling apple cider toast and chocolate! All are welcome
NYE Special: Healing Touch for All
12/31/2017      10:00pm – 12:00am      14th Street      Sign up here
Wanting to end 2017 and begin 2018 surrounded by radical self-love and deepened compassion for others?  Then spend NYE with Simone to reconnect with your inner self and to those present with you in the moment.
Explore feminine energies through asanas (postures), pranayama (breathwork), restorative practices, and guided healing touch. As midnight approaches you'll experience community chanting and other facilitated exercises to promote overall wellbeing and healthy physical contact.  All genders and ability levels welcome