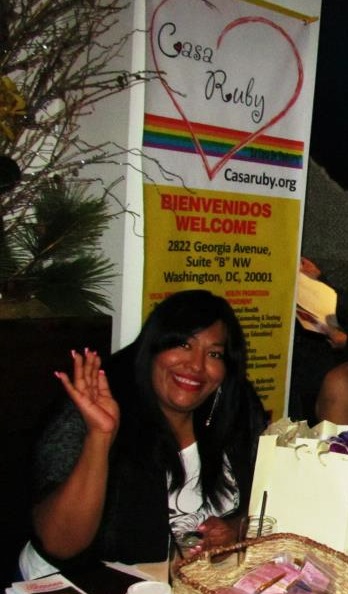 Last night, Yoga District was honored to host Ms. Ruby Corado and some of her staff from Casa Ruby for our inaugural charity yoga class. Casa Ruby is a local drop-in community center serving as a safe space for the LGBT community in DC. We reached out to Ms. Corado to learn more about her and the organization that she started.
Please tell us a bit about yourself and your organization.

My name is Ruby Corado and I am a 44-year-old transgender woman who fled the Salvadorian Civil War in 1986. I have resided in the District of Columbia for the past 22 years of my life. I am a dreamer who has lived a wonderful life despite having had to deal with lots of barriers and obstacles that society imposed on me, which at times resulted in me having to endure difficult times.

I carry most of the labels that society imposes on the disfranchised: I have been undocumented, I am an indigenous person, I am short, I am a Latina, I am HIV positive, I have been homeless, I am phat/thick, I have dark hair. But I am also someone who is very proud of each of those labels or aspects of my life because when people and life turned their back on me, I found that they were doing it because I was different and I LOVE BEING DIFFERENT.

Casa Ruby, Multicultural LGBT Center is a 501(c)3 non-profit organization that focuses on creating stories of life success among the most disfranchised and or marginalized according to society (gay, lesbian, bisexual, transgender people, the gender non-conforming, homeless, sex workers, undocumented people and those who are rejected by society for being who they are). It is a place where you can be yourself and, most importantly, a place where there is love and hope that life is not over.

I always encourage everyone to keep fighting and doing their best as long as they are breathing. Most of the clients have incomes of less than %15K or no income at all. Casa Ruby is the result of 20 years of hard work in the nation's capital trying to better the lives of a community that looks like me or have been like me.

What is your favorite part about what you do and why?

My favorite part of what I do is SAVING LIVES AND/OR SAVING SOULS. Many of my clients come in with no hope. They come in wounded or in disbelief that they can overcome life obstacles. There are times that they come with no desire to continue living or trying to keep going in their lives. However, when they hear my life story and see me caring for them, they realize that life is not so bad and they walk out with a plan and a promise to me that they will overcome everything. Most walk out with a smile believing in themselves again. I love giving them hope; I love reviving their spirits and souls. I also love seeing them succeed.

Describe your personal circumstances or experiences that prompted you to start Casa Ruby.

Having arrived in the United States at the age of 16, undocumented and alone, my life was not easy. But I came across kind people that gave me hope. I also knew that I was in a new country where I could become everything that I wanted.

In 1995, I went to volunteer at The Mother Theresa Hospice that was located in Northeast DC. There, I witnessed how the nuns would embrace the dying. I witnessed how the nuns hugged the chronically sick, those who had nothing to look forward to in life but to die in peace. I witnessed how the nuns would love those people that had nothing and, even though the nuns had nothing themselves, they had so much love to give the dying at a time that no material things made a difference in their finals days on this earth and I saw the dying have peace as the nuns would give them so much love. THAT MARKED ME AND I BELIEVE IT IS THE REASON WHY I DO WHAT I DO AT CASA RUBY.

When I was 25 years old, I transitioned my gender from male to female and for the first time in my life I endured the most cruel discrimination and hatred that society can impose on a human being. I became unemployable, I became at times homeless, and I became a target for ridicule. I was even exposed to incredible amounts of violence.

I transitioned into poverty and despair, but most importantly I transitioned into HAPPINESS. I was living in my true self. I was finally the person that I was meant to be: a beautiful, transgender woman. I loved myself.

It was my survival and my happiness that motivated me to help others that, like me, society had turned its back.

What advice do you have to others seeking to start their own organizations, especially those that serve the community?

My advice: START AS SOON AS POSSIBLE AND MAKE IT HAPPEN. There is a lot to do in this city. There nothing more satisfying in life than to be the support of another human being in need. There is nothing more beautiful and fulfilling than being at the side of a person who is sad, hurt, or in need and being able to give them hope or put a smile on their face.

Please describe a challenging moment that you have experienced in your work, how you faced that challenge, and what you learned from it.

One of my biggest challenges was after one year of having opened the agency. I was flooded with clients who sought more services than what I had expected and I made decisions to grow the organization and expand with out having the appropriate funding. I LEARNED THAT YOU SHOULD NEVER MAKE DECISIONS THAT REQUIRE MONEY THAT YOU DON'T HAVE.

Another very difficult moment was when one of my clients who was transgender and homeless ended up in the hospital with complications of AIDS and the doctors made me find her family in Peru and the family told me to disconnect her from the machine. It was one of the most difficult moments in my life to see someone that I learned to love die and there was nothing that I could do but give her a burial that dignified her life even if I was the only person she had at the end.

What aspect(s) of Casa Ruby makes those it serves feel empowered? Helps those it serves relieve stress? Please describe how you have seen this work with an individual or group.

Most of the staff of Casa Ruby are transgender women who have experienced similar situations and who are rebuilding their lives with much success. Most of us have experienced discrimination and poverty. Most of us have been homeless at some point in our lives and ALL OF US HAD LIFE CHALLENGES THAT WE OVERCAME. The clients that come and get services by us are looking at individuals that are not strangers to their situation.

The number one reason why they keep coming back even though at times we can't get them all of the services that they need is that WE LOVE THEM when they are most down. And they know that they are not alone while they are going through their life struggles. Most of them come for the love and care that we give them. Getting services that they could get somewhere else free of discrimination and judgment also makes a huge difference.

One of the cases where I knew my work was meaningful was when one of my adopted transgender daughters graduated from college and became a registered nurse and got a job at Howard University Hospital. This was a homeless, transgender, undocumented immigrant who lived at Unity Park on 18th and Columbia Road, and who one day asked me if she could go to my apartment and take a shower. That moment that turned into 13 years of living together and me mentoring her so that she could become someone in society. She is now a US citizen, owns her own condo, and is not depending on anyone.

Please describe a service that Casa Ruby provides that those it serves really seem to appreciate the most and why. Have they made you see this service in a different light?

One of the most meaningful services that we offer is the crisis case management: clients in critical need can access financial emergency assistance up to $100 and they also get Metro cards or food cards. We link them to emergency housing services and crime victims' services. We get them health insurance. If they are LGBT youth between 18 and 24 years old and homeless, we get them housing and support for up to 18 months.

They appreciate the crisis case management because it helps them at a time whey they need it most. When they have nothing. At Casa Ruby, they can overcome hunger, the cold, and the extreme weather. They can have a meal and/or basic social services. Sometimes they get even get on the bus or pay for an ID that will help them get a job.

How has running Casa Ruby affected you?

I am a little tired, haha, because in the last two and a half years since we opened the center I have worked six days a week, 10 to 15 hour days, and mostly without a salary (I just started getting a salary in July of 2014). Even when I have felt exhausted, I AM THE HAPPIEST THAT I HAVE EVER BEEN. I feel useful, I feel accomplished, I feel that I have a purpose in my life and that purpose makes me feel alive and keep going in my life.

How long have you lived in DC?

22 years.

What is your favorite thing to do in DC?

Go grocery shopping and try different restaurants (when they are not busy, haha).

What is your favorite thing about the DC community?

I love how conscious this city is about social justice. I would have never made the dream of opening Casa Ruby come true if people who stand for social justice would have not supported me and continue to support me in many ways like they have. Many believed in me and helped me.

Have you ever done yoga?

One time and I thought it was hard.

If you have done yoga, what is your favorite pose and why? If you haven't done yoga, what are you most looking forward to in this class?

My favorite pose is with my legs crossed, rotating my neck. I am looking forward to breathing.
Yoga District is happy to have been able to provide a moment for Ms. Corado and her staff to relax and breath, which they so deserve after all of their hard work!