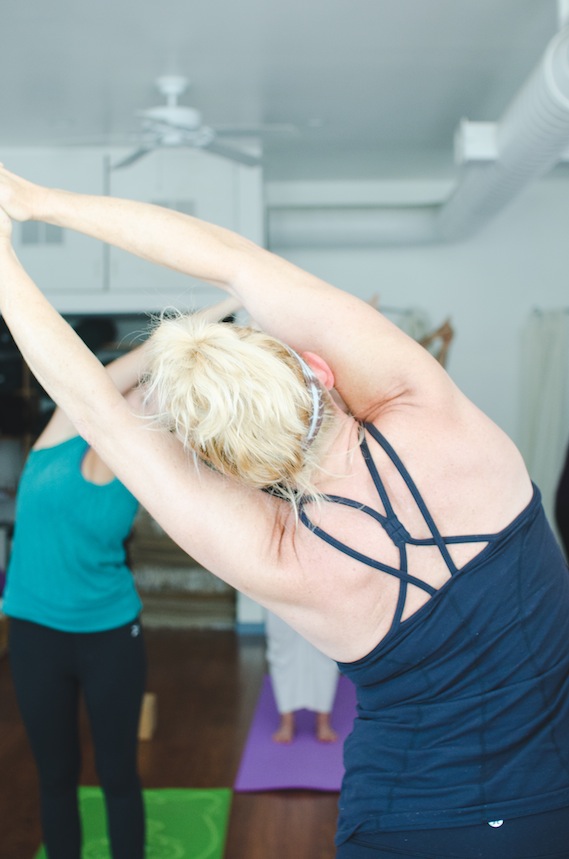 This past February, Yoga District has been experimenting with different ways of finding depth in our practices, particularly in our weekend workshops. These special classes, which last for two hours or more, are all about "taking the time to educate the students a little bit more about what the poses can help with–getting a little bit deeper," said Christine, who co-led a workshop on restorative and relaxation yoga this month. "Sometimes, students just need the space to just be."
Emily, who co-led the restorative yoga session with Christine, encouraged students who normally seek out fast-moving, heart-pumping practices to try something different every once in a while. "Active asana can become an ego game, but breaking down is when you can sit inside, and really see yourself," she said. "It really helps the brain–when the brain enters into relaxation mode, it's not constantly pumping out all of these hormones. Relaxation is the best way to remove any impurities that the body might have."
For those looking to build a little heat to guard against D.C.'s bitter cold, there have been plenty of opportunities to do that, too. On Valentine's day, Patrick and Sara co-led a "sweet and sweaty, hip- and heart-opening flow at the 14th St. studio." Afterward, participants shared some "delicious, love-filled treats," homemade by Sara and Pat.
And for those who wanted to feel even more love on their mats, Klydie led a partner-based class on Thai massage, pegged to The New York Times's recent article on "the 36 questions that lead to love."
"The energy the couples brought into the workshop was amazing," Klydie said. "Intense yet calm, focused yet seeking to expand. They learned the Thai massage sequence with ease, honing their new skills to foster happiness and relief in each other."
After learning the massage patterns, each pair of partners asked each other the series of 36 questions, which were designed by the psychologist Arthur Aron to create a sense of intimacy. These were followed by a 4-minute-long meditation of sorts, during which partners gazed into each others' eyes.
"4-minute gaze into the soul? Please," Klydie said. "That was nothing to them, they could've easily meditated in each others' eyes for 20 minutes. These folks were special–so able to dive right into vulnerability to evoke closeness.
For people who missed these workshops, don't worry–there will be opportunities to try them out in the future. ("Would I do it again? In a heartbeat," Klydie said.) But there are also ways to bring these ideas to your own practice, even at home. "Legs up a wall, side-lying shavasana, curling up with a blanket–the idea is just to hold that quiet space for yourself, even for just five minutes," said Christine.
If you're interested in signing up for Yoga District's workshops, you can see a list of them here.