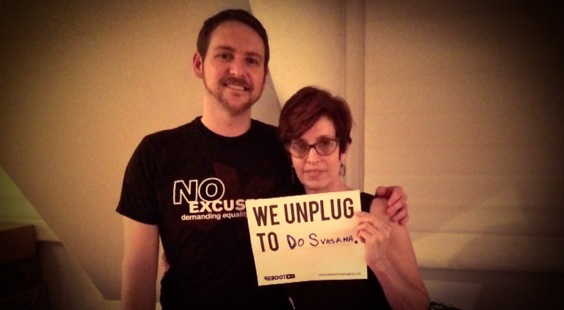 Jake at Yoga District Dupont with his DC yoga teacher Jayanti Harrison
Do you work in front of a computer all day? Do you carry a work Blackberry in one hand and a personal cell phone in the other? Do you read news sites, Facebook feeds and Twitter scrolls constantly?
I bet you do. And I bet you could use a break.
Fortunately, there's a solution right around the corner, and it fits right in with the mindful practice we enjoy with every class at Yoga District.
For 24 hours, I hope you'll join me for a growing movement to unplug and reconnect with yourself, your friends and your community. It's called the National Day of Unplugging, and it's happening from sundown to sundown March 7-8. The challenge is simple: unplug from technology – and all the physical and emotional implications that go with it – for 24 hours. People all around the world are taking the "unplug challenge" as we speak, and I invite you to do the same.
Read on for three reasons to participate, and three reasons I'll be uplugging with Yoga District.

To Recharge
When I first moved to D.C., before I even got a job, a few friends and I decided to shop for a new yoga studio. We tried different classes, neighborhoods, styles and teachers. And then we found Yoga District.
For five years, I've been a loyal disciple of the Yoga District community. With a full-time job, plus graduate school at Georgetown, I'm a busy guy. A lot of information is bombarded into my brain on a daily basis, and aside from sleep, yoga is the only time I spend away from the omnipresent glow of a computer screen or smartphone.
For an hour and half each week at Yoga District, I finally get to power down my phones and recharge my own batteries. My knees, my back, even my thumbs and eyeballs – they all get a recharge. When I leave, I'm at full bars and ready for the next round.
To Reconnect
I mentioned a few good friends. We all know D.C. is a transient place – people come and go, and life often keeps us from the company of others. That shouldn't mean technology has to as well. I'd much rather spend time with someone on the mat than on Gchat. That's why I often bring new and old friends with me to class. It's a chance to spend some quality time together and do something good for our health. After our time in the studio, we usually take a stroll, grab a bite, and catch up. Yoga has turned into a ritual of reconnecting with my friends. That's what National Day of Unplugging is all about – cultivating the kind of meaningful relationships you can't get from a Facebook like.
To Reboot
I try to keep a regular yoga schedule, attending class on Wednesdays when I've built up enough stress and need a pick-me-up to get me to the weekend. And if I can make it, I'll add a Sunday class to get my week started right. Like a Mountain Lion Maverick freshly installed with updates (Mac pun intended), yoga helps me reboot, and after each class, I leave powered up and ready to face the world again. I credit my wonderful teacher Jayanti, whom I've also been going to for five years. She offers the perfect blend of rejuvenation – never afraid to mix it up, yet always consistent with a holistic practice, no matter what class level it happens to be. She just started a refresh and restore class Fridays at 6:15pm at the 14th St location, and last week I attended for the first time. Next week, I look forward to starting my National Day of Unplugging off right with her class again.
Yoga District has 14 different classes that began after the workday on Friday when National Day of Unplugging begins, and plenty to get you through the big day on Saturday. I encourage you to sign up for one of them, and discover what unplugging can do for you.
It's the perfect time to recharge, reconnect and reboot.
Learn more about National Day of the Unplugging, take the Unplug Challenge, and upload why you'll uplug for 24 hours.
Enjoy,
Jake McCook