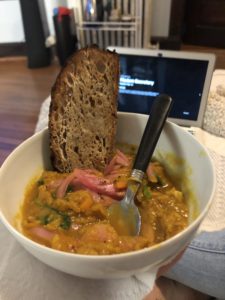 In these trying times, it's recommended we don't go to the grocery store often. Instead, let's be mindful and use the items we have on hand at home.
Give our grocery store workers a little break from the crowds. It's more sustainable, budget friendly, efficient for our wallets and world. 
Here is a recipe that will hopefully use up some dribs and drabs you might already have in your pantry.
This gem of a recipe uses a can of pumpkin left over from fall and some red lentils begging for attention.
Recipe Mantra: I Have Everything I Need
This soup is vegetarian and gluten-free with plentiful opportunities for add-ins. It's an easy, nutritious, and a hearty meal to whip-up with ingredients hopefully found in your home. 
Red Lentil Pumpkin Dal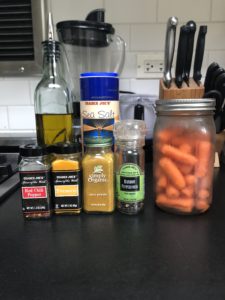 Recipe adapted from Budget Bytes's Curried Red Lentil and Pumpkin Soup
Ingredients:
1 Tbsp Olive Oil

1 yellow onion, diced

2 cloves of garlic, minced (add more for an immune boost)

1 Tbsp fresh ginger, grated (frozen ginger cubes or ginger paste work too!)

2 carrots (give sad looking ones a purpose in a soup)

Handful of spinach or kale upon serving

1 15 oz can of pumpkin

1 cup dry red lentils

6 cups of veggie broth/stock 

1 Tbsp of curry powder (Got paste instead? Work it in!)

Salt and pepper to taste



Instructions: 
In a decent sized soup pot, heat the oil over medium, adding the onion, garlic and ginger. If you're adding any other vegetables like carrots, sauté them here as well. Cook until onions are translucent. Feel free to add red pepper flakes or ground black pepper for some extra zing.
Add the pumpkin pure, lentil, broth and curry. Give it a good stir, and bring to a simmering boil. 
Turn the heat and let the lentils cook for about 20 mins until they are soft and mushy. 
Taste the soup and add any spices you may like: turmeric, red pepper flakes, black pepper, salt. 
Right before serving, mix in some spinach or kale for a pop of green. Don't have it? Not a big deal, work with what you have!
Notes: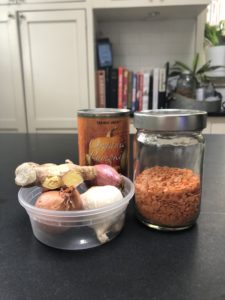 1. Red lentils are important here. They cook the quickest and the mushier texture works well to thicken this soup. If you
 only have a different kind of lentil, I encourage you to try it! It might take a bit longer for the lentils to cook, and the color won't be quite as orange. 
2. If you're using alternative forms of ginger then use 2 frozen cubes or 2 tsp of paste.
3. When substituting curry powder with curry paste then start with 1.5 teaspoons (half of the powder amount) because it is a paste made directly from chiles so the flavor profile is more potent than the powder. 
4. I only had 1 carton of vegetable broth, which is only 4 cups and it made for a thicker soup. If you prefer a soupier texture, add more stock. I would caution against water because that could dilute the yummy flavors. Use the amount of broth that best suits your taste preferences!
5. Save the greens for right before you serve. If this is being saved for leftovers, hold off on adding spinach or kale to the dish until reheating. The greens will wilt and cook, but won't be too soggy from sitting in the soup. 
6. If you don't have spinach or kale, fresh cilantro and/or arugula would also be a great topping! Save both for the very end to top off your dish.