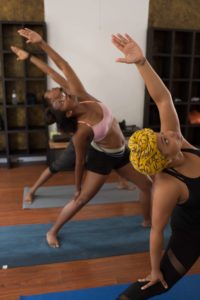 With new seasons comes big change! Embrace the new season with updated blog content and stories that interest you.
With fall fast approaching, we are embracing change with the blog as well. You can still expect similar content, but now you can look forward to blog posts more often and new topics we haven't previously covered. Each week you will find encouraging and inspiring posts fit for everyone—whether you are new to yoga, a devoted student, or a returning student. Here is a sneak peek of what blog posts are to come:
-Teacher Trainees' Experiences with Teacher Training
-Yoga and Meditation Apps Our Students and Teachers Love
-Which Yoga Teacher Training is Right for You?
-Go-To Yoga Poses for Teachers and Students
-Beyond the Yoga Classes: A Look Behind Yoga District's Workshops
-Q&A with Recent Teacher Trainees
-30-Day Challenges (such as ones focused on yoga activism, meditation, and embracing change in your practice)
-Yoga Teacher, Student, and Intern Profiles
-Strategies on Taking Your Practice with You When You Travel
-Finding a Class That Fits Your Body's Needs
-The Best Classes for First Time Students
Please comment to let us know what you hope to see on the blog in the upcoming months. Do you want to learn more about our teachers' at-home practices? Do you want to know more about how teachers come up with sequences so you can switch up your home practice a bit? Are you hesitant to try a new style class and want to know a little bit more about some of the classes at Yoga District? We are happy to hear your ideas, suggestions and inspirations!