Who doesn't love a toasty fall soup? This simple  vegan butternut squash soup is elevated by carrots and roasted garlic. Warm-up while boosting your immune system with an added serving of health thanks to turmeric and fresh ginger root! Plus, these two spices have anti-inflammatory properties.
toasty squash soup
5 carrots


½ acorn squash

½ butternut squash

5 cloves roasted garlic

32 oz low sodium vegetable stock

2 inches of ginger root

1 can of coconut milk

1 ½ teaspoon turmeric

½ teaspoon salt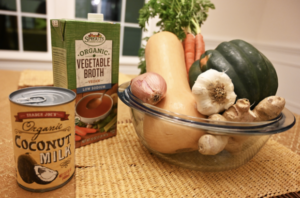 directions
Start by preparing the roasted garlic and squashes.

Set the oven to 350 F.

Take a bulb of garlic, peel off a couple layers, but not too many. You want the garlic bulb to remain intact. Cut off the top of the bulb. Cover the bulb with aluminium foil, leaving a hole at the top. Pour 1-2 tablespoons of olive oil over the bulb. Twist the aluminium foil closed and place the bulb wrapped in aluminum foil on a baking tray.


Take each squash and use a fork to pierce the skin. Coat both squashes in the olive oil and place on a baking tray.

Roast the garlic for 30 minutes. (If you want some extra roasted garlic for hummus or another dish, prepare some additional bulbs of garlic.)

At the same time roast the squash for 15 minutes. Turn the squash and roast for another 10 minutes. 

Remove the squash and set aside to cool.


Remove the garlic cloves. They will be ready when they are soft. Peel 5 cloves for the recipe. 

After the squash has cooled for a bit, cut the squash in half and remove the pulp. Cut the squash into cubes. You should be able to use a potato peeler or a knife to remove the skin from the squash. 

Wash and scrub the carrots and cut into cubes.


Finely dice 1 shallot, the 5 cloves of roasted garlic and ginger root. 

Spoon about 2 tablespoons of olive oil into a small saucepan. Bring to a medium heat

. 

Start by sauteing the shallots for 2 minutes or until translucent.

Add the ginger and saute for 1 minute. Finally, add the garlic and saute for another minute. Stir throughout to ensure all ingredients do not burn. 

Transfer the ingredients into a soup pot and add the vegetable stock. Bring to a simmer.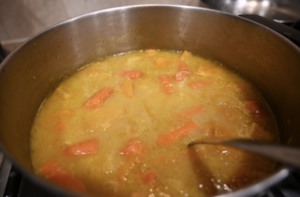 Enjoy!