Browsing articles tagged with "Yoga Benefits Archives - Yoga District"
T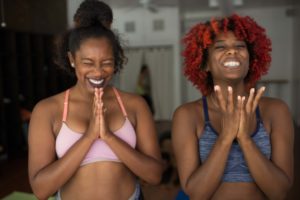 here are a lot of misconceptions surrounding who does (and does not) participate in yoga. But, it's important to know that  the practice of yoga welcomes all people–not just one, particular type of person.
Keep reading to learn about five of the most common yoga myths.
I recently heard my teacher say, "there is no such thing as stress."  What!?  No such thing as stress?  How can she deny the wealth of scientific evidence that links stress to a person's health?  Stress is strongly associated with a baziillion devastating conditions – depression, anxiety, headaches, insomnia, obesity, hair loss, skin disorders, weakened immune system, thyroid dysfunction, hormonal imbalances, gastrointestinal disorders, high blood pressure, diabetes, heart disease, and even cancer! – just to name a few.  I started to think my teacher was seriously losing it until she explained what she meant.   Stress is not something that happens to us, but rather it is something we do to ourselves.  The way we choose to perceive the situation determines the affect that it will have on us.  Hmmm… that actually makes sense.  Stress doesn't creep up on you like a poisonous spider while you're sleeping.  It's something we create!
In yoga we often talk about letting go and surrendering.  Unless you have some sort of magical powers, the events that happen around you are totally out of your control.  However, you gain an incredible amount of power by just accepting this lack of control. Stress happens when we resist what has already happened or when we allow ourselves to worry about what may or may not happen in the future.  We become totally liberated when we simple let go.  Let go of resistance to how things are.  Let go of all expectations.  Relax your shoulders and the muscles in your face.  Ahhh… much better.
A stress-free life– sounds too good to be true?  We also learn by practicing yoga that balance is key.  Some stress is necessary and beneficial for our wellbeing.  Without any stress, we would be totally apathetic, have no motivation or determination, and never feel a sense of accomplishment.  The goal is to cultivate a balance between effort and ease – an extremely common phrase repeated by yoga teachers, but it is indispensable advice.
Think about waiting for the train at the Metro, especially during the times of dreaded "Scheduled Track Maintenance."  If you, like me, have a tendency to start panicking, anxiously pacing, and worrying that you will be late for your appointment, you are causing undue havoc for your mind and body.  You might notice that your body temperature is rising; your heart is beating so fast it might pop out of your chest; you are sweating, breathing shallowly in your upper chest, or maybe not breathing at all…  It's amazing how subtle changes in our thoughts and breath can have such dramatic effects on our emotional and physical states.  A healthier approach in this situation is just to breath (deep inhales and slow and complete exhales), relax your mind, and maybe even meditate.  Because lets face it – by stressing out, will we make the train arrive any sooner?  Absolutely not.  Rather, conserve your energy for when the train drops you off at your destination, and run like crazy up that escalator!  You can thank your yoga teacher later for holding you in Utkatasana for so long last week, building up those amazingly strong leg muscles.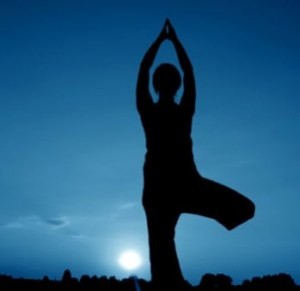 All day my mind is full of thoughts. On my walk to work I'm thinking about what I'm doing over the weekend, in meetings I'm thinking about what I should eat for dinner, and all throughout the day I think…how will I ever find a boyfriend?!?!
In yoga the goal is to be in the moment, feel your body in each pose, and try to achieve stillness in body and mind. This sets yoga apart from so many other types of exercise. It's luxurious to go into the studio and be able to leave everything else at the door. But of course it's not always easy. In fact this is one of the biggest challenges for me as a student of yoga.
I've found a method that works well for me to try to clear my mind before yoga. I try to get to class a bit early to lay in savasana and let my mind wander. Instead of willing my mind to be clear, I just let it go, let it follow every weird path it wants to take. After a few minutes of this, usually I can find a bit more stillness. I used to spend all of class scolding myself inside, "Don't think of work! Stop thinking of that guy you like! Stop thinking about how you're going to decorate your room!"
I find if I just let my mind do its thing, eventually it reaches the end of that road and it leaves me more able to leave those thoughts behind once yoga begins.
What do you do to keep focused during yoga?
How many times have you heard yoga teachers talk about letting go of our egos?  It sounds good, but what does that even mean?  I remember thinking, "I don't have an ego."  I used to associate egoism with people who litter, butt in line, and talk excessively about themselves.
It wasn't until I discovered yoga that I started to understand my own ego, the barriers that it creates in my life, and how to let it go.  Our egos are manifestations of all our attachments, desires, judgments, expectations, self-imposed limits, and imagined pain and sorrow.  It's not who we really are, but rather a warped reflection.
Imagine your face.  Have you actually seen your face?  Unless you have had a clear out of body experience, then you probably haven't.  Chances are you have only seen a reflection of your face via a mirror.  If the mirror had even the slightest bulge, concavity, discoloration, or other imperfection, then you saw a distorted reflection of your face.  Our egos are like the mirror, and the chatter of the mind (chitta vritti) creates the ripples or modifications in the reflection.   This is the same analogy that Sri Swami Satchidananda provides in his translation of the Yoga Sutras of Patanjali.  The whole point of yoga is to overcome the mental chatter that prevents us from connecting with our true selves.
When it comes down to it, we create our own reality.  How awesome is that!? Seriously, we do.  The next time you're in a difficult yoga pose (or other seemingly-binding life situation), try to notice the thoughts that emerge.  If you think you are suffering, then you're suffering.  This is the ego talking.  Pain can be eliminated by simply changing how you think, swapping negative thoughts with positive thoughts.  Simple as that.  We tend to self-identify with the stuff in our life, looking to mitigate our pain and find contentment through things like alcohol, a new wardrobe, a bigger house, or the ability to touch our toes.  Once we attain these things, the excitement eventually fades, leaving our minds to scramble to fill the void—a continuous, unfulfilling ego-driven cycle.
In reality, it's much simpler.  We already have it all, but our ego is the only thing standing in the way.  Practicing yoga, we begin to find liberation from our ego; we discover where we are holding tension and let go of all those things we don't need.  We learn to cultivate a balance between effort and ease in our minds, bodies, and breath, realizing our true and complete selves.  If you have ever experienced that blissed-out feeling at the end of yoga class, resting in Savasana (ahhhh…), the feeling of ultimate freedom, peace and connection with everything, then you know exactly what I'm talking about.  Allow your yoga practice to transform your life, get in touch with who you really are, and carry that truly beautiful, radiant self off the mat.  Shine on my fellow yogis, shine on.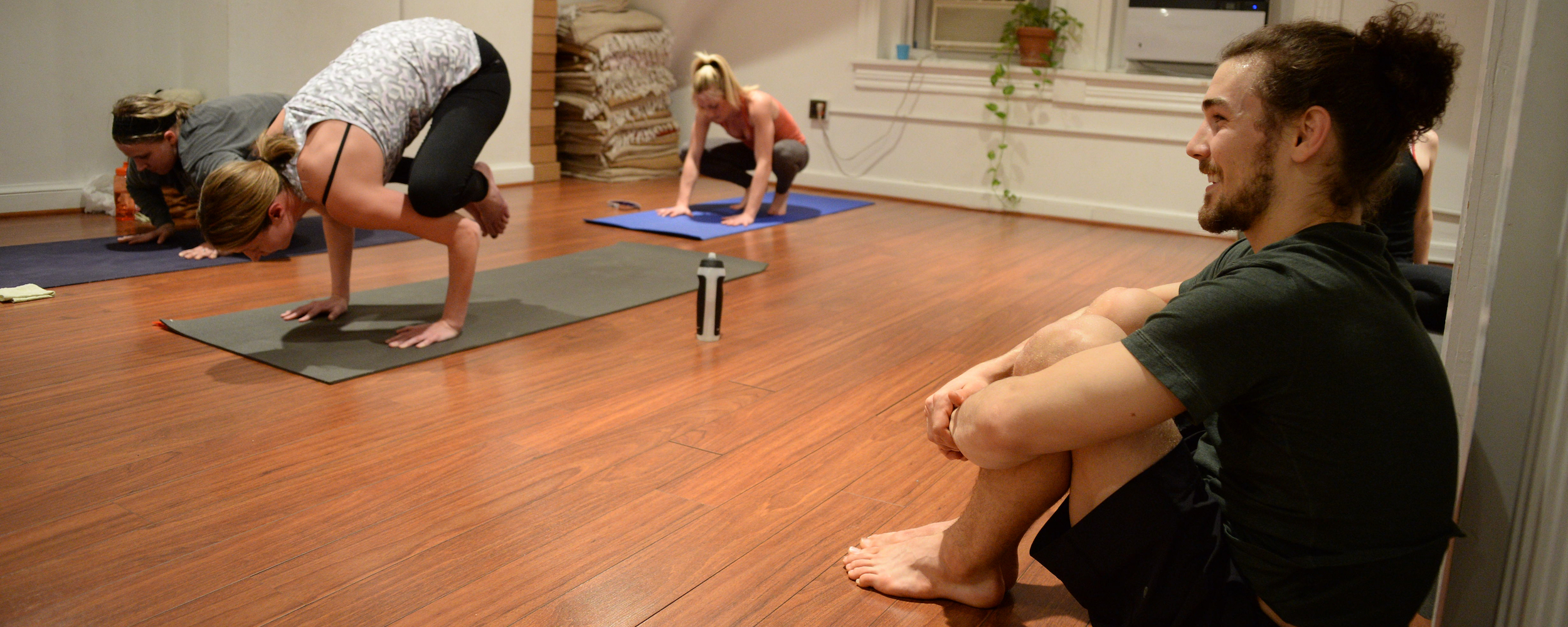 The diverse family of DC yoga teachers at Yoga District are dedicated to making yoga accessible to everyone through a huge variety of yoga class types, from vinyasa flow to restorative and beyond. Most Yoga District teachers are graduates of Yoga District's nationally-attended 200 hour teacher training program. All Yoga District classes focus on coordinating breath with body movement to promote flexibility, strength, and peace of mind. We strongly believe in yoga as therapy, so catch one of our classes whenever you need a healthy dose of self-care.
See all yoga teachers »

The Yoga District 200 and 500 hour teacher training certification programs, registered by the Yoga Alliance are unique in their emphasis on diversity of teaching styles studied, personal attention, and trauma sensitive yoga. It's no coincidence that Yoga District is regularly voted the leading studio in the nation's capital, and that most of its classes are taught by graduates of its training program. As a full time yoga school, small group trainings are led up to eight times a year by a dedicated faculty including Jasmine Chehrazi, contributor to the Harvard Karma Yoga Project teacher training, teacher training faculty at George Washington University, Yoga Alliance Standards Committee Advisory Board Member, Yoga Activist Founder, and Yoga Service Council Advisory Board Member. So take your practice and community involvement to the next level by joining a training. There's a reason why our graduates call the training "transformative."
Check out the yoga teacher training »