Meet Felix, one of our lovely teachers at Yoga District as he shares his journey of how yoga has helped him heal and find community.
" Your [yoga] practice is never completed. It continues to offer you opportunities to explore various dimensions, perceptions and resolutions within it."
Check out Felix''s class schedule below and keep reading to learn more about him:
Sunday 2:30 PM, Flow Yoga 2-3

@ H Street

Sunday 630 PM, Baptiste Flow 1.5

@ Grover Park
Teaching and Practicing Yoga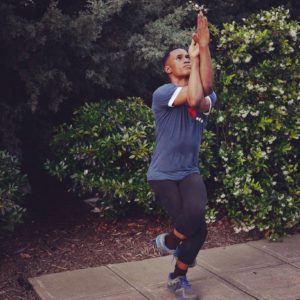 My journey with yoga, helped me to connect with my internal woes from my past.  It helped me navigate the highs and lows of my life. It has elevated my passion with both art and fitness.  Yoga empowered me to interact with a community that celebrates health, diversity, and is judgement free. It is a place where people share love unconditionally with the universe. I experience these benefits in ample supply. Yet, I'm still asking for more from my practice. I want more:
– opportunities to grow

– time to reflect

– allowance to breathe life fully in its authentic form.
In my classes, I like to teach students to be empowered by Eagle (Garudasana) pose. When in eagle pose, I feel like my spirit animal of a "Phoenix"rising from the ashes.  Rooted into the earth, my energy continues to regenerate from within me. When practicing eagle, my students' own perseverance takes place on their mats.  Their energy is shared in the room.

To relieve stress, I teach students the grace of Child poses (Garbhasana). It is a grounding yoga position with palms placed towards Mother Earth. It is a way to connect to the serenity of their practice.  They visit child pose whenever rest is needed . It's opportunity to tune back to their breath and find balance once more within their practice.
Life Changing Moment
I relocated to DMV area from North Carolina. During Yoga District's 200 hour Teacher Training this past March, I received encouragement from from two teachers (Dan C. and Kevin P.). I found homage in yoga by their guidance. I struggled with an injury that halted my dance career. Through yoga and a strong support system, I healed from my injuries. It was then that the assistance and comfort I received from my teachers and love ones enhanced me as yoga instructor. Teacher training remains magical to me because I found a second chance to express movement through art and the opportunity to share it with the community.

Advice For Yoga Students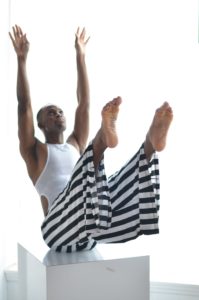 Try to stay motivated in your practice remember that the "umph" factor is the result of polishing up on the mantras "to try" and "triumphs". Your practice is never completed.  It continues to offer you opportunities to explore various dimensions, perceptions and resolutions within it. Just enjoy the ride and allow your true colors to come to life and be intertwined with others.

Around Town

My favorite thing to do around town is hike or jog the parkways. Many times I try to keep up with the fast pace demands of work that I miss out on the opportunity to engage with nature. I find a reason to breathe and give up control, while allowing nature to guide me in distinct or familiar passageways.