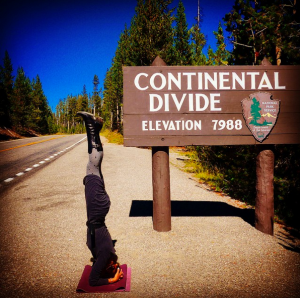 Agnes's yoga journey began in 1998 when she was introduced to Hatha Yoga as a form of exercise. Since then, her love of yoga and commitment to the practice has grown. Learn more in our Q&A.
How long have you been in DC?
I moved to DC shortly after college, it was December 2, 1985 – that means it will be 30 years this December!
If you had to describe your life in the form of a yoga pose, which pose would it be?
ardha chandrasana – balancing with open heart 🙂

What is your favorite thing about the DC yoga community?
Its diversity and expansiveness. I often run into my instructors from the 1990s; some of them are 'famous' 🙂
What is your favorite thing to do around town?
Teach and practice Yoga. Photograph ordinary life and post on Instagram. Ride my scooter to E Street Cinema for an early morning matinee. Meet a friend for dinner at Le Diplomate, Cashions or Perry's. Shop local. Support local businesses. Sometimes I go to a baseball game or a concert.
Could you describe any best practices in sharing yoga that you apply regularly in your classes?
Breath first – use it to calm you and energize you. Set an intention or dedication. Take this with you throughout your day, apply into other situations in your day. Stay present – be where you are today. Be kind and compassionate to yourself. Be willing to go to your edge, maybe beyond your comfort zone to find a new one. Dedicate 5, 10, 15 or 20 minutes each day to your practice, whether that's sitting still or sun salutes and warriors.
What advice do you have to other sharing or seeking to share yoga with others?.
Be your authentic self. In life, some people will love you and some will not. It's the same on the mat. Do it your way. the love will come. and most importantly love yourself. That is the greatest gift you can give others.
Describe your personal circumstances or experiences that made you want to share yoga.
A yoga teacher I'd been practicing with for several years suggested I seek teacher training to advance my practice. I had a somewhat diverse background in the 1990s, Power Baptiste, Ashtanga, Iyengar, Hatha. Today, I incorporate all these styles in my classes. There was no revelation or turning point – l was a practitioner, now I'm a teacher and a practitioner – but the same person. We are all students and teachers. You'll often find me practicing at 14th Street. As an instructor, I have the knowledge, the verbal skills and the attention of the students, but each person is their own teacher. Everyone learns to trust themselves through their own experiences on the mat, and off.
What is your favorite style of class to teach, and why?
Vinyasa- sweaty and powerful. But perhaps more than style – what is important is the time of day. I like to teach and practice first thing in the morning, before a meal, before commitments and deadlines. I like to begin my day with a clean slate on my mat. I believe my morning regulars are similar. Starting one's day on the mat is a gift to self and to others.
Practice with Agnes at the studios!