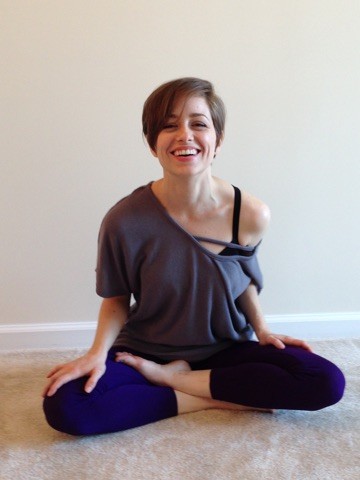 Take a moment to meet one of our beloved teachers, Meghan Ryan, whose Flow and Core Yoga classes are filled with empowering breathing techniques and powerful asana.

How long have you been in DC?
I actually happen to be one of the rare and elusive DMV natives. I grew up in the Rockville area, attended college in the city and have lived here since my return from the Peace Corps in late 2010.
If you had to describe your life in the form of a yoga pose, which pose would it be?
My life described as a single yoga pose, I truly think that is a difficult request. Instead I would say my life is like Sun Salutations (surya namaskara) – in constant motion, with only brief pauses, full of ups and downs, imperfect but always trying and often sweating through the tougher moments…
What is your favorite thing about the DC yoga community?
I love the fluidity and open nature of the DC yoga community. Most practitioners, new and returning, are willing to learn and explore the different facets of yoga. It reminds me of the diplomatic, moderate and often agnostic nature of the dc community – willing and able to learn from all kinds of traditions, cultures and experiences without prejudice or judgement.
What is your favorite thing to do around town?
Truly my favorite activity in this city is to steal a few hours during the day when I can to wander about the city exploring nooks and crannies, looking for a corner I have yet to visit. One of my favorite areas to explore during autumn is the National Arboretum as the leaves change every visit finds a new landscape to enjoy.
Could you describe any best practices in sharing yoga that you apply regularly in your classes?
The 'best practice' I focus on the most in classes is to pay close attention to what is happening in your body and on your mat. Take practice as a time to connect with yourself: your strengths, your boundaries, your perfectly imperfect practice. Seek your edge and hover there focusing on that place between effort and meditative practice – staying safe and building slowly. This is how our practice and sense of self can grow and develop in a sustainable and loving way. In this city it is our nature to push past our boundaries often ignoring the effects on ourselves, your practice is the time to find and embrace those boundaries giving yourself a break- perhaps the only break you allow yourself all week. You and your practice are already perfect, just as they are.
How has sharing yoga affected you?
I have enjoyed every moment of my teaching experiences. Watching the subtle shifts in students throughout class reminds me daily of the dramatic shifts yoga has given me and my life. It has helped me connect deeper to my practice and deepen my appreciation for the knowledge and practice I have now- while encouraging me to learn more and keep growing. I always love hearing feedback of any kind, I embrace opportunities for more growth.
Please describe a yoga posture, breath or meditation practice that any of your students connect with and why. Have they taught you a practical application for this or any other pose?
I teach simpler breath and meditations in my classes and the calming breath has been mentioned to me as a simple practice with a lasting effect. Extending the exhale as long or longer than the inhale is the most basic version of this breath for practitioners new to pranayama and has seemed to be a gentle introduction to the importance of breath work. I have heard that it's intended purpose "actually works" which is always lovely to hear. I like to teach things that students can bring home and use anytime.
Describe a yoga posture, breath or meditation practice for which your students taught you a practical application.
Cow face pose is great for helping you zip up your own dress shared by one of my lovely regulars…
On a more serious note, I have been practicing for some time so I can forget how much postures and breath can help us truly unwind tension from our various lives – both physical and emotional tension. Simply watching students before and after practice open up, their muscles release both in their faces and shoulders, reminds me daily of the importance of practice to help us let go and release. It reminds me to keep up my personal practice.
What pose or practice do you like to teach to help students feel empowered? To relieve stress? Please describe how you saw this practice work with an individual or group.
I find utkatasana (chair pose) to be empowering. Truly anything warming can give a sense of strength and courage especially if you push just past that moment where you want to give in and move out of the pose.
Encouraging students to effort through a challenging pose and then release, relax and let go into a more restorative posture is a great stress reliever and practice to embrace. For example being able to effort and push through locust pose, awakening the entire body, and then release and relax into the mat for a moment can translate into everyday life. We have a stressful existence in today's world, and need to improve our abilities to push through the tough moments and then allow ourselves to let go, breathe and relax when those moments have passed.
Please describe a challenging moment that you have experienced teaching, how you faced that challenge, and what you learned from it.
I have found it challenging to ensure beginners feel comfortable embracing their practice and not push beyond their limits and into the postures more experienced practitioners take during a class. I choose now to privately check in with students before class to see what experience they have and adjust the sequence to be warming and suited to everyone's practice. I also choose to demo for the newer students embracing their practice during class and allow all practitioners to take versions of poses as suit their bodies in the moment. I have found my practice improving as I have embraced a simpler teaching method and reconnected with the foundations of practice.
What advice do you have to other sharing or seeking to share yoga with others?.
If you hope to share the practice with others, I encourage you first to embrace yourself and where you rest within your own practice. Share your strengths and weaknesses, continually seek growth in yourself and your own practice. The journey of yoga is one without a specific goal or end point but rather an ever changing path with so much to discover about yourself and the practice.
Describe your personal circumstances or experiences that made you want to share yoga.
Yoga has been a large part of my life's journey, my space of peace in a strange world of change, international work and conflict and post conflict areas. It was a major part of my recovery from a rough experience and traumatic brain injury, rebuilding my strength, balance, courage, concentration and memory. It was a gift from the ages to help me through and one I love to share with others in hopes that they can turn to their mats and turn inward during their challenging moments.
What is your favorite style of class to teach, and why?
I truly enjoy teaching flow classes, and beginners. I love to share an active and warm and foundational practice with new students who want a chance to move and explore practice in a caring and non-judge mental environment.
Practice with Meghan at the studios!