Yoga District teacher Kat, founder of Sri Mama School of Yoga(1), has a M.S. in Nutrition and Integrative Health specializing in Perinatal Nutrition.
As a new mom, Kat especially loves teaching expecting mamas yoga practices. Her classes enhance the physical, emotional and spiritual experiences of pregnancy, childbirth and life. Does that sounds like something you are interested in learning about and teaching?
Then attend her 4 weekend of  Prenatal Yoga Teacher Training September 13th – November 17th and read on to find out more about it.
While Kat's training is geared towards teachers, it would also be appropriate for experienced yoga practitioners as well.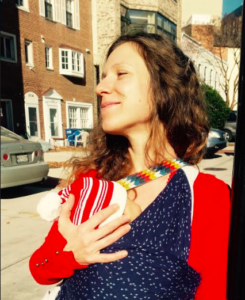 A Prenatal Yoga Class
Prenatal yoga class is often misunderstood to be simply be a modified asana class, but actually there is great potential for exploring the deeper aspects of yoga.
Mamas are invited to slow down and pay attention to their bodies, breath, mind, and emotions. Prenatal classes often focus on strength without being physically intense. They provide the opportunity to really practice how we hold our awareness. Students' bodies during pregnancy are vulnerable to being destabilized.  So in class, we focus exquisite attention on both stability and proper alignment. Finally, a prenatal class can be like a little refuge from the outside world. Vital connections are made as mamas walk a similar path together.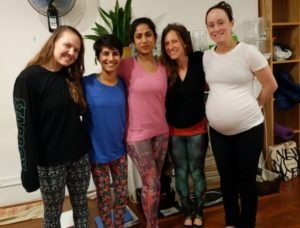 Kat's Prenatal Teacher Training
This training is rather comprehensive as students learn how to teach prenatal yoga from an understanding of the Pancha Maya Kosha model and its five elements(2):
physical body

energy body

mental-emotional body

wisdom body

bliss body
Since the focus is on yoga during pregnancy, we look at certain aspects of the physical body with quite a bit of detail (especially pelvic anatomy and posture). We also pay attention to how the breath and breathing practices shift during this time. Meditation, as a way of conditioning the attention, is incorporated into the training as well.
The final component is learning four sequences that can be modified to meet the needs of pregnant students. This is all done within the context of celebrating the changes that accompany a new life unfolding within the pregnant body.
Sri Mama – Prenatal Yoga Teacher Training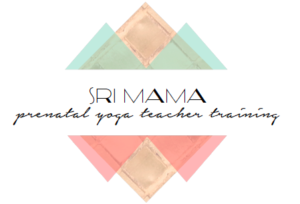 Dates:September 13-15
October 4-6
October 25-27
November 15-17
Times: Fridays: 6:45PM – 9:30PM,                               Saturdays & Sundays: 8AM – 5PM
I Street Studio
Sign up here
Aside from learning how to teach a prenatal yoga class, my training will expand your knowledge and abilities in four key areas:
Learn more about panchamaya kosha (2) and how to apply it as a teacher

Become more familiar with anatomy, especially in relation to pregnancy

Refine your understanding of yoga sequencing through deconstructing, and constructing sequences with improved cueing

You will learn more about pregnancy and birth.
Over the course of four weekends, we will explore several topics in detail, including:
The Incredible Maternal Adaptations to Pregnancy

Sthira and Sukha: Pelvic Floor Elasticity

Pada Bandha in Pregnancy

The Core Body in Pregnancy

Breathing Practices for Pregnancy

Meditation and Mindfulness Practices for Pregnancy and Birth
To gain a deep understanding of all of the above, we spend our time between participating in practice, experiential anatomy, lecture, group discussion, and teaching. By the end, you will be prepared to facilitate a relaxing, healthful experience for pregnant yoga students.  Providing a safe and enjoyable practice during their journey.
For additional information about prenatal yoga, please read: Yoga District's prior prenatal post  and Kat's other blog post "Why Prenatal." (3)
Sources:
http://beingsri.com/about-kat

Yoga U Online, https://www.yogauonline.com/yoga-basics/pancha-maya-kosha-model-yoga-therapy-and-five-koshas

Being Sri, http://beingsri.com/why-prenatal