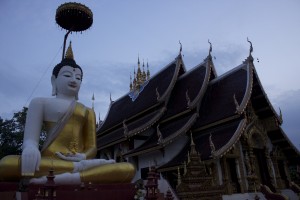 Chiang Mai is known as the "New City", but it's built around a square mile of ground called the Old City Center.  There are over 300 wats scattered about the area of Chiang Mai, the second largest city in Thailand, and over 50 of them lie within the parameters of the Old City.  What is a wat exactly?  It's a Buddhist monastery school that's also commonly called a temple.  Can you imagine 50 temples in one small area, all with their own individual decor, personality, and purpose?
I briefly visited Chiang Mai last month during a trip to Thailand, and stayed with my friends in the Old City Center.  There were three stunning temples sitting just a few streets apart from each other.  Right along her alleyway was Wat Kuan Kama, or what we called the Horse Temple, due to the flanks of golden horses positioned around the wall.  Down the road there was a huge sitting Buddha overlooking Wat Morthean, and directly opposite was Wat Moklee.  A temple with a sparkly mirrored wall sat a couple of blocks west.  Each wat had a wall around it's parameter, creating a distinct separation of space between temple grounds and the city streets.  Boundary walls are a standard architectural design for wats in Thailand, so those enclosures adorned with equine icons and resembling rectangular disco balls carried both form and function.
I didn't enter too many wats for I felt a little intimidated.  They're beautiful pieces of architecture, but they're also very sacred.  I felt stuck in a "look don't touch" mentality, out of respect and for not feeling knowledgeable enough to fully appreciate and understand the wats.  At least I adhered to the dress code; when entering temple grounds, the etiquette is to cover your shoulders and knees (no shorts and no tank tops).  No shirt, no sleeves, no service, as it's rude, but when you're on temple grounds, definitely remove your shoes.
There are other "don'ts" that I picked up while asking friends how to behave in a temple.  One of them was to always bow at the image of Buddha and to never have your head higher than the Buddha, whether it be a statue or painting.  Also, never, never, never show the bottom of your feet to anyone, and don't use that part of you to point at anything.  The bottom of your feet is seen as the dirtiest part of the human body in Thailand.
It would of been nice to spend more time exploring the wats, but it was hard to pack 300, let alone 3, into just one day in Chiang Mai.  The ornateness of each wat, from its wall to its shrines, was almost overwhelming.  Some wats had hand-painted panels depicting passages from ancient texts, and those alone sparked so much curiosity.  There were many statues of various animals and characters around the temple grounds, and I wished to know more about each of them.  The temples in Thailand have so much history and living stories inside their grounds, from the stone carvings that have stood the test of time against earthquakes to the monks making their everyday offerings and practicing their rituals.  It's a wonderful things that Thailand offers secular visitors a chance to experience their sacred grounds.