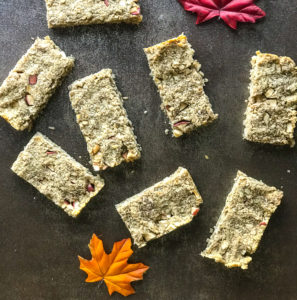 Inhale that that crisp autumn air. It's apple season!
In my house, these thick and chewy baked apple oat-granola bars are hard to keep around. They are loved by everyone with their real apple chunks and fall apple pie flavors! 
These apple oat-granola bars are slightly sweet with baked apples, granola and oats. A naturally gluten-free snack that is hearty enough to fill you up! Perfect for a breakfast, lunch or snack.
BAKED APPLE OAT & GRANOLA BARS INGREDIENTS
Oats:
There are three types of oats; steel cut, rolled, and instant. I've broken down the difference of each in my overnight oat bars recipe. I recommend using rolled oats for these bars too!
Granola: 
There are so many types of granola out in the world. I absolutely love One Degree Sprouted brand. They are dedicated to organic, plant-based sustainable farming. I usually get the vanilla chai or honey hemp. Leftovers are great with yogurt!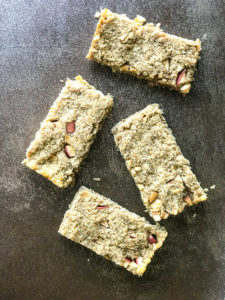 Banana:
You will need one VERY ripe banana. Choose one that has sat on your counter a day too long and started to spot. You're probably wondering if it's still good to eat or if its overripe. That is the perfect banana for this recipe.
Banana Tip: if you have more than one brown spotty bananas you can freeze them to use later to make banana muffins, bread, cake or a morning smoothie.
Apples, Apples & Apples:
To get the apple pie flavors you will use: apple cider, one medium (or two small) apples, and apple pie spice (see below). Choose your favorite apple cider and apples.
If you have extra apple cider heat it up on the stove or in a crock pot with some cinnamon sticks. Pour into a mug and top with some whipped cream, and sprinkle on some cinnamon for a delightful treat! Your house will smell amazing!
Other Add-Ins:
Hopefully you will have these items in your pantry already. Honey (or Bee-Free Honey), coconut oil and vanilla. Coconut oil can be a little pricey, but it's a great investment because you will be able to make these bars a couple of times with the same jar. Also, there are plenty of DIY beauty tips that use coconut oil as well, so maybe have a spa day?
APPLE PIE SPICE
You can hopefully find apple pie spice easily at your grocery store. It's usually in a small jar in the spice aisle. The spices are lined up by brand and then in alphabet order. If you can't find it, or just want to make your own there are several recipes online using spices you probably already own. 

Baked Apple Oat-Granola Bars
Servings:

8 large bars, 16 squares 

Time:

50 mins 

Difficulty:

easy
INGREDIENTS
4 cups Rolled Oats

1 ⅓ cups Granola

1 Ripe Banana

½ cup Coconut Oil

¼ cup Honey (or bee-free honey)

½ tsp Vanilla

¾ cup Apple Cider

1 tsp Apple Pie Spice

1 Medium Apple – peeled & cut into bite size chunks 1/4 inch cubes (or two small apples)
DIRECTIONS
Preheat the oven to 350F and line your 8X8 cake pan with parchment paper.
Use a stand mixer with a paddle attachment, hand mixer or your muscles. Mix together all of the ingredients except for the apple chunks.
Add in your apple chunks and hand-stir until they are evenly combined.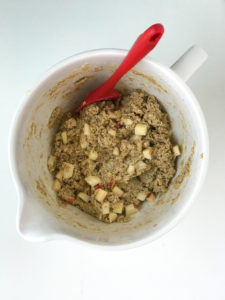 Press mixture into the cake pan lined with parchment paper.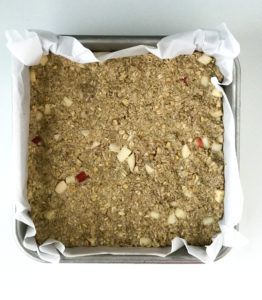 Bake at 350F for 35 minutes. Let them cool on the counter. 
Cut your bars into 8 large bars or 16 squares.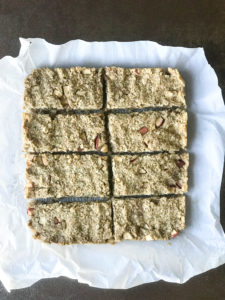 To store: keep them in a covered container in the refrigerator. These bars will last for a week.
Copyright © 2019 Nicole's Tasting Spoon


Check out other recipes on Yoga District Blog.