Browsing articles in "The Blog"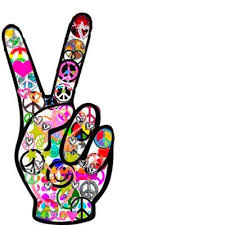 In 1993, DC's crime lowered by 23% thanks to meditators dedicating their practices to the cause. In the past we've let students know they can email us so that members of our loving, compassionate staff can meditate for them, those they love or whatever causes they personally feel are in need of a bit of peace, compassion or loving kindness.
Now we have a handy web form that will make this easier.  Feel free to share as much or as little about the situation or person you'd like us to meditate for. You can make it totally anonymous or you can choose to share your email if you'd like us to be in touch.
Yoga District is launching an exciting new series of charitable yoga classes that will donate all of the proceeds to a select DC organization. Join us for our inaugural class with live music on January 10, 2015 from 8:30pm to 10:30pm to benefit Casa Ruby, a local drop-in community center serving as a safe space for the LGBT community in DC.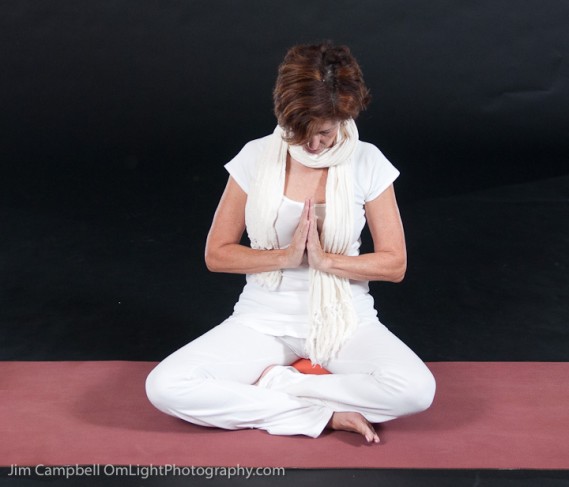 Yoga District (YD) is pleased to showcase another one of our outstanding teachers as a part of our "Teacher Feature" series – Q&As with our instructors featured on our blog. Today's Teacher Feature highlights a longtime instructor, Jayanti.
Jayanti completed her teacher training about 10 years ago, and enjoys bringing students the same peace that yoga gives her. She emphasizes much more than poses in her classes: Jayanti advises a daily practice of tapas, svadhyaya, and Ishvara pranidhana for teachers and students alike who want to deepen their practice. Tapas is shifting energy. Svadhyaya is studying yourself, getting to know yourself, and reading and studying scriptures. Ishvara pranidhana is surrendering the ego in meditation. Learn even more by reading our full interview with Jayanti.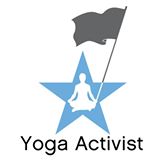 This holiday season, our Glover Park Studio Administrator Rebecca made a generous donation to Yoga Activist through her employer Conover + Gould. Yoga Activist is the nonprofit counterpart of Yoga District. You can learn more about it at www.yogaactivist.org. Read on to see why Rebecca chose Yoga Activist – and how you can donate, too!
Read Yoga District Instructor Dani's thoughts on yoga's evolution from spiritual practice to physical exercise – and back again to the spiritual:
Is practicing meditation or asana without the devotion to the original religious texts with which yoga was inspired still considered to be yoga? This article written by Antonia Blumberg for Huffington Post states that "Yoga's rising global popularity has led to disagreements about what constitutes an authentic yoga practice – and about who is qualified to say what's authentic and what's not."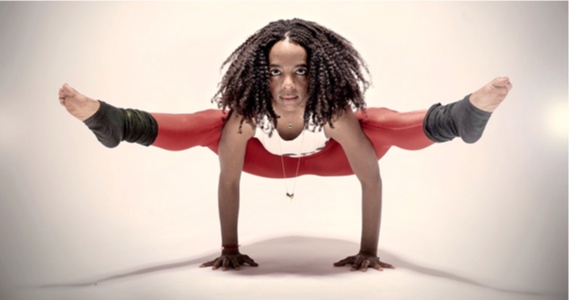 Yoga District (YD) is proud to showcase its wide variety of teachers in periodic "Teacher Features" – Q&A's with the instructors on our blog. Today's Teacher Feature highlights a thoughtful, compassionate instructor, Klydie.
Klydie's class was recently praised in the DC online news source The Hill is Home. She provides insights about her students like: "It takes a deep sense of compassion for self as well as some good ol' courage for a student to speak for themselves if they aren't comfortable. This is empowerment in its rawest, most immediate form, yet so many feel they should stay quiet and not upset things even if they are screaming on the inside."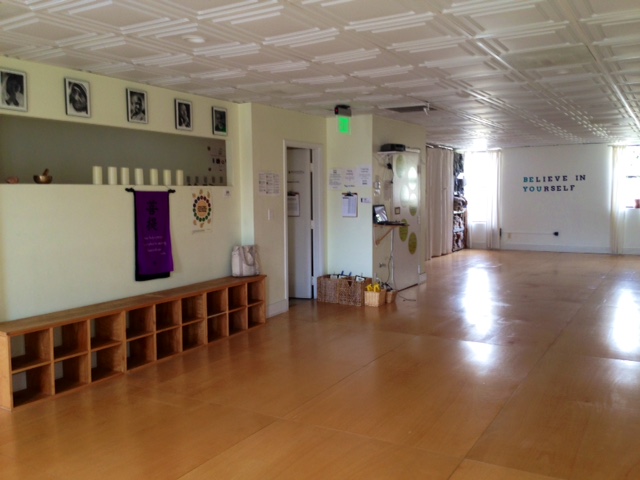 We love it when people reach out to learn more about Yoga District (YD) — especially when they share what they learn with others. DC blogger Lauren Walens recently got in touch with YD to interview our founder, Jasmine Chehrazi, and get the inside scoop on our H-Street studio, which she featured on the online news source, The Hill is Home.
We're sharing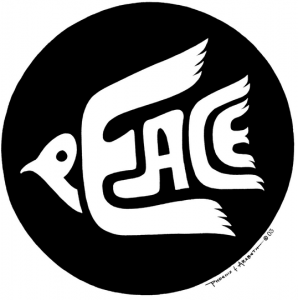 videos of one-minute meditations dedicated to various causes we believe in. You can practice with us in any of the posted one-minute meditation videos and please do contribute your own video of yourself meditating for a cause–we will happily post if you send it to us at [email protected]
We're not doing anything new–dedicating one's practice to a cause, being, or intention is an age-old traditional practice. It's a misunderstanding of the teachings when folks align yoga and meditation with being passive.
With wars, environmental destruction, human rights abuses and more, we all struggle with how to act and avoid passivity in these scary times. How can individuals meaningfully respond and live in this world when we often feel powerless to change it? Yoga's teachings have a great answer:
No offense intended, but when the Tea Party arrived on the DC scene something cracked in me. I asked one of my teachers, Ram Das, how I could love and find peace with the Tea Party despite disagreeing with them so deeply. Without pause, Ram Das said something like, "You'll never find peace like that on the outside. Go inside and find peace, then you'll become an instrument of peace." And so it clicked.
Hopefully and with practice, as we go inside during our meditations we can find peace and align ourselves with it so deeply that when we open our eyes we can't help but act according to that peace.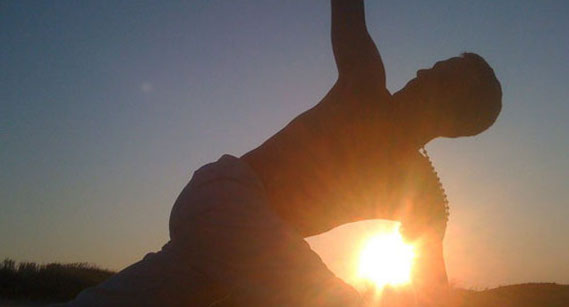 Check out this blog post by Yoga District teacher Mike Hazzard on how yoga is teaching him to let go.
If yoga is "99% practice and 1% theory," my yoga 1% is on the mat and my 99% interacting with others at home, work, in traffic, etc.
Progress "on the mat" for me comes through letting go, rather than through control. When I can let go, I can breathe, allowing my body to settle into a posture — my variation today. When I slip in to control, my breath gets erratic and my body clenches. Here, injuries happen; progress reverses. When I can get out of my own way and let things evolve, I almost always get a better result on and off the mat.
On November 23, I'll be leading a "Yoga for Letting Go" workshop. We'll do some asana with the intention of letting go of compulsions and habits, rather than trying to "control" them. Hopefully students will come away with ideas for setting intentions on the mat, and strategies for learning to let go of the things that block us from being ourselves and having the best possible relationships with others.
Goals are helpful, and through practice, goals may evolve or come to fruition over time. We make no demands, however. "All is coming" through practice. How it comes will be revealed over time.
Lots of om to you. I hope to see you November 23, or otherwise around town. Be receptive to the grace within you, and be kind; everyone you meet is going through a difficult struggle.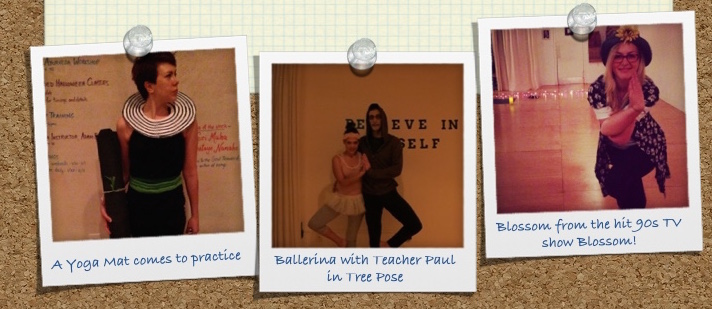 Halloween flair isn't just for parties; it's also for yoga!
On Friday night our 14th St., H St., and Bloomy studios hosted costume-friendly all levels extended classes. Students showed up wearing all kinds of fun costumes and those with the most lovely Halloween flair won a free five class pass. We're grateful to everyone who attended and made the practice a memorable one. If you missed last week's fun, no worries at all — just start thinking about your costume for next year! Check out the fun!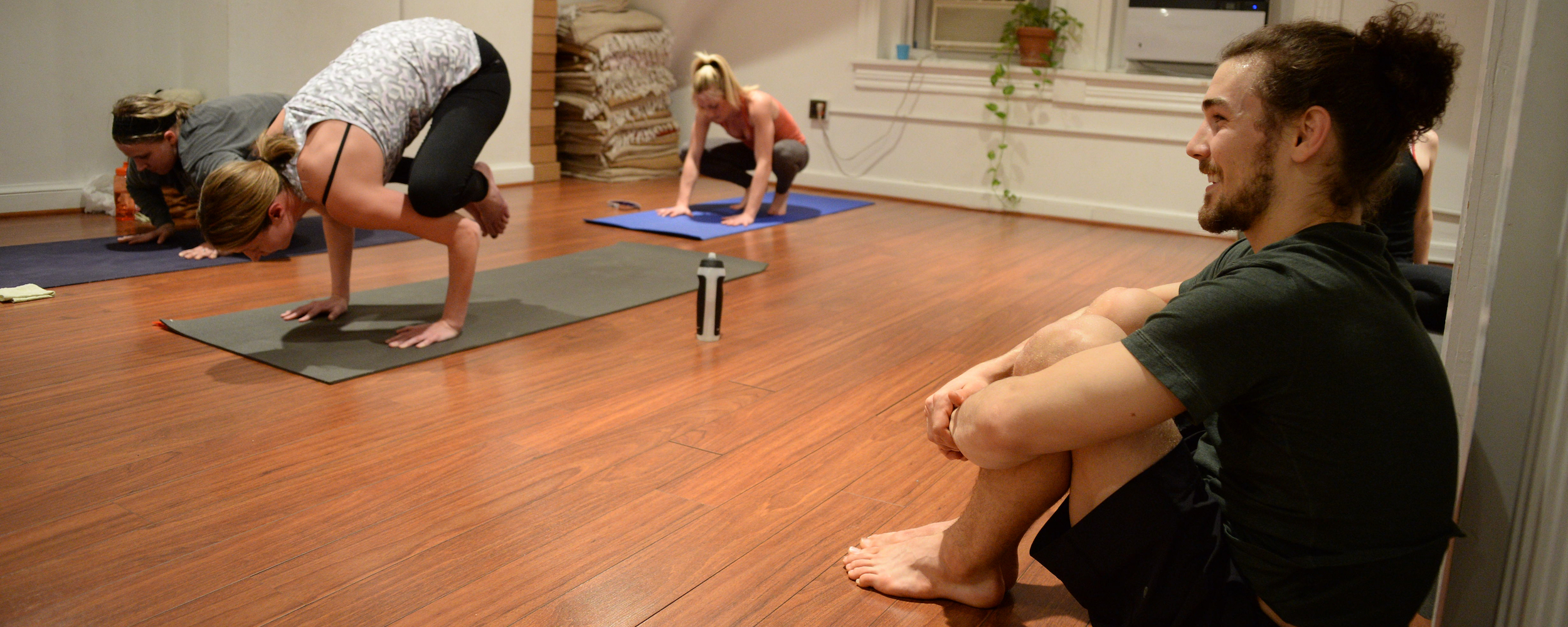 The diverse family of DC yoga teachers at Yoga District are dedicated to making yoga accessible to everyone through a huge variety of yoga class types, from vinyasa flow to restorative and beyond. Most Yoga District teachers are graduates of Yoga District's nationally-attended 200 hour teacher training program. All Yoga District classes focus on coordinating breath with body movement to promote flexibility, strength, and peace of mind. We strongly believe in yoga as therapy, so catch one of our classes whenever you need a healthy dose of self-care.
See all yoga teachers »

The Yoga District 200 and 500 hour teacher training certification programs, registered by the Yoga Alliance are unique in their emphasis on diversity of teaching styles studied, personal attention, and trauma sensitive yoga. It's no coincidence that Yoga District is regularly voted the leading studio in the nation's capital, and that most of its classes are taught by graduates of its training program. As a full time yoga school, small group trainings are led up to eight times a year by a dedicated faculty including Jasmine Chehrazi, contributor to the Harvard Karma Yoga Project teacher training, teacher training faculty at George Washington University, Yoga Alliance Standards Committee Advisory Board Member, Yoga Activist Founder, and Yoga Service Council Advisory Board Member. So take your practice and community involvement to the next level by joining a training. There's a reason why our graduates call the training "transformative."
Check out the yoga teacher training »