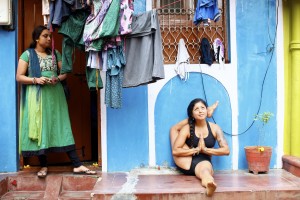 Meet Yoga District Teacher, Claudia. Playful and creative, former gymnast Claudia came to Yoga looking for balance and inner peace. She was first introduced to Yoga back in Peru when she was 18 years old, and fell completely in love with the tradition. She has studied the traditions of Vinyasa, Ashtanga, and Rocket Yoga. And, to date continues to immerse herself in studying and practicing Ashtanga and Rocket Yoga. Claudia teaches morning, midday, and evening classes daily at various Yoga District studios.
Are you interested in practicing Ashtanga Mysore Style but are unable to make it in the mornings?
Join Claudia for Mysore Ashtanga Yoga in the evenings from 4-6 pm.

The Evening Mysore Program is designed for those students that want to practice the traditional way Ashtanga Vinyasa Yoga was taught by Shri. K. Pattabhi Jois in Mysore, India, but are unable to make it in the mornings.
In this class setting, the student is taught individually within a group setting, and practices at his/her own pace the system of Ashtanga Vinyasa Yoga guided by the teacher who safely incorporates one pose at a time to the student's practice according to their dedication and abilities.
All levels are welcome.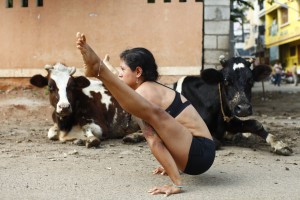 Students are encouraged to practice daily and attend Led Ashtanga classes to memorize the sequence and develop a personal practice.
Claudia is a committed daily Mysore practitioner herself and continues to immerse herself in the Ashtanga Yoga Tradition at the Shri K. Pattabhi Jois
Ashtanga Yoga Research Institute in Mysore, India under the teachings of Ashtanga Yoga Master Shri. R. Sharath Jois.
Claudia also teaches Led Ashtanga Yoga classes during the week to give the practitioner a better understanding of the practice and the whole system of Ashtanga Vinyasa Yoga.
Claudia.