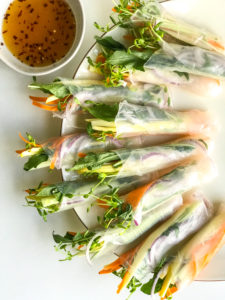 Looking for a fresh, cool, crispy snack that is both delicious and healthy?
These veggie dippers are super jam packed with colorful vegetables! The snap of the fresh vegetables in every bite will make you want to eat them like a bag of potato chips. Try dipping them into a sweet honey-orange sauce for extra enjoyment.  
These vegetable dippers are easy to assemble and are perfect for: summer lunches, poolside snacks, or backyard potlucks.  
VEGGIE DIPPERS & THEIR BENEFITS:
You can definitely can make these dippers your own by adding in your favorite vegetables. Below is the list of vegetables that I used and their benefits.
Yellow Summer Squash: It provides a bright yellow color and, in my family, it's difficult to get people to eat it without tucking it into this wrap. 
Summer squash is high in vitamins A, B6, and C, folate, magnesium, fiber, riboflavin, phosphorus, and potassium. That's a serious nutritional power-packed veggie. Also it is rich in manganese which helps to boost bone strength and aids the body's ability to process fats and carbohydrates.(1)
Carrots: They provides a fun orange brightness with a crunch. Using a peeler it is really easy to add a few thin crunchy strips of carrots into each dipper. 
Carrots contain vitamin A, antioxidants, and other nutrients. Evidence suggests that eating more antioxidant-rich fruits and vegetables, such as carrots, can help reduce the risk of cancer and cardiovascular disease. Carrots are also rich in vitamins, minerals, and fiber. (2)
Cucumber: Is a cucumber a fruit or vegetable? Technically, it's a fruit but it's a key component to this veggie dipper wrap. It adds a cool refreshing component that helps keep the dippers light and summery. 
Cucumbers are low in calories but high in water (96%) and have several important vitamins and minerals that help with lowering blood sugar and weight loss. Cucumbers contain antioxidants, including flavonoids and tannins, which may reduce the risk of chronic disease. (3)
Sweet Pea Shoots: I added this vegetable in because they are fun and taste good! They look like pretty little flower leaves poking out of the dipper. You can also use sprouts or edible flowers. 
Sweet Pea Shoots are low in calories and a good source of beta carotene, vitamin C, folate, and fiber. (4)
Dandelion Greens: Have you ever had them? Dandelion greens are super bitter but extremely healthy. I wanted to add them in to these wraps and they worked out great. The bitterness is subdued by the rest of the vegetables and the honey-orange sauce but you still get the nutrition. 
ALLERGY ALERT: I have to warn you though, they have a high allergic reaction. Since you can eat these veggie dippers addictively like potato chips, I'll say add dandelion greens at your own risk.  I had a lot of them after the recipe photo shoot then I broke out in a horrible and itchy head to knee rash from an allergic reaction. 
They serve as an excellent source of vitamins A, C and K. They also contain vitamin E, folate and small amounts of other B vitamins (1). What's more, dandelion greens provide a substantial amount of several minerals, including iron, calcium, magnesium and potassium. (5)
Purple Onion: The thinly cut purple onion gives this veggie wrap grouping a little extra flavor. Raw purple onion adds a taste zing, which is important since most of the other  veggies are mild in taste. 
Onions are loaded with antioxidants, help control blood sugar and boost digestive health. (6)
Healthy Veggie Dippers
Servings: 12 dippers
Time: 35 mins to prep
Difficulty: easy
INGREDIENTS
1 Yellow Summer Squash

2 Carrots

1 Cucumber

1 handful Sweet Pea Shoots

12 Dandelion Greens

½ Medium Purple Onion

36 Spring Roll Rice Wrappers 6 in diameter (8oz package)
Honey-Orange Sauce
1 Orange

2 TBSP Honey or you can substitute with Free Bee Honey

½ TBSP Minced Garlic

1 pinch Red Pepper Flakes (about ¼ tsp)

1 pinch Salt
DIRECTIONS
First you want to make the sauce so it has time for the flavors to infuse. In a bowl, whisk together the juice of one orange, honey, minced garlic, red pepper and salt together until it is fully incorporated. Set aside.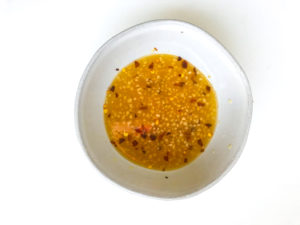 Prep your vegetables (see photo below)
Yellow Summer Squash – peel the outside and then cut it into thin long strips, about 1-2 inches long.
Carrots – use a peeler, peel off the outside of the carrot, then continue to peel your carrots into thin long strips.
Cucumber – I kept the skin on the cucumber because it's packed with nutrition. Cut this like you did the summer squash, into thin long strips.
Purple Onion – Thinly slice ½ of the purple onion.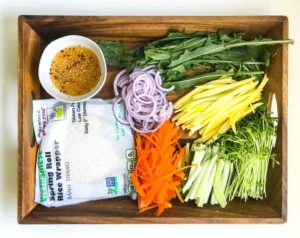 Get a bowl of warm water for your spring roll rice wrappers. You will use 3 wrappers per dipper. Keeping them one on top of another, place your 3 wrappers in the warm water for 30 seconds, until they are soft.
Place the wrappers on the counter and layer on a little of each vegetable, using only one dandelion greens per dipper.
To roll the dipper, first you want to fold the bottom up.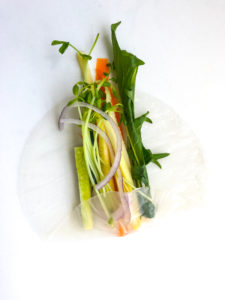 Pull one side of the wrapper across the vegetables tightly and then roll like a burrito. I'm right handed and I found it easiest to go from right to left.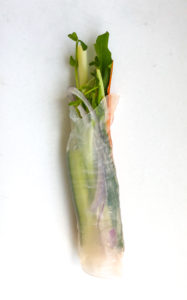 Repeat to make the rest of the dippers.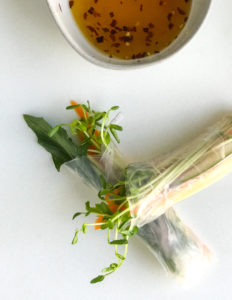 Sources:
Yellow Summer Squash,  https://www.healthline.com/health/food-nutrition/yellow-vegetables#squash

Carrots,

https://www.medicalnewstoday.com/articles/270191.php

Cucumbers, https://www.healthline.com/nutrition/7-health-benefits-of-cucumber

Sweet Pea Shoots, https://www.berkeleywellness.com/healthy-eating/food/nutrition/article/nutritious-pea-shoots

Dandelion Greens, https://www.healthline.com/nutrition/dandelion-benefits#section2

Purple Onion, https://www.healthline.com/nutrition/onion-benefits#section8


Copyright © 2019 Nicole's Tasting Spoon
Check out other recipes on the Yoga District Blog