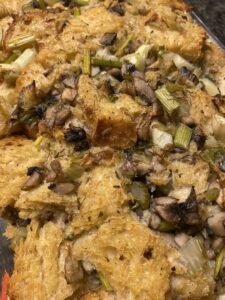 Even though the holiday season may look a bit different this year, you can still bring a little tradition to your dinner table.
Why not serve up a cornerstone to many holiday meals, stuffing and gravy!
 "Stuffing" is different everywhere with some people calling it dressing. It may be served  in a turkey or as a stand alone casserole side dish for others. No matter how you eat it, stuffing is always a great accompaniment to a holiday spread.
This take on a traditional dish is chock full of veggies and herbs, while still providing you with that warm familiar flavor of the holidays. Top it with a vegetarian take on gravy. While this recipe isn't gluten free or vegan, it's a vegetable-first approach to the traditional dish. It can be modified to be gluten free and/or vegan. 
Veggie-full Mushroom Thanksgiving Stuffing
Stuffing Ingredients
1 Loaf of White Bread (Whole Wheat bread or gluten free bread works as well)

1 1/2 Cups Fennel

5 Leek Leaves or 2 Cups

4 Baby Portabella Mushroom Caps

9 Cremini Mushroom Cups 

3 Cups Celery

3 Cups Veggie Stock

2 Teaspoon Fresh Sage

2 Teaspoons Fresh Thyme

1 Teaspoon Garlic

2 Eggs

6 Tablespoons of Butter (or vegan butter) 

3 Tablespoons Butter or Olive Oil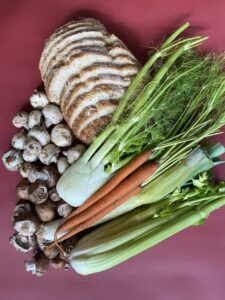 Gravy Ingredients
3 Tablespoons Butter

2 1/2 Tablespoons Flour

2 Cups Vegetable Stock

Salt 

Black Pepper
Instructions
1. Preheat the oven to 250 degrees. 

2. Cut the loaf of sliced bread in 1 ½ inch squares and place in a large bowl. Bread should be around 4 to 5 cups.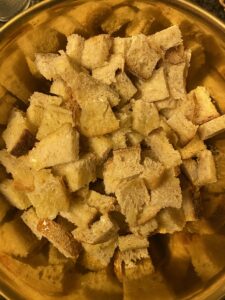 3. Melt 6 Tablespoons of butter in the microwave for 2 minutes. 

4. Pour half of the butter over the bread and then mix it into the bread. Pour the other half over the bread and mix it some more. 

5. Spread the bread evenly on baking sheets and bake for 15 minutes or until the bread is dried out. It's important that the bread is dry before you use it in your stuffing. 

6. While the bread dries out in the oven, start to prep your vegetables. Pull apart four leaves from the leek and make sure they are well washed. Cut off the dark green part of the leek and then slice the remaining white and light green parts into slivers. This should come out to about 2 cups of leeks.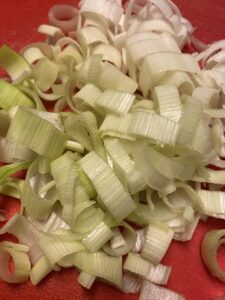 7. Wash the fennel and cut in half. Cut the remaining half into ½ inch chunks. This should come out to about 1 1/2 cups of fennel. Use all parts of the fennel including the leaves, which makes a nice addition to the stuffing. 

8. Wash about 3 stalks of celery and cut into small ½ chunks for around  3 cups of celery. 

9. Rinse and pat dry the 4 baby portabella mushroom caps and 9 cremini mushroom caps. Chop into small pieces.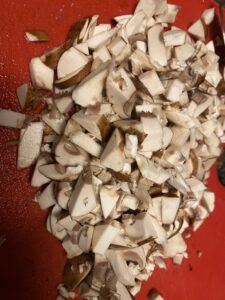 10. Dice 1 teaspoon sage and 1 teaspoon thyme.

11. Melt 3 tablespoons of butter then  sauté  celery and leeks with  fennel until soft or about 5 minutes. 

12. Add ¼ teaspoon salt and ¼ teaspoon black pepper.

13. Add in the mushroom and herbs then let cook until the water evaporates off, about 8  minutes. 

14. Combine the mushroom and herb mix with the bread in a large bowl. 

15. Add 3 cups of vegetable stock, 3 eggs, and ¼ teaspoon salt into another large bowl. Whisk and then add to the large bowl with the bread and vegetable mix.

16. Butter a baking pan and then add the mixture to the pan. 

17. Bake for 15 minutes at 250 degrees, and then raise the temperature to 300 degrees and bake for an additional 10 minutes.

18. While the stuffing is baking, start to prepare the gravy. Melt butter in a small saucepan.  

19. Gradually add flour. Whisking as you go. The butter and flour should froth up. Cook for about 3-4 minutes until the flour is fully cooked. 

20. Gradually start to incorporate the vegetable stock, whisking as you incorporate the stock.

21. Add salt and black pepper to the gravy and you're ready to serve!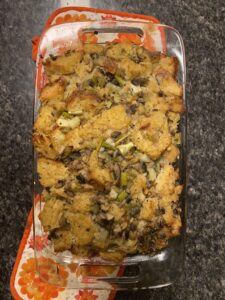 Check out other recipes on the Yoga District Blog!