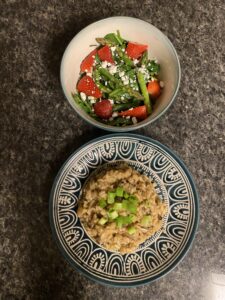 We've been waiting patiently and spring is finally here!
To celebrate and transition into spring cooking, try this recipe filled with a lot of seasonal produce like spinach, strawberries, mushrooms, asparagus, garlic and onions (1).
I've enjoyed modifying some of my favorite recipes to be vegan for the Yoga District blog. I've found that nutritional yeast and cashews is one of the best substitutions out there for parmesan. The vegan parmesan mix featured in this recipe was a great finisher for this creamy mushroom risotto. Since risotto is a heavier rice, I recommend pairing it with a light spring salad with fruits and fresh herbs like mint. I hope you enjoy this spring dish!
Spring Salad and Vegan Mushroom Risotto
Spring Salad Ingredients 
Salad
4 Cups Spinach

8 Strawberries

12 Spears of Asparagus

2 Tablespoon Mint

½ Red Onion Cut Into Rings

1 Teaspoon Black Pepper

2 Tablespoons Miyokos Plant-Based Cheese (Optional)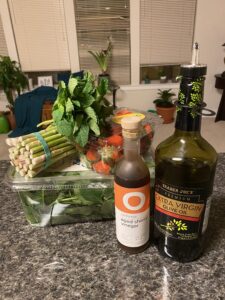 Dressing
⅓ Cup Sherry Vinegar

⅓ Cup Olive Oil

1 Tablespoon Minced Shallot

1 Tablespoon Agave

¼ Teaspoon Salt
Spring Salad Directions
Start by cutting the asparagus spears in threes and discard the tough stems.

Using a vegetable steaming tray or preferred steaming utensil, steam the asparagus for 2 minutes. Remove from heat and set aside. 

Prepare additional salad toppings. Quarter the strawberries, mince the mint and slice the red onion into rings. Set ingredients aside.

Mince enough shallot to measure out to 1 tablespoon, about ¼ of a large shallot. 

Combine ⅓ cup of sherry vinegar, ⅓ cup of olive oil, 1 tablespoon agave, the 1 tablespoon of minced shallot and ¼ teaspoon salt.

Blend all dressing ingredients until fully emulsified. The mixture should turn creamy.

Toss all salad ingredients with your preferred amount of salad dressing and then top with Miyokos plant-based cheese if preferred.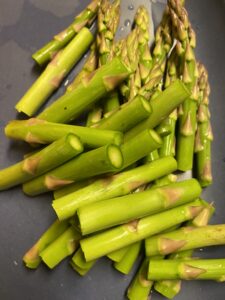 Vegan Mushroom Risotto Ingredients
Risotto
3 Cremini Mushrooms

3 Portobello Mushrooms

½ Shallot Diced

2 Cloves Garlic Minced

1 Cup Arborio Rice or Another Short Grain Rice

3-4 Cups of Vegetable Stock

½  Cup Wine

1 Tablespoon Olive Oil
Parmesan
⅓ Cashew

⅓ Nutritional Yeast

½ Teaspoon Salt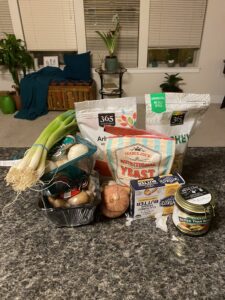 Vegan Mushroom Risotto Directions
Start by bringing 3-4 cups of vegetable stock to boil.

As the stock is boiling, begin to prep the ingredients for the risotto. Dice the mushrooms, mince the garlic and dice the shallot. 

Reduce the heat of the vegetable stock to low. The broth must be warm as it's added to the risotto.

In a separate pan heat up 1 tablespoon of olive oil.

Add shallots to the pan and sauté for 1 minute. 

Add garlic to the pan and sauté for 30 seconds.

Add mushrooms and sauté for 2 minutes.  

Add rice and 1 tablespoon of vegan butter and lightly fry the rice for 3 minutes.

Add ½ cup of wine to deglaze the pan. Stir and cook the mixture until the alcohol cooks off.

Add about one cup of vegetable stock or enough stock to just cover the rice. Allow to simmer until the liquid cooks down. 

Continue to add 1 cup of the stock at a time; gradually, letting the liquid cook off before adding additional liquid. 

Repeat this process until the rice is the texture you like. Salt to taste as needed. 

This process should take around 30 minutes and use about 2 cups of vegetable stock with Arborio rice, but may take longer with other rice variations. The final result should be a creamy, thick rice mixture.

Add 1 tablespoon of the vegan parmesan to the mixture.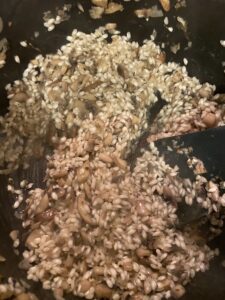 Finally, pair with your spring salad and enjoy!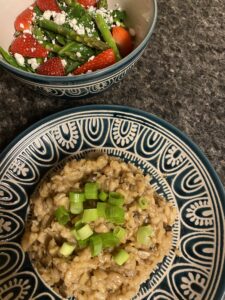 Check out other recipes on the Yoga District Blog!
Sources
https://snaped.fns.usda.gov/seasonal-produce-guide