Browsing articles tagged with "Yoga District Archives - Yoga District"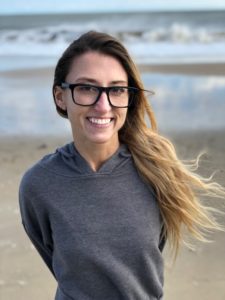 Meet Stacey, one of our teachers at Yoga District. She finds empowerment through self-love and trying new things in her
practice. Learn what four key lessons her yoga practice has taught her about herself and about life.
"It's such an amazing feeling to know that you can travel across the globe and find your people in no time through the
practice of yoga."
Check out Stacey's current class offerings below and sign up here.
Monday 6:35PM

,

Flow Yoga 1-2 @ Dupont

Wednesday 12:30PM

,

Powerful Flow Yoga 1.5-3 @ Dupont

Thursday 12:15PM

,

Flow Yoga (all levels) @ 14th Street

Thursday 5:15PM

,

Flow Yoga 2-3 @ 14th Street

Thursday 6:35PM

,

Flow + Yin (all levels) @ 14th Street

Friday 12:30PM

,

Flow Yoga 1.5-3 @ H Street

Saturday 10:15AM

,

Strong + Sweaty Flow Yoga 1.5-3 @ Dupont

 Meet Kendall, our December Teacher Feature as she shares her yoga journey!
Warrior III is the yoga pose that best describes Kendall's life:
"Some days I feel super grounded and strong. Other days I feel a little more wobbly and uneven. Either way, I'm always looking for that sweet spot between strong and soft, open and grounded."
Feel free to attend one of her class and read on to learn more about Kendall.
           Kendall's Class Schedule:
Tuesdays at 8 PM, All Levels Flow @ Dupont
Sundays at 10:45 AM, Flow 2-3 @ 14th St.
Sundays at 6:45 PM, Powerful Flow 1.5-3 @ 14th St.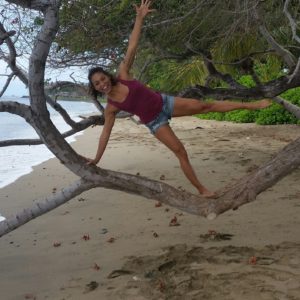 Meet Mikela, our Studio Collective Assistant Director as she shares her yoga journey and  her experience being part of the Yoga District community! 
"And I said to my body, softly, 'I want to be your friend.' It took a long breath and replied, 'I have been waiting my whole life for this.'"  -Nayyirah Waheed
Read Yoga District Instructor Dani's thoughts on yoga's evolution from spiritual practice to physical exercise – and back again to the spiritual:
Is practicing meditation or asana without the devotion to the original religious texts with which yoga was inspired still considered to be yoga? This article written by Antonia Blumberg for Huffington Post states that "Yoga's rising global popularity has led to disagreements about what constitutes an authentic yoga practice – and about who is qualified to say what's authentic and what's not."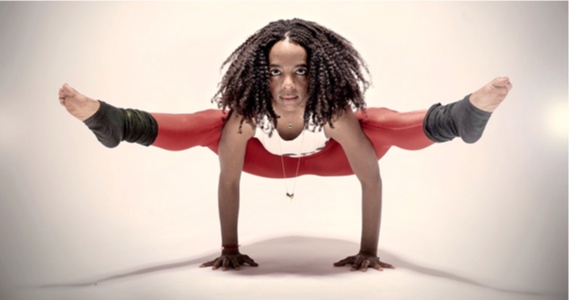 Yoga District (YD) is proud to showcase its wide variety of teachers in periodic "Teacher Features" – Q&A's with the instructors on our blog. Today's Teacher Feature highlights a thoughtful, compassionate instructor, Klydie.
Klydie's class was recently praised in the DC online news source The Hill is Home. She provides insights about her students like: "It takes a deep sense of compassion for self as well as some good ol' courage for a student to speak for themselves if they aren't comfortable. This is empowerment in its rawest, most immediate form, yet so many feel they should stay quiet and not upset things even if they are screaming on the inside."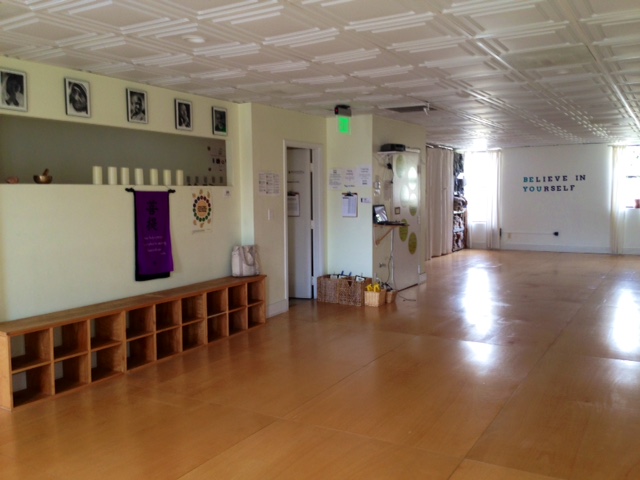 We love it when people reach out to learn more about Yoga District (YD) — especially when they share what they learn with others. DC blogger Lauren Walens recently got in touch with YD to interview our founder, Jasmine Chehrazi, and get the inside scoop on our H-Street studio, which she featured on the online news source, The Hill is Home.
I know my body parts and I know my right from my left, so I assumed that cuing yoga poses would be a cinch. But somehow, when I get in front of a group of eager students, I'm suddenly at a complete loss. What's that bendy thing that connects the lower arm to the upper arm? What are those wiggly things at the ends of my hands? And which leg is crossed over the other when I'm looking at a twisted mirror image? I don't know what comes over me, but suddenly, English is a foreign language!
Of course, teaching yoga is more about love and compassion than it is about calling out the poses. But at the end of the day, you can't have one without the other. So in teacher training, there's equal emphasis on both the philosophy and mechanics of yoga. Communicating it all clearly, elegantly, and accurately is the challenging part.
Like everything else, it all comes down to practice. Only with practice do the jitters fade away, leaving space for the words to flow more freely and effortlessly; only with practice does the mind begin to calm long enough for the sequences to pour out with grace and eloquence. It takes time, patience, and dedication.
So next time your yoga teacher asks you to place your left head behind your right set of knees and clasp the back of your shoulder with your interlaced forearms, just smile, breathe, and take your best guess. That's yoga!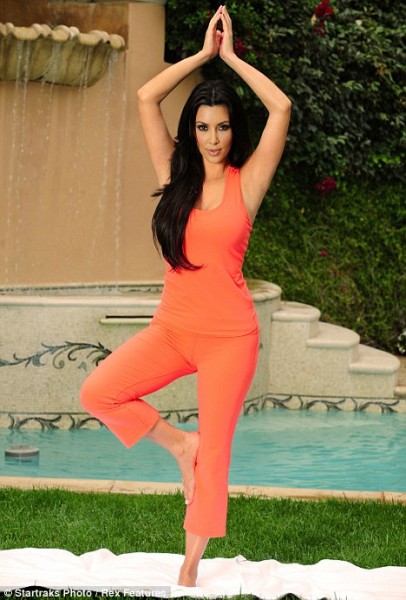 So, I joined Twitter. The real reason I joined was to follow the Kardashians, if I'm being honest. I became addicted to the show via Netflix a couple months ago and have since devoured every season. The logical next step was to catch up with their every moves in real time via Twitter. Their appeal to me will never be understood. Anyhow, after following them for a couple weeks, I realized all they do is hawk the latest product they're promoting (Sketchers Shape Ups, Quick Trim weight loss pills, their specialty fragrances) and thus I quit them.
How does this tie into yoga? Well after quitting the K's I discovered that Twitter is good for other things, one of which is following yoga tweeters. I'll tell you about some of my favorites:
1. @tinybuddha is a frequent tweeter, sharing inspirational quotes and great articles from the tinybuddha site. One of my favorites: "How to stop obsessing over things you want."
2. @YogaChrissy is a yoga teacher who posts some great, practical yoga tips. Here's a recent one: comfortable cross-legged seat should be, well, comfortable. Lifting pelvis up on blankets will help the thighs descend, relaxing groins.
3. @eclecticyogi is a yoga teacher in NY, she shares excellent news articles about new yoga trends and research.
4.  @Curvyyoga a self-described curvy yoga practitioner and teacher. @Curvyyoga is a great resource for the curvier yogis among us – myself being one! She's big into loving your body and refuting stereotypes about what a perfect yoga body should look like.
and of course…
5. @YogaDistrict always keeping us up to date on all the hoppin' happenings at Yoga District!
I recently heard my teacher say, "there is no such thing as stress."  What!?  No such thing as stress?  How can she deny the wealth of scientific evidence that links stress to a person's health?  Stress is strongly associated with a baziillion devastating conditions – depression, anxiety, headaches, insomnia, obesity, hair loss, skin disorders, weakened immune system, thyroid dysfunction, hormonal imbalances, gastrointestinal disorders, high blood pressure, diabetes, heart disease, and even cancer! – just to name a few.  I started to think my teacher was seriously losing it until she explained what she meant.   Stress is not something that happens to us, but rather it is something we do to ourselves.  The way we choose to perceive the situation determines the affect that it will have on us.  Hmmm… that actually makes sense.  Stress doesn't creep up on you like a poisonous spider while you're sleeping.  It's something we create!
In yoga we often talk about letting go and surrendering.  Unless you have some sort of magical powers, the events that happen around you are totally out of your control.  However, you gain an incredible amount of power by just accepting this lack of control. Stress happens when we resist what has already happened or when we allow ourselves to worry about what may or may not happen in the future.  We become totally liberated when we simple let go.  Let go of resistance to how things are.  Let go of all expectations.  Relax your shoulders and the muscles in your face.  Ahhh… much better.
A stress-free life– sounds too good to be true?  We also learn by practicing yoga that balance is key.  Some stress is necessary and beneficial for our wellbeing.  Without any stress, we would be totally apathetic, have no motivation or determination, and never feel a sense of accomplishment.  The goal is to cultivate a balance between effort and ease – an extremely common phrase repeated by yoga teachers, but it is indispensable advice.
Think about waiting for the train at the Metro, especially during the times of dreaded "Scheduled Track Maintenance."  If you, like me, have a tendency to start panicking, anxiously pacing, and worrying that you will be late for your appointment, you are causing undue havoc for your mind and body.  You might notice that your body temperature is rising; your heart is beating so fast it might pop out of your chest; you are sweating, breathing shallowly in your upper chest, or maybe not breathing at all…  It's amazing how subtle changes in our thoughts and breath can have such dramatic effects on our emotional and physical states.  A healthier approach in this situation is just to breath (deep inhales and slow and complete exhales), relax your mind, and maybe even meditate.  Because lets face it – by stressing out, will we make the train arrive any sooner?  Absolutely not.  Rather, conserve your energy for when the train drops you off at your destination, and run like crazy up that escalator!  You can thank your yoga teacher later for holding you in Utkatasana for so long last week, building up those amazingly strong leg muscles.
I was skeptical when I saw the teacher training reading list: The Bhagavad Gita, The Yoga Sutras, Autobiography of a Yogi, Chakra Yoga: Balancing Energy for Physical, Spiritual, and Mental Well-Being, and a few other New Age-y sounding titles. I had to consciously stop myself from running in the opposite direction. My Western brain had a panic attack at the first mention of "subtle anatomy" and "body energetics." When I went on Amazon to buy my books, I almost added a Physician's Desk Reference to the basket just for good measure.
Then I did some off-the-mat yoga and told my mind what I've told it before: "I love you. Be quiet."
I wanted to enter into my teacher training with total openness and non-judgment, so I decided that I'd give it a whirl. I wanted to be a sponge and just soak it all up, knowing that, at the end, I could wring it all out if I wanted.
As it happened, I didn't want to wring any of it out, even if that meant being a little soggy! Warning: this is about to get a little mushy.
Ultimately, it was the Gita which spoke to me. Despite being written thousands of years ago, I found it to be entirely relevant. The Gita contains so many beautiful descriptions of God: absolute Truth, infinite Joy, all Creation, total Love. And, we can experience all of this through a constant yoga practice that brings us closer toward Union. Of course, yoga is more than just the physical asana practice. We must have a practice of offering, of devotion, of meditation, of non-attachment. To live rightly with a sense of non-attachment and devotion will bring us ever-closer to full union with a God who is full of love, peace and joy.
My training at Yoga District has made me a good teacher, but it's made me an even better student. And I've learned that some of my best teachers lived 5000 years ago.
Naming body parts is hard.
Always breathe.
Practice makes practice.
Everything I ever needed to know, I learned on my yoga mat.
The last one into a handstand isn't a rotten egg.
Picasso wasn't a cubist at first.
The three musketeers were right.
Keep your shoulders at elbow-height.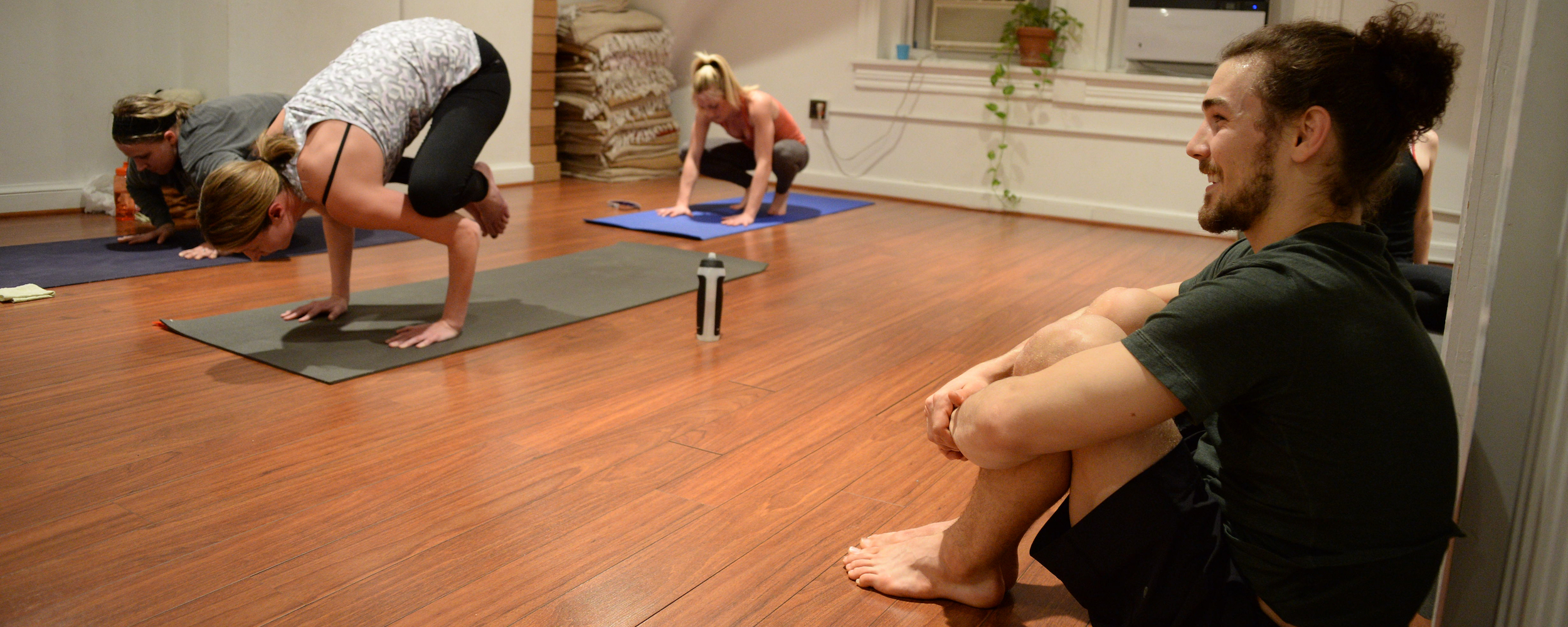 The diverse family of DC yoga teachers at Yoga District are dedicated to making yoga accessible to everyone through a huge variety of yoga class types, from vinyasa flow to restorative and beyond. Most Yoga District teachers are graduates of Yoga District's nationally-attended 200 hour teacher training program. All Yoga District classes focus on coordinating breath with body movement to promote flexibility, strength, and peace of mind. We strongly believe in yoga as therapy, so catch one of our classes whenever you need a healthy dose of self-care.
See all yoga teachers »

The Yoga District 200 and 500 hour teacher training certification programs, registered by the Yoga Alliance are unique in their emphasis on diversity of teaching styles studied, personal attention, and trauma sensitive yoga. It's no coincidence that Yoga District is regularly voted the leading studio in the nation's capital, and that most of its classes are taught by graduates of its training program. As a full time yoga school, small group trainings are led up to eight times a year by a dedicated faculty including Jasmine Chehrazi, contributor to the Harvard Karma Yoga Project teacher training, teacher training faculty at George Washington University, Yoga Alliance Standards Committee Advisory Board Member, Yoga Activist Founder, and Yoga Service Council Advisory Board Member. So take your practice and community involvement to the next level by joining a training. There's a reason why our graduates call the training "transformative."
Check out the yoga teacher training »