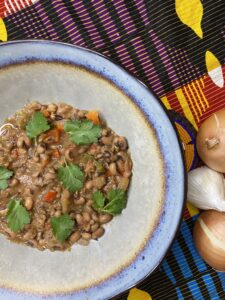 Let's welcome the new year with a recipe that is all about tradition.
Cooking a pot of black-eyed peas to bring good luck in the new year is a well-known tradition in black southern households, steeped in history and good flavors.
Southern style black-eyed peas, sometimes called Hoppin' John, are traditionally served with rice, and are often paired with some sort of variation of greens (mustard, collard, etc.) for an added side of financial fortune.
The history of this dish is significant going into 2021, as we leave behind a year that was fraught with emotion and turmoil. Black-eyed peas and rice cultivation are both closely linked with our country's history of slavery. West African slaves were sought after to forcibly cultivate rice. And black beans were brought, some believe, to make slaves feel more at home (1). Despite this dark history, black-eyed peas and greens came to signify and celebrate the conclusion of a fruitful year, connection to home and the blessing of future wealth. 
My interpretation of this recipe is vegan and nontraditional. The beans are normally cooked with ham hocks or smoked turkey.  My recipe is still packed with traditional creole spices, which draw a heavy influence from Africa. I hope you enjoy this meal and happy new year!
Vegan Black Eyed Peas 
Ingredients
1 14 oz can of Diced Tomatoes

1 Medium Sized Onion

3 Cloves Garlic

1 16 Oz Bag Black-Eyed Peas

2 Teaspoons Liquid Smoke

4 Cups Vegetable Stock/Vegetable Bullion

½ Cup Water

1 Green Bell Pepper

1 Red Bell Pepper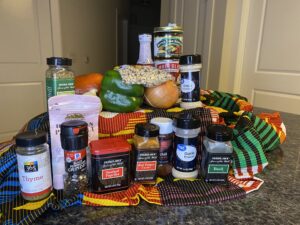 Creole Seasoning Blend
2 Teaspoon Salt

1 Teaspoon Black Pepper

1  Teaspoon Paprika

¼ Teaspoon Cayenne

¼ Teaspoon Basil

¼ Teaspoon Oregano

½  Teaspoon Thyme

½ Teaspoon Onion

¼ Teaspoon Garlic 

2 Teaspoons Liquid Smoke
Instructions
1. Rinse your beans and then allow them to soak in a large bowl for 24 hours. Make sure the beans are fully covered with a layer of water.  

2. Combine your seasonings in a bowl and place them to the side.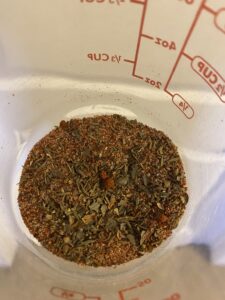 3. Dice up your onions. Smash three or four cloves of garlic.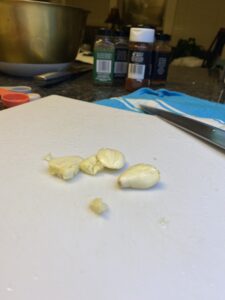 4. Turn a crock pot or slow cooker on to the "High" setting. 

5. Pour your black-eyed peas, garlic, onions, diced tomatoes and spices into the slow cooker. Finally pour in your vegetable stock last. The liquid in the crock pot should come up to about 2 – 3 inches over the black-eyed beans in the pot. Use some of the additional ½ cup of water to top off as needed, and conserve any extra in case additional water is needed throughout the recipe.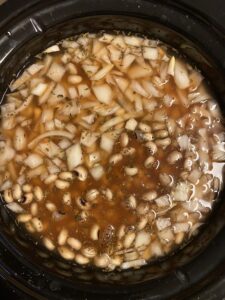 6. Top off with liquid smoke and stir to make sure everything is nicely combined.

7. Set a timer for 5 hours. 

8. Chop up the green and red bell peppers and set them to the side.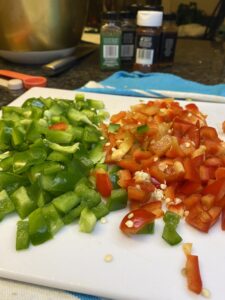 9. At about 5 hours the beans should be soft enough to smush. Scoop about 2 cups worth of beans into a bowl and use a spoon to mash the beans. 

10. Add the mashed beans along with the red and green bell peppers into the pot. Stir to combine.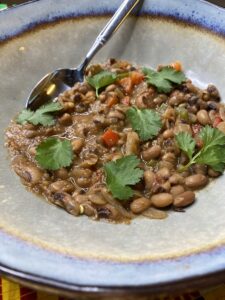 11. Let the beans cook for 1 – 2 hours. Tasting and salting as needed every 30 minutes or so. Feel free to add additional water if you like a souper variation.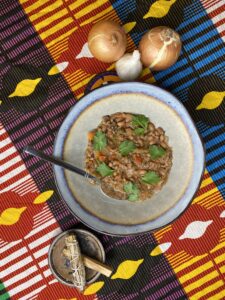 Check out other recipes on the Yoga District Blog!
Sources
https://www.washingtonpost.com/lifestyle/food/a-new-years-tradition-born-from-slavery/2011/12/21/gIQA63UfKP_story.html