Browsing articles in "The Blog"

The autumn season is now officially upon us.  The cozy comforts  of fall – the colorful leaves, pumpkins, apple cider, and cool breezes offer a refreshing change of pace from the heat and humidity of summer.   I am welcoming the change in season, but it is difficult for me to adjust to the fluctuations in weather patterns, the different types of pollen in the air, colder temperatures, and shorter days.  I have a tendency to get sick during this time of year and feel somewhat low spirited and disconnected.  My body is very sensitive to the changing of all seasons but especially the cooler ones.   Thankfully, my yoga practice helps me make this transition a bit more seamless.
Autumn is a time for letting go… clearing space to allow for transformation.  It is a good time to reflect on all the things in our lives that are no longer serving us, as well as giving special attention to the exhalation of the breath, apana, the cleansing, outward and downward flow of energy.   When we clear away waste or anything that is undesirable or threatening to our health and wellbeing, we become more grounded and allow space for a strong foundation.  From here we can enjoy greater resilience to stress, a stronger immune system, a clearer and more focused mind, a more positive outlook on life, and a deeper sense of purpose.
Throughout the fall season, it is beneficial to practice yoga at a slow, smooth and steady pace, making sure to gently warm up the body to avoid injury and consciously explore poses that help cultivate groundedness, calmness, and rejuvenation.  Moon salutations, a highly beneficial warm-up sequence of yoga poses, help bring balance to multiple levels of the mind and body, perfect for this time of year.  Enjoy this sequence, embrace the moment and embrace season. Happy autumn everyone!
Before he painted Les Demoiselles d'Avignon, Picasso was a realist who painted boring landscapes in boring colors.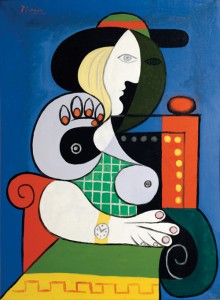 This is what I think of when I can't find my scorpion pose (or whatever crazy variations my teachers have cooked up on a given night). And I find a lot of comfort in that thought. Before we run, we walk; before we hop back, we step; before we levetate, we jump; before we lift a leg, we drop a knee; before we bind, we hook.
And so it is off the mat as well. Before I can achieve total harmony in all my relationships, I have to struggle with my mind and my pre-conceptions. I have to stop jumping to conclusions, try taking a deep breath, practice patience, and learn to ignore nasty thoughts when they arise. With baby steps, we can eventually become the best versions of our selves, bearing most likeness to the One who created us. This oneness is yoga.
So let's try not to be frustrated with our bodies when we can't achieve the poses we've set out to achieve. Let's release expectations, release judgment and remember that before he was Picasso, he was just little Pablo.
Yoga is a wonderful way to relax, slow down, quiet the mind, to just be in the moment.  Especially while living in a busy, high-stress, power-driven city such as Washington, D.C., yoga can be extremely therapeutic.  People are often drawn to yoga as a means to find calmness and cultivate a sense of peace and serenity.  For some, this may mean going directly into a quiet meditation.  Simply sitting may be the extent of your asana practice.  However, most of us have so much chatter running through our minds that this is just not possible.  When our mind is cluttered with stress, physical stillness and mental concentration can be very difficult to achieve.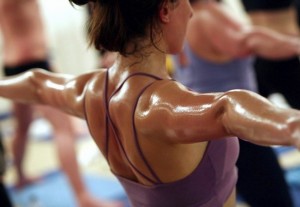 It is important to remember that an essential part of yoga is striking the balance between effort (sthira) and ease (sukha).  Before finding stillness, sometimes we need to actually build more heat, more energy.  Think back to when you were in grade school and how awesome it felt to get outside and run around the playground at recess after being cooped-up inside a classroom.  Do you remember feeling much more alert and focused afterwards?
Yoga can be similarly revitalizing.  Flowing through several sun salutations is a fantastically energizing and powerful way to kick-start your day or end your hectic week. Being careful not to overexert yourself when your body needs to rest, sometimes the best remedy to combat chronic stress, refocus, and recharge is to engage in a vigorous and dynamic practice.  Moving the body to its edge can help clear away blockages in our mind, body, and other areas of our lives.   As we move through a challenging sequence, it is important to find the areas in our bodies where we can relax even as other parts of our body are incredibly engaged.  Then once you have worked out all the kinks in body, finally your body is able to completely relax into stillness, the mind can finally focus and meditation becomes more attainable.  With this practice, we learn what areas in our mind we can soften and how to refocus our thoughts and energy.
Tomorrow morning challenge yourself in a vigorous, sweat-dripping practice.  Challenge yourself to find your edge and see how it changes your day; see how it changes your life.
Before almost every yoga class, teachers engage their students in a brief meditation, accompanied by some sort of pranayama (breathing exercises), as well as some yogic ramblings. These ramblings often set the tone for the practice, and more times than not, include a lesson for how yoga can be taken off the mat in some form, whether it be spiritual, philosophical or through positive action.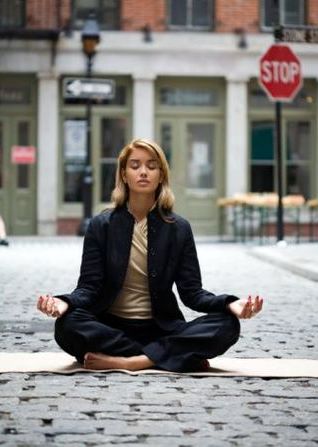 When I first started practicing yoga, I remember sitting through this part of class impatiently, thinking "when are we going to get to the hard stuff, I'm ready to sweat!" Now, the beginning of class, the centering meditation, the ramblings, is the part I value the most. So much that while preparing to teach a class, I spend about 90% of my time thinking of my theme, the inspiration I want to pass on to my students in the first few moments of class.
Yesterday evening I taught a class called, "Safe Space Yoga." I led the students through a very grounding practice, beginning class by asking them to find their connection with the earth, their firm foundation, the steadiness of gravity—something that we can always come back to in any situation. Through each major transition, I would remind my students to reconnect with this base, finding balance especially as we moved into less stable standing postures. I remember at the time wondering if it was really resonating with any of the students, but the funny thing was that, regardless of whether it was or not, I was the one who was not feeling grounded. It was the largest class that I have taught yet, and I was beyond a little nervous. I'm sure that my anxiety was coming out in my teaching, especially when I was getting "foot" confused with "hand" and "up" confused with "down." After class, I sat for a long time and thought about the irony of my lesson coupled with the persistence of my fear of speaking and performing in front of large groups of people. I made a promise to myself that the next time I felt like that, I would, as I taught my students, "reconnect with my foundation and find my breath."
I expected such a feeling of unease to come tomorrow morning while teaching my next class, but it came a little sooner. Sitting in a frozen yogurt shop this afternoon, my wallet was snatched from my purse. The items stolen included three forms of ID, plus my Social Security card, my credit card, two debit bank cards, all my cash, gift cards, my insurance card, receipts for several items that I meant to return to a store… I'm sure there are other things of importance, but this is all I can remember. Within an hour of the theft, I received a call from my bank about unusual activity on my accounts, as my credit card bills were being racked up at various stores on Georgia Avenue on the way out of town. Standing on a busy street, alone, and feeling as if my entire life was taken from me in a flash of a moment, I felt my legs shaking underneath me and a pool of tears welling up behind my eyes. Suddenly I recalled my intention and found both my feet, firmly planted into the earth. I took a deep inhale and a slow exhale… Realizing in that moment that I still have myself and I still have my connection with the earth. As cheesy as it may sound, I started to regain my composure and find some inner peace.
There I was, standing in the middle of a busy sidewalk on Wisconsin Ave., breathing and meditating in Tadasana (mountain pose). I then found a police officer to file a report, called my bank and credit card companies to freeze my accounts, called the fraud department, and looked into the steps I would need to take in the case of identity theft. Reminding myself of my simple intention didn't get my wallet back, but it did allow me to calm down, focus, arrive at the present moment and do what I needed to do in that situation. Tonight, sitting here safe and sound at home, I am thankful I found yoga and have learned how to take it off the mat and into my life.
I'll admit one of the hardest parts of yoga for me is showing up! Sometimes life gets in the way and I don't prioritize my yoga practice as much as I should. When I'm cozy in bed on a Monday morning it's hard to remember why I thought I'd like to go to Sunrise yoga at 7:15am anyway. 'I'll go later' I think and then slip back into sleep.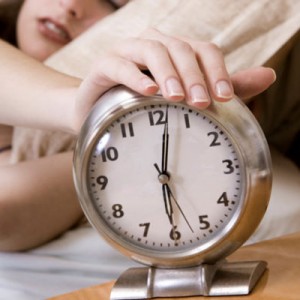 But when I do go to class, I feel so good afterward and tell myself I'll keep it up and get to class more often. But then what happens?
Any habit is hard to commit too. As humans we prefer instant gratification to the gratification we know we'll get at the end of a yoga session, or at the end of a month when our bodies look better, or at the end of a week when our minds feel clearer because of a consistent yoga practice.
So how do I get myself to go? It's not always easy. But I love to schedule the classes online a week in advance. That way I know I signed up and I'll feel guilty if I don't show up. Then I can base my schedule around yoga. There are so many class times I can always find one that fits.
Or I think of something to get myself excited about going to yoga – trying out a new class or studio or teacher. I also check in with my sister via e-ail daily and let her know what exercise I've done that day. It motivates us both to do something so we'll have an activity to report!
What works to get you to yoga???
Envy is a tricky beast and she knows me well.
On a spiritual and intellectual level, I know that the goal of yoga is not to achieve handstand in the center of the room. And yet… And yet…
I want to stand on my hands. I want to stand on my hands like a real yogi!
There's that silly mind again, pulling me away from the true purpose of the pose and the practice. Yoga is not about achieving this pose or that pose. It's about taking the body to its edge and resting there with a heart full of love and devotion. It's about challenging the body to do what the mind says is impossible. It's about lifting up the body to lift up the spirit. And it's about cultivating strength of body and strength of purpose. This is yoga.
It takes a lot of effort for me to release the ego and honor myself where I am in my practice. But once I bring my mind to that place, my legs are suddenly much lighter.

The DC Global Mala is a group of yoga practitioners who dedicate a collective practice each fall. The Global Mala Project is a worldwide project initiated by Shiva Rea, Sean Corne, Michael Franti, and yogis, yoga studios, performers and activists around the world.
The mala is made up of 108 beads and a symbol for the prayer for peace, hope and charity.  The purpose of the Global Mala is to unite the global yoga community from every continent, school or approach to form a "mala around the earth" through collective practices based upon the sacred cycle of 108.
Sacred activities can include:
108 Sun Salutations (or variations of 27, 56)
108 rounds of mantra such as the Gayatri or Maha Mrityanjaya
108 rounds of a kriya
108 minutes of meditation, kirtan or movement meditation
On September 18, 2011, Anahata Grace, a local non-profit will host the annual DC Global Mala!
Learn more here: http://www.anahatainternational.org/index.php/dc-global-mala/
Facebook: http://www.facebook.com/anahatagrace
Have you ever been to the DC Mala? Tell us about it!
Events include:
108 Sun Salutations led by DC teachers
Dharma Talk and Meditation
Mindful Marketplace sponsored by like-minded local studios and businesses
Fundamentals Clinic for first time Mala practitioners — all are welcome!
Yoga Nidra led by Anahata Founder and DC teacher Angela Cerkevich
Live Music thanks to amazing friends in the DC Drum Circle!
A chance to raise our community vibration beyond the borders of mat, studio, and style!
This year, all proceeds will support the work of Anahata Grace, a Washington DC-based nonprofit that works to share the physical and mental health benefits of yoga and holistic wellness services to individuals in need.
Take a deep breath. Concentrate. Move forward. Trust your strength. Engage everything. Gaze ahead. Be mindful of your neighbors. Move with grace. Imagine that it's possible. Relax. Relax. Relax.
Wait, was that my yoga teacher or my life coach?
It took me a long time to realize that they're the same person. That was quite a lightbulb that went off and it brightened every corner of my life: everything I ever needed to know, I learned on my yoga mat.
Of course, the tricky part is having the presence of mind to be able to actually translate life on the mat to life in this world. That's the focus of my yoga practice right now: to bring that same disciple I have on the mat into my relationships at work and at home. In class, I'm always able to muster that last bit of strength to sink deeper into a pose. Now, the challenge is to bring that same strength and that same breath into difficult situations off the mat.
And maybe I'll find that the peace I find in headstand will allow me to have peace in my mind and heart when the world is upside down.
In my last blog entry, I wrote about a few awesome transformational experiences that emerged through my 200-hour teacher training program at Yoga District. Another transformation (that I haven't mention yet) really surprised me because, unlike so many of the other internal yoga-inspired changes I've encountered, this one was totally external—my yoga sangha.
What's sangha? The term, "sangha" was among the dozens of new Sanskrit words I learned during teacher training. Although it can be loosely defined as "community," the word, sangha, originating in the Buddhist belief, traditionally refers to two very specific types of groups, either 1. a community of Buddhist monastic monks and nuns, or 2. a community of awakened beings.
I'm not sure my sangha necessary fits either of those definitions in its strictest form, but regardless of what it is called, the community I developed through Yoga District is, no doubt, something very special… and pretty big too!
To be honest, I was a little dismayed when I first learned that my training would be unusually large—30 teacher trainees! I generally prefer working in smaller, more intimate groups, but I'm so thankful that it turned out the way it did. Over the weeks of teacher training, my yoga practice deepened and I came appreciate the value of practicing yoga in large groups for several reasons:
1. Energy. Have you even done about 30 sweaty Sun Salutations in a room filled with 30+ yogis all in synch in breath and movement? It's amazing! Talk about a natural high! There is something magical about doing yoga in a large group that is incredibly uplifting, even when you're tired.
2. Inspiration. Knowing that if I get myself to the studio, I will see familiar friendly faces often inspires me to go even on days when I'm tempted to skip. I have never regretted going a yoga class, whether I am taking or teaching the class. The energy around me during a yoga class often inspires me to go even further into my practice than I might otherwise during my home practice… and inspires me to come back for more.
3. Learning. Having such a large teacher training, you can imagine that there were A LOT of questions and comments. During training, we would often find ourselves pretty far off topic, but I actually enjoyed those conversations and practices because it was usually when I learned the most. I have learned so much though the vast diversity of backgrounds and yoga styles of my fellow trainees, and I continue to learn from both my teachers and students every day.
4. Sharing. My yoga community is extremely generous. At home, my bookshelf is stuffed with several borrowed yoga books, replacing the spaces of books that I have leant out to others, and my computer if filled with yoga music that has been given to me by my fellow yogis. The reciprocal sharing of resources has been immensely helpful for me while on this journey through yoga.
5. Friends. It has been so encouraging to have so many people in my life who understand the internal shifts I have been experiencing. These shifts are much more subtle than being able to do cool arm balances, but of course those are fun too. All of us came to yoga looking for something. All of us are on a journey, and as fate would have it, we met on the mat. Since my training, I have been amazed at the outpouring of love and support I've received as I find my footing as yoga instructor for the very first time. Thanks to teacher training, I left with 30+ friends to cheer me on, and my yoga community, my sangha, continues to grow.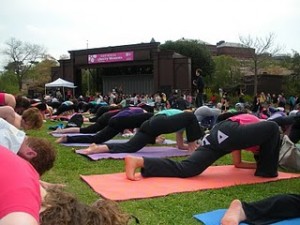 The article mentions yoga classes held on the National Mall, and the DC Global Mala Project.
The other "Fantastically Yoga Friendly Towns" are Asheville, NC; Austin, TX; Boulder, CO; Encinitas, CA; Minneapolis, MN; Portland, OR; Salt Lake City; New Orleans; and Woodstock, NY.
It's so great to see DC mentioned among all these "hippie" cities! It's a welcome observation, as most of the country likely views DC as a buttoned up, serious town. However, once you move beyond the tourist spots on the National Mall downtown – yoga studios abound; especially in Woodley Park, Adams Morgan and Dupont Circle yoga mat toting locals are plentiful.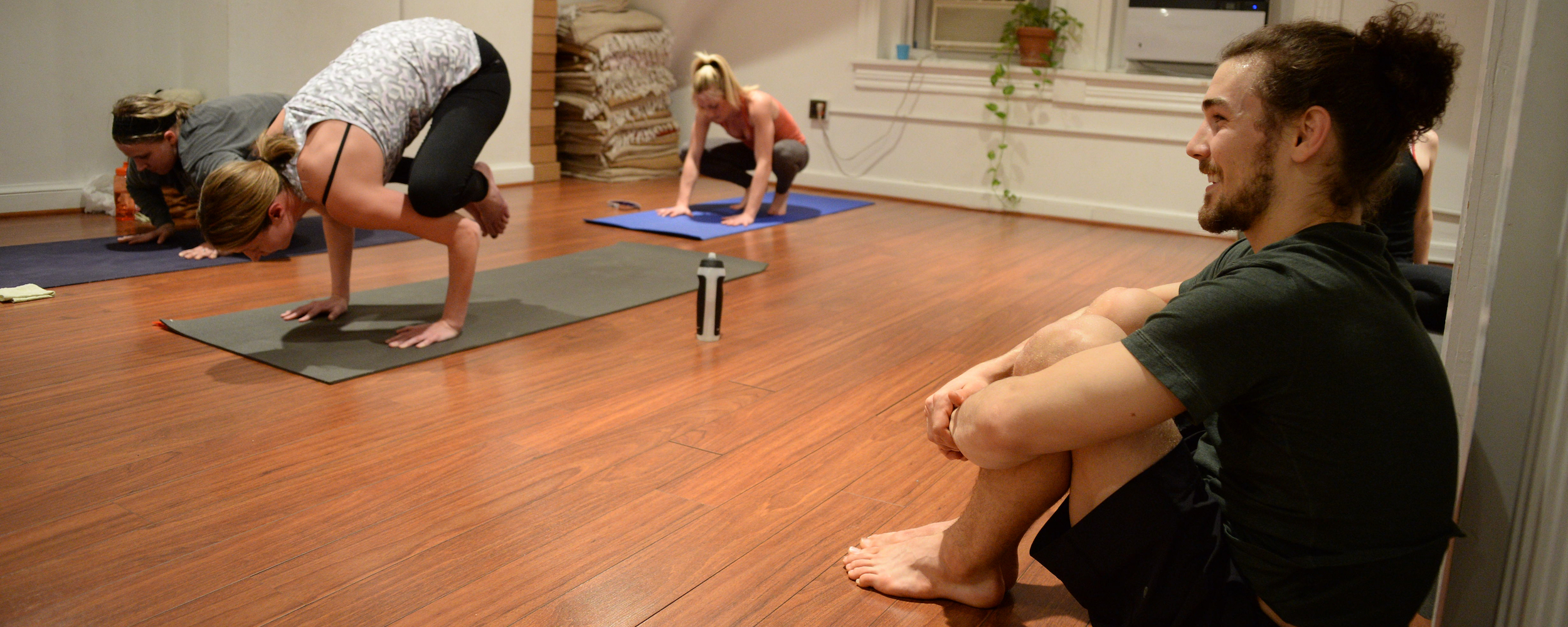 The diverse family of DC yoga teachers at Yoga District are dedicated to making yoga accessible to everyone through a huge variety of yoga class types, from vinyasa flow to restorative and beyond. Most Yoga District teachers are graduates of Yoga District's nationally-attended 200 hour teacher training program. All Yoga District classes focus on coordinating breath with body movement to promote flexibility, strength, and peace of mind. We strongly believe in yoga as therapy, so catch one of our classes whenever you need a healthy dose of self-care.
See all yoga teachers »

The Yoga District 200 and 500 hour teacher training certification programs, registered by the Yoga Alliance are unique in their emphasis on diversity of teaching styles studied, personal attention, and trauma sensitive yoga. It's no coincidence that Yoga District is regularly voted the leading studio in the nation's capital, and that most of its classes are taught by graduates of its training program. As a full time yoga school, small group trainings are led up to eight times a year by a dedicated faculty including Jasmine Chehrazi, contributor to the Harvard Karma Yoga Project teacher training, teacher training faculty at George Washington University, Yoga Alliance Standards Committee Advisory Board Member, Yoga Activist Founder, and Yoga Service Council Advisory Board Member. So take your practice and community involvement to the next level by joining a training. There's a reason why our graduates call the training "transformative."
Check out the yoga teacher training »