Browsing articles in "The Blog"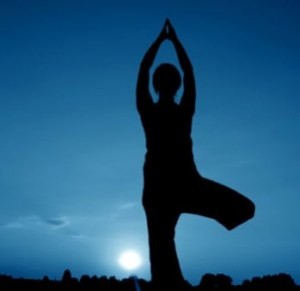 All day my mind is full of thoughts. On my walk to work I'm thinking about what I'm doing over the weekend, in meetings I'm thinking about what I should eat for dinner, and all throughout the day I think…how will I ever find a boyfriend?!?!
In yoga the goal is to be in the moment, feel your body in each pose, and try to achieve stillness in body and mind. This sets yoga apart from so many other types of exercise. It's luxurious to go into the studio and be able to leave everything else at the door. But of course it's not always easy. In fact this is one of the biggest challenges for me as a student of yoga.
I've found a method that works well for me to try to clear my mind before yoga. I try to get to class a bit early to lay in savasana and let my mind wander. Instead of willing my mind to be clear, I just let it go, let it follow every weird path it wants to take. After a few minutes of this, usually I can find a bit more stillness. I used to spend all of class scolding myself inside, "Don't think of work! Stop thinking of that guy you like! Stop thinking about how you're going to decorate your room!"
I find if I just let my mind do its thing, eventually it reaches the end of that road and it leaves me more able to leave those thoughts behind once yoga begins.
What do you do to keep focused during yoga?
How many times have you heard yoga teachers talk about letting go of our egos?  It sounds good, but what does that even mean?  I remember thinking, "I don't have an ego."  I used to associate egoism with people who litter, butt in line, and talk excessively about themselves.
It wasn't until I discovered yoga that I started to understand my own ego, the barriers that it creates in my life, and how to let it go.  Our egos are manifestations of all our attachments, desires, judgments, expectations, self-imposed limits, and imagined pain and sorrow.  It's not who we really are, but rather a warped reflection.
Imagine your face.  Have you actually seen your face?  Unless you have had a clear out of body experience, then you probably haven't.  Chances are you have only seen a reflection of your face via a mirror.  If the mirror had even the slightest bulge, concavity, discoloration, or other imperfection, then you saw a distorted reflection of your face.  Our egos are like the mirror, and the chatter of the mind (chitta vritti) creates the ripples or modifications in the reflection.   This is the same analogy that Sri Swami Satchidananda provides in his translation of the Yoga Sutras of Patanjali.  The whole point of yoga is to overcome the mental chatter that prevents us from connecting with our true selves.
When it comes down to it, we create our own reality.  How awesome is that!? Seriously, we do.  The next time you're in a difficult yoga pose (or other seemingly-binding life situation), try to notice the thoughts that emerge.  If you think you are suffering, then you're suffering.  This is the ego talking.  Pain can be eliminated by simply changing how you think, swapping negative thoughts with positive thoughts.  Simple as that.  We tend to self-identify with the stuff in our life, looking to mitigate our pain and find contentment through things like alcohol, a new wardrobe, a bigger house, or the ability to touch our toes.  Once we attain these things, the excitement eventually fades, leaving our minds to scramble to fill the void—a continuous, unfulfilling ego-driven cycle.
In reality, it's much simpler.  We already have it all, but our ego is the only thing standing in the way.  Practicing yoga, we begin to find liberation from our ego; we discover where we are holding tension and let go of all those things we don't need.  We learn to cultivate a balance between effort and ease in our minds, bodies, and breath, realizing our true and complete selves.  If you have ever experienced that blissed-out feeling at the end of yoga class, resting in Savasana (ahhhh…), the feeling of ultimate freedom, peace and connection with everything, then you know exactly what I'm talking about.  Allow your yoga practice to transform your life, get in touch with who you really are, and carry that truly beautiful, radiant self off the mat.  Shine on my fellow yogis, shine on.
You hear it over and over, but it's true: every body is different. A pose that makes me feel invigorated and free might make the next person feel anxious and vulnerable. Likewise, a pose that relaxes my neighbor might pinch my back, crank my neck, hurt my knees, and tweak my shoulder. This is why it is so important to listen to our bodies and let it lead us in our practices. Our bodies are our best teachers.
The really difficult part is making sure that when we listen, we're hearing the body and not the mind. More often than not, when I find myself struggling in a pose, it's usually because my mind is bored and restless but is tricking me into thinking that I'm in pain. Silly mind! With yoga, we can begin to train our mind's chatter to fall away, leaving us with full body and breath awareness. When the mind is quiet, we can finally hear the heart. Our hearts are our best teachers.
In teacher training, we receive the tools to be able to start to still the mind. Through various yogic practices–scripture study, meditation, asana, pranayama–we learn to control the mind's vices and move toward the union that is at the center of Yoga. Our Highest Selves are our best teachers.
So, there's an irony in going to a class to discover that the best teacher is within. But if we don't know that this teacher resides in the self, then she can never teach us anything. Sometimes you have to go to Oz before realizing that you already have everything you ever needed. But Kansas will never be the same.
Books are also good teachers.
Naming body parts is hard.
Always breathe.
Practice makes practice.
Everything I ever needed to know, I learned on my yoga mat.
The last one into a handstand isn't a rotten egg.
Picasso wasn't a cubist at first.
The three musketeers were right.
Keep your shoulders at elbow-height.
"That which is to give light must endure burning." – Viktor Frankl
One of my teachers, Mukunda Stiles, said to his students:
There is something holding you back from shining. Let it go. Do whatever it takes to have that veil lifted. Even if you have to do that practice a million and one times.
That practice for me is asana (yoga postures). During asana practice, I'm faced with physical discomfort and my inability to escape my own thoughts, so I'm left with no other option than growth. Hold the pose just one more breath… and then another…
So when a student told me on Sunday that she wasn't finding a lot of comfort in the yoga poses I shared I wondered if it this was a good sign. Tapasya (austerities) often brings us to a place of discomfort from which progress is made. Yoga teaches us that we have tools to deal with our own discomfort in a productive way, rather than escaping sensations or situations. With these tools, we become skilled in managing discomfort and we start to burn our desire for comfort. We start to burn away desire itself. Like one of my teachers said last week, "Let it cook."
You've probably been asked to chant "Aum" at the end or beginning of a yoga class. Here's the breakdown so you can "Aum" with confidence:
Say "ahhhhh" like you'd say for the doctor, or like in the word "father." Notice where you feel that sound vibrating in your body. Probably in the abdomen somewhere. Do this a few times.
Next, just like you'd say in "who," say "ouuuuuu." Repeat a few times, trying to sense where the body vibrates. Most likely in the chest/throat. Try to make an "O" shape with the lips.
Then say "mmmmmmmmm." Less like "mmm-mm" to cookies, and more like "hmmmm" when you're thinking about something. You'll probably feel this sound vibrating on your lips, and with practice, you might feel the space between the eyebrows, the crown of the head, or the entire head vibrating. Repeat a few times to get the hang of it.
Finally, there is a period of silence after each "Aum" which is very important- it is said to vibrate above the head, symbolizing that which is beyond thinking.
So go ahead and put it all together, giving roughly equal duration to "ahh," "ouuu," and "mmm," preceding a moment of meditative silence.  Of course, some traditions recommend different durations, such as making the "mmm" rather short… perhaps try it out figure out what your preference is. Aum loudly, softly, silently, in the dark, in your car, by yourself, in the shower, before meditation, and as often as possible.
If you're interested in some deeper explanations of "Aum," consider this:
– Realms of experience: "Ahh" represents the waking state, "ouuu" represents the dreaming state, "mmm" represents the deep sleep state, and silence represents the spiritually awakened state.
– Levels of mind: "Ahh" represents the conscious mind, "ouuu" represents the subconscious, "mmm" represents unconscious, and silence represents super-consciousness.
– Realms of time: "Ahh" represents the present, "ouuu" represents the past, "mmm" represents the future, and silence represents timelessness.
– Everything and beyond: If we hold E= mc2 to be true, all matter is simply an expression of energy. At matter's tiniest level, it's simply a vibrating particle or string. Many believe that the vibration of these super tiny strings or particles of energy that form all matter and all life resonate with "Aum."  The ancient Mandukya Upanishad describes "Aum" as a primordial vibration, symbolizing everything manifested in the universe (yet originating from the un-manifested universe). Think big bang. Or think New Testament: "In the beginning was the word…"
Meditate on that.
For more details, read this or find a scientist, psychiatrist, or ideally a guru such as Dharma Mittra in NYC.
A Washington Post article on meditation:  "This is really, clearly, where we can see, for the first time, that when people say, 'Oh, I feel better, I'm not as stressed when I meditate,' they're not just saying that – that there is a biological reason why they're feeling less stress," says senior author Sara Lazar, a psychology instructor at Harvard Medical School.
That meditation integrates so well into yoga classes isn't a coincidence. Meditation is one of the 8 limbs of classical yoga, and we prepare the body for meditation through our yoga asanas (postures). I prefer meditating after I've done asanas, when the body is open and the mind is settled.
If seated meditation isn't your think, yoga asanas can also be practiced in a way that makes them more like "meditation in motion" than aerobics. One of my favorite ways to practice yoga more meditatively is to just stay mindful as I sweat into even the most uncomfortable asana, offering my practice to that which unites us all. "That which unites us all" might mean God for some people, but for me it means that underlying energy that unites all of us. Union is a big theme in yoga. In fact, yoga translated means "to yoke" or "unite." You can unite your body and breath in rhythm with yoga, but it doesn't stop there…
Learn about the brain and think about how you choose to use it.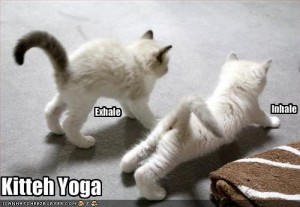 Yoga District studios are by the community, for the community. The studios improve and grow with your constructive feedback. We re-energize and motivate with your kind words. Check out past feedback below, and please offer any new feedback you have in the comment form belowor by emailing us.  Thanks for your support!
"…Teachers as dedicated as any in Washington… [with] classes costing about half what many studios in the city charge" (Washington Post, May 9, 2008)
…Nonprofit studio Yoga District is one of the main forces behind the "yoga activist" outreach effort in the area (Washington Post's front page, Aug. 6th, 2009)
Highest-rated yoga studio in Washington DC on yelp.com for over a year.
Rated "Best Yoga Studio"" and "Best New Yoga Studio" in the Washington City Paper's "Best Of" (2010)
Yelp Reviews…
"I really like Yoga District. It is a great little neighborhoody place. The mission is affordable, eco-friendly yoga. The space is beautiful. The classes are challenging.  Basically, it is a little garden of yoga Eden. Check it out, your first 3 classes are $10… So good."
"I would seriously give this place ten stars if yelp would let me… Until next time Yoga District. I miss you."
"I found Yoga District on Yelp after searching fruitlessly for a yoga studio I could afford. Not only is it affordable, they have [three] studios and you can go to either. All I want is good instruction in a positive atmosphere–the old wooden floors and simple rooms are perfect–without all that crap I don't want to pay for anyway like bright lights, new construction, consumerist junk, and fake spirituality parsed out to the highest bidder. …haven't even tried out all the great instructors yet, so I"ll be coming back!"
"I think the only reason this place has so few reviews is because we're all afraid to let our little secret out.  This place is awesome."
"definitely one of the best studios i've been to. …teachers are all incredibly friendly, helpful and hands on… i love love love this place. completely affordable, work hard to be environmentally friendly and just a hidden gem…"
"Go there! The young turks of the DC yoga scene are bringing $10 classes to… yogis in the city. Two locations on Dupont Circle and T at14th, this is the the place to be. With all the overpriced and overhyped yoga studios in town, Yoga District has managed to hit the sweet spot. Hip, affordable and with a sense of humor."
More Reviews…
"Yoga District is one cool little studio… The most interesting and valuable part of this class was the instructor [Amy Dara]… extremely knowledgeable, thoughtful, and comprehensive in her teaching script and her technique…" – Blog YogaNat.com
One of my teachers reminds his students in practically every class, "Remember, the goal is Self Realization." What is Self Realization really? As we keep practicing yoga, we answer and re-answer that question for ourselves, consciously or not. The answer keeps changing as we continue to develop our receptivity. But the only answer that is ever correct for you, is the one you experience. Dedicating myself to this journey of varying degrees of Self Realization isn't easy, and it's easy to forget when I'm in a pinch. The yoga postures help level me out, keep me grounded, so that I keep on going. I came to this practice not knowing what to expect, as many of us do. I found more than I knew existed. I hope you're finding the same.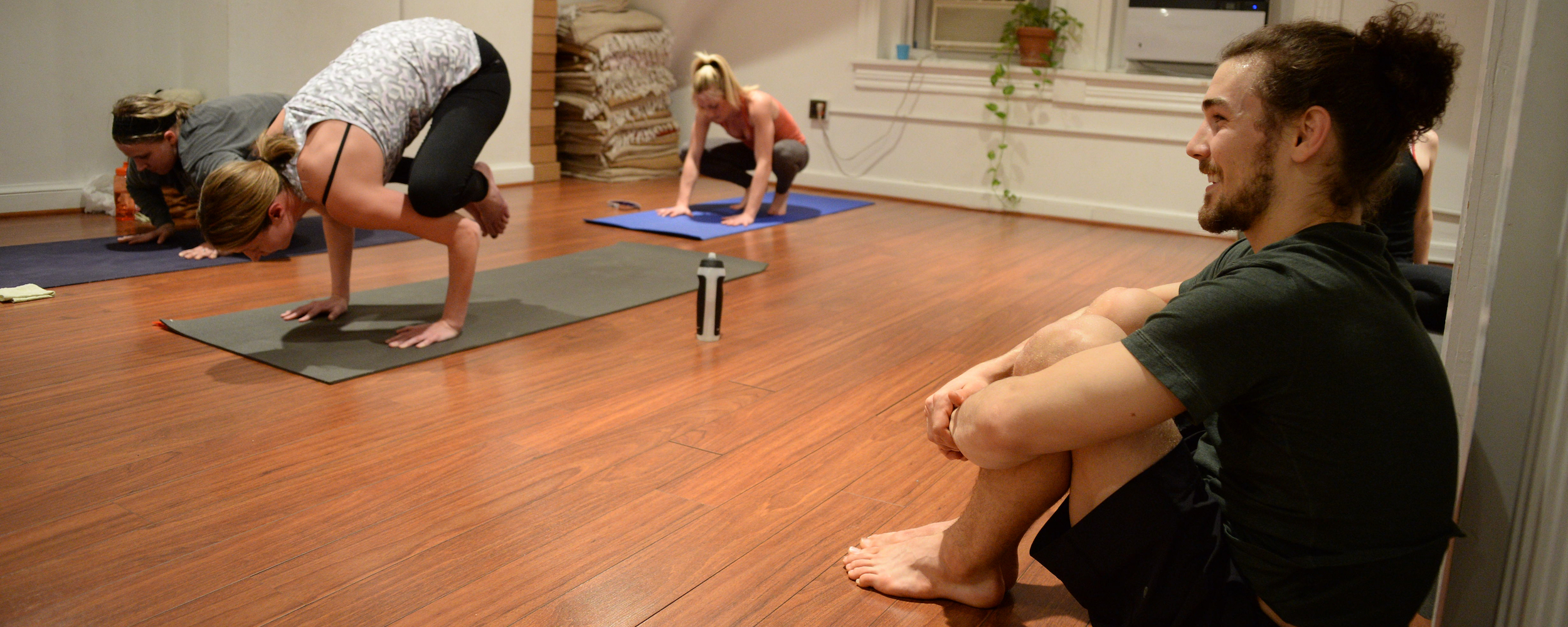 The diverse family of DC yoga teachers at Yoga District are dedicated to making yoga accessible to everyone through a huge variety of yoga class types, from vinyasa flow to restorative and beyond. Most Yoga District teachers are graduates of Yoga District's nationally-attended 200 hour teacher training program. All Yoga District classes focus on coordinating breath with body movement to promote flexibility, strength, and peace of mind. We strongly believe in yoga as therapy, so catch one of our classes whenever you need a healthy dose of self-care.
See all yoga teachers »

The Yoga District 200 and 500 hour teacher training certification programs, registered by the Yoga Alliance are unique in their emphasis on diversity of teaching styles studied, personal attention, and trauma sensitive yoga. It's no coincidence that Yoga District is regularly voted the leading studio in the nation's capital, and that most of its classes are taught by graduates of its training program. As a full time yoga school, small group trainings are led up to eight times a year by a dedicated faculty including Jasmine Chehrazi, contributor to the Harvard Karma Yoga Project teacher training, teacher training faculty at George Washington University, Yoga Alliance Standards Committee Advisory Board Member, Yoga Activist Founder, and Yoga Service Council Advisory Board Member. So take your practice and community involvement to the next level by joining a training. There's a reason why our graduates call the training "transformative."
Check out the yoga teacher training »