Browsing articles in "The Blog"
A Washington Post article on meditation:  "This is really, clearly, where we can see, for the first time, that when people say, 'Oh, I feel better, I'm not as stressed when I meditate,' they're not just saying that – that there is a biological reason why they're feeling less stress," says senior author Sara Lazar, a psychology instructor at Harvard Medical School.
That meditation integrates so well into yoga classes isn't a coincidence. Meditation is one of the 8 limbs of classical yoga, and we prepare the body for meditation through our yoga asanas (postures). I prefer meditating after I've done asanas, when the body is open and the mind is settled.
If seated meditation isn't your think, yoga asanas can also be practiced in a way that makes them more like "meditation in motion" than aerobics. One of my favorite ways to practice yoga more meditatively is to just stay mindful as I sweat into even the most uncomfortable asana, offering my practice to that which unites us all. "That which unites us all" might mean God for some people, but for me it means that underlying energy that unites all of us. Union is a big theme in yoga. In fact, yoga translated means "to yoke" or "unite." You can unite your body and breath in rhythm with yoga, but it doesn't stop there…
Learn about the brain and think about how you choose to use it.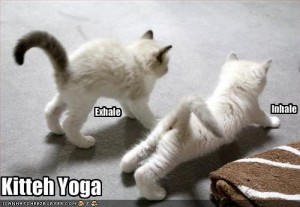 Yoga District studios are by the community, for the community. The studios improve and grow with your constructive feedback. We re-energize and motivate with your kind words. Check out past feedback below, and please offer any new feedback you have in the comment form belowor by emailing us.  Thanks for your support!
"…Teachers as dedicated as any in Washington… [with] classes costing about half what many studios in the city charge" (Washington Post, May 9, 2008)
…Nonprofit studio Yoga District is one of the main forces behind the "yoga activist" outreach effort in the area (Washington Post's front page, Aug. 6th, 2009)
Highest-rated yoga studio in Washington DC on yelp.com for over a year.
Rated "Best Yoga Studio"" and "Best New Yoga Studio" in the Washington City Paper's "Best Of" (2010)
Yelp Reviews…
"I really like Yoga District. It is a great little neighborhoody place. The mission is affordable, eco-friendly yoga. The space is beautiful. The classes are challenging.  Basically, it is a little garden of yoga Eden. Check it out, your first 3 classes are $10… So good."
"I would seriously give this place ten stars if yelp would let me… Until next time Yoga District. I miss you."
"I found Yoga District on Yelp after searching fruitlessly for a yoga studio I could afford. Not only is it affordable, they have [three] studios and you can go to either. All I want is good instruction in a positive atmosphere–the old wooden floors and simple rooms are perfect–without all that crap I don't want to pay for anyway like bright lights, new construction, consumerist junk, and fake spirituality parsed out to the highest bidder. …haven't even tried out all the great instructors yet, so I"ll be coming back!"
"I think the only reason this place has so few reviews is because we're all afraid to let our little secret out.  This place is awesome."
"definitely one of the best studios i've been to. …teachers are all incredibly friendly, helpful and hands on… i love love love this place. completely affordable, work hard to be environmentally friendly and just a hidden gem…"
"Go there! The young turks of the DC yoga scene are bringing $10 classes to… yogis in the city. Two locations on Dupont Circle and T at14th, this is the the place to be. With all the overpriced and overhyped yoga studios in town, Yoga District has managed to hit the sweet spot. Hip, affordable and with a sense of humor."
More Reviews…
"Yoga District is one cool little studio… The most interesting and valuable part of this class was the instructor [Amy Dara]… extremely knowledgeable, thoughtful, and comprehensive in her teaching script and her technique…" – Blog YogaNat.com
One of my teachers reminds his students in practically every class, "Remember, the goal is Self Realization." What is Self Realization really? As we keep practicing yoga, we answer and re-answer that question for ourselves, consciously or not. The answer keeps changing as we continue to develop our receptivity. But the only answer that is ever correct for you, is the one you experience. Dedicating myself to this journey of varying degrees of Self Realization isn't easy, and it's easy to forget when I'm in a pinch. The yoga postures help level me out, keep me grounded, so that I keep on going. I came to this practice not knowing what to expect, as many of us do. I found more than I knew existed. I hope you're finding the same.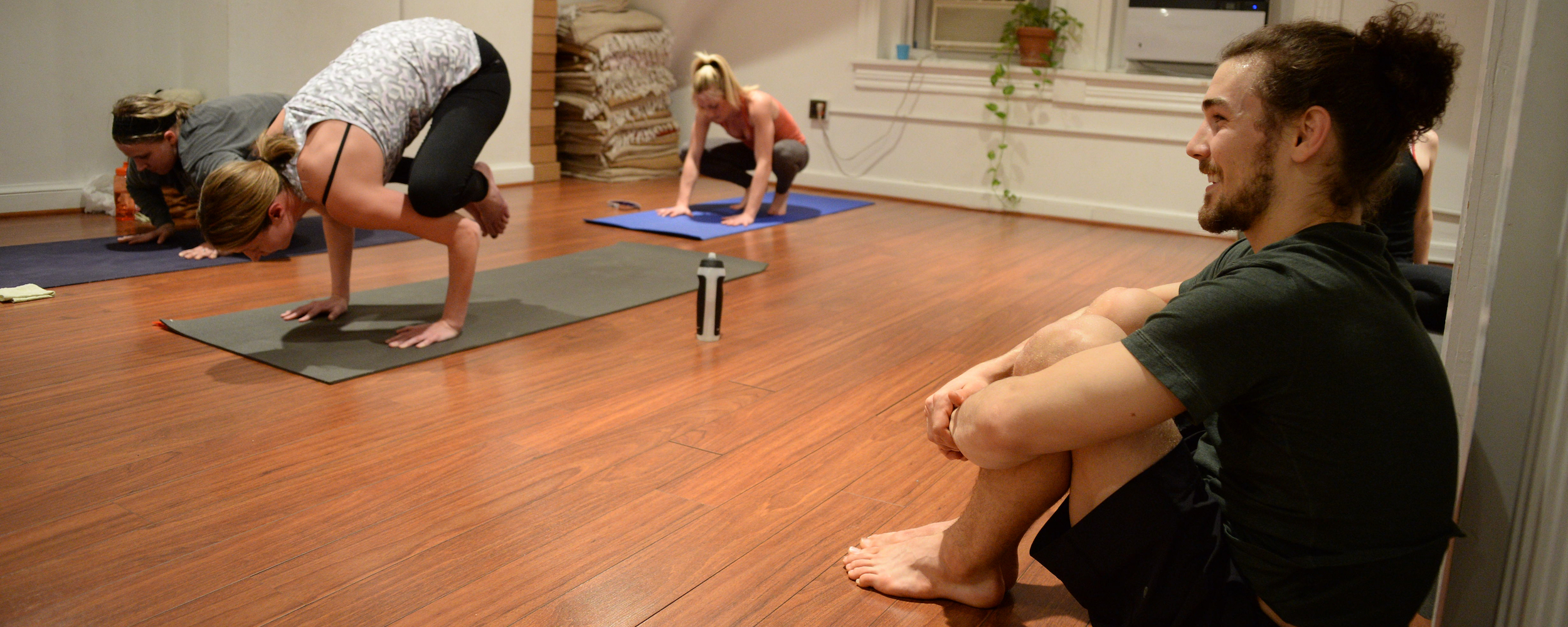 The diverse family of DC yoga teachers at Yoga District are dedicated to making yoga accessible to everyone through a huge variety of yoga class types, from vinyasa flow to restorative and beyond. Most Yoga District teachers are graduates of Yoga District's nationally-attended 200 hour teacher training program. All Yoga District classes focus on coordinating breath with body movement to promote flexibility, strength, and peace of mind. We strongly believe in yoga as therapy, so catch one of our classes whenever you need a healthy dose of self-care.
See all yoga teachers »

The Yoga District 200 and 500 hour teacher training certification programs, registered by the Yoga Alliance are unique in their emphasis on diversity of teaching styles studied, personal attention, and trauma sensitive yoga. It's no coincidence that Yoga District is regularly voted the leading studio in the nation's capital, and that most of its classes are taught by graduates of its training program. As a full time yoga school, small group trainings are led up to eight times a year by a dedicated faculty including Jasmine Chehrazi, contributor to the Harvard Karma Yoga Project teacher training, teacher training faculty at George Washington University, Yoga Alliance Standards Committee Advisory Board Member, Yoga Activist Founder, and Yoga Service Council Advisory Board Member. So take your practice and community involvement to the next level by joining a training. There's a reason why our graduates call the training "transformative."
Check out the yoga teacher training »