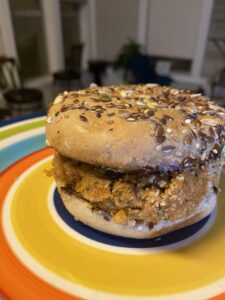 There are a plethora of vegan and veggie burgers choices out there. Vegetable-based, mushroom-based, vegan meat-based, the list of options go on and on.
When I set out to develop this recipe, I wanted to produce something  packed with nutrition that tasted delicious. So I combined some of my favorite meat substitutes into one patty! 
This month's recipe combines beans, sweet potatoes and mushrooms to create fried green power burger goodness. You can enjoy these burgers with your preferred burger toppings. I topped mine off with barbecue sauce, spinach, avocado and red onions.                                                                                                                                                                                                                                        
Every Veggie Burger
 Ingredients
3 Sweet Potatoes

1 Stalk Celery

¼ Onion

2 Garlic Cloves

2 Cups Cooked Mushrooms/1 ½ Pack of Fresh Mushrooms

1 Can/15 Oz Can of Beans

2 Cups Breadcrumbs and 1-2 Additional Cups for Coating

1 Teaspoon Salt

1 Tablespoon Mustard

1 Tablespoon Ketchup 

1 Tablespoon Worcestershire Sauce (or vegetarian substitutes)

1 Teaspoon Cumin

1 Teaspoon Paprika 

½ Teaspoon Onion Powder

½ Teaspoon Garlic Powder

Olive Oil or Preferred Oil for Cooking

Burger Toppings of choice
Seasoning for Mushrooms
¼ Teaspoon Salt

¼ Teaspoon Cumin

¼ Teaspoon Black Pepper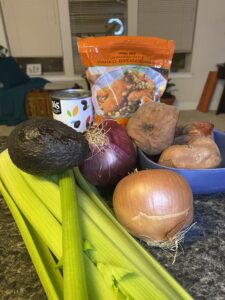 Instructions
1. Place the sweet potatoes in a large pot and cover with water. Cover the pot and bring to a boil. Reduce the heat to medium and boil the sweet potatoes for 30-40 minutes or until you can easily pierce the skin with a fork. Drain the water and set aside to cool. 

2. Dice the celery and onions finely. Mince the garlic. 

3. Heat up about 1 tablespoon of oil. Sauté

the garlic, celery and onion for 4-5 minutes, stirring constantly so that the garlic does not burn.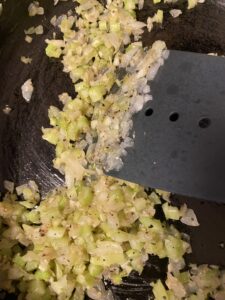 4. In another pan heat up 1 tablespoon of oil. Add the mushrooms and seasoning: ¼ teaspoon salt, ¼ teaspoon cumin and ¼ teaspoon black pepper. Set aside to cool.

5. Remove the skin from the sweet potatoes. 

6. Open the can of beans and mash separately in a bowl.

7. In a large bowl combine sweet potatoes, onions, garlic, celery, beans and mushrooms. Mashing together with your hands or a potato masher.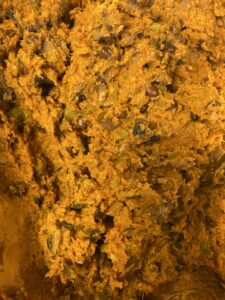 8. Add 1 tablespoon mustard, 1 tablespoon ketchup, 1 tablespoon worcestershire sauce, 1 teaspoon salt, 1 teaspoon cumin, 1 teaspoon paprika, ½ teaspoon onion powder and ½ teaspoon garlic powder. Thoroughly mix together. 

9. Add 2 cups of breadcrumbs and mix to evenly distribute. 

10. Spread the breadcrumbs out in a flat dish.

11. Mold the burger mixture into the shape of a burger patty. Coat with the breadcrumbs on the top, bottom and sides.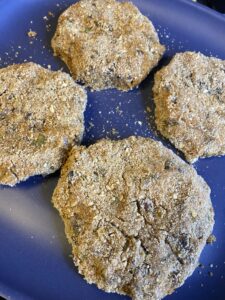 12. After you've coated your desired amount of burgers, heat up 2 tablespoons of oil. Fry your burgers for about 3 minutes on each side until the bread crumbs are a golden or dark brown.

13. Allow burgers to sit for 5 minutes. 

14. Dress your burger with your desired toppings and enjoy!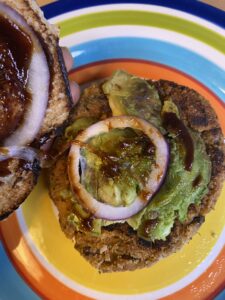 Check out other recipes on the Yoga District Blog!