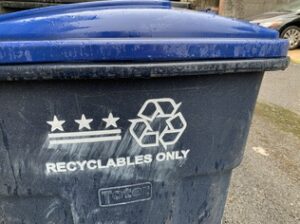 Reduce, reuse, recycle, as the saying goes. Recycling is often the first thing that comes to mind when people think about doing their part to be green. However, different localities have different rules for recycling. Too often, the things we hope we're recycling end up going to the landfill. In this post, we'll explore the District's recycling standards and learn how we can make sure the things we throw in the blue bin actually get a second life. 
Why Recycle?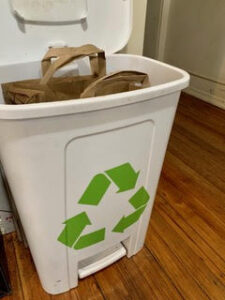 There are many benefits to recycling. Recycling reduces the amount of waste sent to landfills and incinerators and conserves natural resources. The practice also helps save energy and significantly minimizes greenhouse gas emissions and other pollution. Workers and local economies also benefit from domestic job creation in the recycling and manufacturing industries (1).
Washington, D.C. has set a goal of 80 percent waste diversion by 2032. The current waste diversion rate falls around 23 percent, meaning the District has some work to do to meet the intended mark (2). Residents can play a major role in achieving this goal by knowing what goes in the recycling bin and what doesn't.
District residents benefit from the convenience of single-stream recycling. In other words, all recyclable items go in one bin. However, good intentions can easily turn into what the recycling industry calls "aspirational recycling (3)." Conscientious citizens want to be able to recycle everything. Unfortunately, throwing the wrong things in the blue bin can end up straining the system. Things like plastic bags, cords, electronics, and other trash mixed in can clog up the machinery and cause costly delays. Such problems diminish the benefits to be gained from recycling in the first place.
Curbside Recycling in Washington, D.C.
There are a few essential things to keep in mind when it comes to residential recycling in D.C. First, do not bag recyclables. All items should be left loose in the blue bin. Recycling facilities may even reject recyclables if they are enclosed in a plastic bag or film of any kind (4). An acceptable alternative is to place recyclables in an open paper bag, like one you'd receive from a grocery store. Second, recyclables should always be empty, clean, and dry. So, be sure to give that yogurt container a good rinse before you toss it! This will also help keep your recycling bin clean without a plastic bag.
Note that plastic bags, wraps, and films are not accepted by D.C.'s residential recycling program. However, it is possible to recycle these items at local retailers. You can enter your zip-code to find the nearest participating location by visiting the Plastic Film Recycling Directory (5).
YES LIST (Acceptable for curbside recycling in Washington, D.C)
NOTE: All recyclable items must be cleaned and empty.
Paper:

Cups & containers

Flattened cardboard

Milk, juice, & soup cartons

Newspapers & magazines

Books/phone books

Junk mail & office paper

Plastic:

Cups & containers

Bottles & lids

Bulky rigid items (i.e. plastic bins or buckets, flower pots or trays, etc.)

Metal:

Steel & aluminum (incl. aluminum foil)

Bottles/cans/containers

Glass:
NO LIST (NOT accepted for curbside recycling in Washington, D.C)
Paper:

No facial tissue or tissue paper

No paper towels or paper napkins

Plastic:

No plastic bags, wraps or film

No foam polystyrene or styrofoam

No packing peanuts

No straws or utensils

Metal:
Glass:
Special Waste :
There is some waste that should never be disposed of in residential bins. Electronics, including batteries, should never go in your home recycling or trash bins. The Department of Public Works (DPW) offers special waste drop-off every Saturday from 8 am – 3 pm at the Fort Totten Transfer Station. 
SPECIAL WASTE LIST (Do not belong in home recycling or trash bins)
Electronics

Batteries


Paint cans

Windows or ceramics

Hazardous household waste*
For any items you're not sure about, check out Zero Waste DC's What Goes Where? Tool (7). Simply search for the item you're looking to dispose of and receive information on how to properly do so in the District. Sticking to these guidelines saves time, energy, and public funds while supporting eco-friendly behaviors.*For a complete list of items accepted at Fort Totten, see the DPW website (6).
Interested in learning more?
Most recycled materials from Washington, D.C. are transported to a facility about an hour north in Elkridge, MD. Despite recent challenges to recycling programs in the United States, the Department of Public Works reports that almost everything collected in the District's residential recycling program still finds a market for recycling (8 and 9).
For more information on how residents can get involved in waste reduction and diversion, please visit Zero Waste DC's website (10).
If you live outside of the District, check your local municipality's website for details on recycling collection. If you live somewhere without recycling collection, let your building manager know that you'd like to have a recycling program! Being proactive is the first step. Happy recycling!
Feel free to check out other articles in our Environmentalism series here.
Sources:
Recycling Basics,

https://www.epa.gov/recycle/recycling-basics#Benefits

TRASHED: Can the DC area clean up its waste problem?

,

https://wtop.com/local/2019/05/trashed-can-the-dc-area-clean-up-its-waste-problem/

Aspirational Recycling,

https://www.discovermagazine.com/environment/are-you-an-aspirational-recycler-heres-9-things-you-actually-cant-recycle

Requirements for Plastic Bags and Wraps

, https://dpw.dc.gov/plasticbagremoval

Plastic Film Recycling Directory

,

https://www.plasticfilmrecycling.org/

Acceptable/Prohibited Household Hazardous Waste Items, https://dpw.dc.gov/page/acceptableprohibited-household-hazardous-waste-items
Zero Waste DC's What Goes Where? Tool,

https://zerowaste.dc.gov/what-goes-where 

Challenges to Recycling Programs,

https://www.npr.org/2019/08/20/750864036/u-s-recycling-industry-is-struggling-to-figure-out-a-future-without-china

State of Recycling in D.C.,

https://zerowaste.dc.gov/page/state-recycling-district

Zero Waste DC's website,

https://zerowaste.dc.gov