Browsing articles tagged with "Yoga Practice Archives - Yoga District"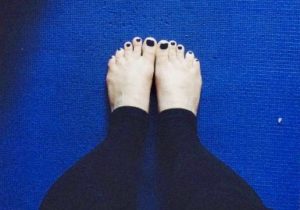 You enter a studio, take off your shoes, and step onto your mat. With a deep inhale and relaxing exhale, you begin your yoga class. Have you ever wondered why it's customary to practice yoga barefoot? Or the reason you remove your shoes when entering a yoga studio? 
Read on to learn about the cultural, practical, and physical reasons that yoga studios are shoeless.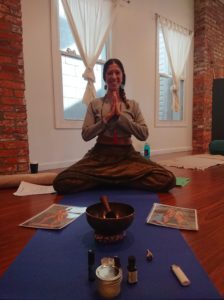 Most yoga that you practice is likely yang in nature like a Vinyasa Flow. A dynamic class that is active to a certain degree working your muscles, building strength, stamina and flexibility.
In contrast Yin Yoga (1) is a stable and passive practice where grounded poses are held for about 3 to 5 minutes with gravity deepening the pose. When holding a yin pose it tends to feel almost meditative to me and pushes me to a new edge. I usually leave class feeling rejuvenated and a bit taller like my body has been stretched straight. 
Read on as Michelle, a Yoga District teacher, talks about her experience with Yin Yoga and maybe try a Yin class or her Yin workshop for yourself.
No Need to Fear Dharma Yoga
Dharma Yoga use to intimidate me because I thought it was only for true yoga warriors, Yogis who could already bend themselves into pretzels, immediately rise up into a headstand then hold arm balance poses for minutes on end.
After attending my first Dharma Flow class, I fell almost instantly in love with this liberating and fun yoga practice. My previous intimidation was replaced by a new sense of freedom and trust for graceful exploration.
If you're wondering about Dharma Yoga then don't be afraid to try it. Feel free to attend one of our Dharma inspired classes and join us for the upcoming Dharma Day on May 26th with international teacher, Sri Dharma Mittra!
Read on as Emily and Christina, Yoga District teachers, highlight the practices of Dharma Yoga and it's personal impact.
Embrace the Calm
Deep breath in. Slow sigh out.  Body sinks to floor. Mind becomes decluttered.  
I attended my first restorative yoga class during a high stress week. This passive practice has become a beautiful counter to my hectic life. Plus in this hot summer it is an excellent way to cool the body down. While it's not always easy to relax one's mind and body, the benefits are abundant.
Read on as Christine, a Yoga District teacher, highlights the principles and practices of Restorative Yoga.
If you're wondering about Restorative Yoga then don't be afraid to try it. Feel free to attend one of our Restorative Yoga classes  and Christine's upcoming workshop (listed in post).
How many times have you heard yoga teachers talk about letting go of our egos?  It sounds good, but what does that even mean?  I remember thinking, "I don't have an ego."  I used to associate egoism with people who litter, butt in line, and talk excessively about themselves.
It wasn't until I discovered yoga that I started to understand my own ego, the barriers that it creates in my life, and how to let it go.  Our egos are manifestations of all our attachments, desires, judgments, expectations, self-imposed limits, and imagined pain and sorrow.  It's not who we really are, but rather a warped reflection.
Imagine your face.  Have you actually seen your face?  Unless you have had a clear out of body experience, then you probably haven't.  Chances are you have only seen a reflection of your face via a mirror.  If the mirror had even the slightest bulge, concavity, discoloration, or other imperfection, then you saw a distorted reflection of your face.  Our egos are like the mirror, and the chatter of the mind (chitta vritti) creates the ripples or modifications in the reflection.   This is the same analogy that Sri Swami Satchidananda provides in his translation of the Yoga Sutras of Patanjali.  The whole point of yoga is to overcome the mental chatter that prevents us from connecting with our true selves.
When it comes down to it, we create our own reality.  How awesome is that!? Seriously, we do.  The next time you're in a difficult yoga pose (or other seemingly-binding life situation), try to notice the thoughts that emerge.  If you think you are suffering, then you're suffering.  This is the ego talking.  Pain can be eliminated by simply changing how you think, swapping negative thoughts with positive thoughts.  Simple as that.  We tend to self-identify with the stuff in our life, looking to mitigate our pain and find contentment through things like alcohol, a new wardrobe, a bigger house, or the ability to touch our toes.  Once we attain these things, the excitement eventually fades, leaving our minds to scramble to fill the void—a continuous, unfulfilling ego-driven cycle.
In reality, it's much simpler.  We already have it all, but our ego is the only thing standing in the way.  Practicing yoga, we begin to find liberation from our ego; we discover where we are holding tension and let go of all those things we don't need.  We learn to cultivate a balance between effort and ease in our minds, bodies, and breath, realizing our true and complete selves.  If you have ever experienced that blissed-out feeling at the end of yoga class, resting in Savasana (ahhhh…), the feeling of ultimate freedom, peace and connection with everything, then you know exactly what I'm talking about.  Allow your yoga practice to transform your life, get in touch with who you really are, and carry that truly beautiful, radiant self off the mat.  Shine on my fellow yogis, shine on.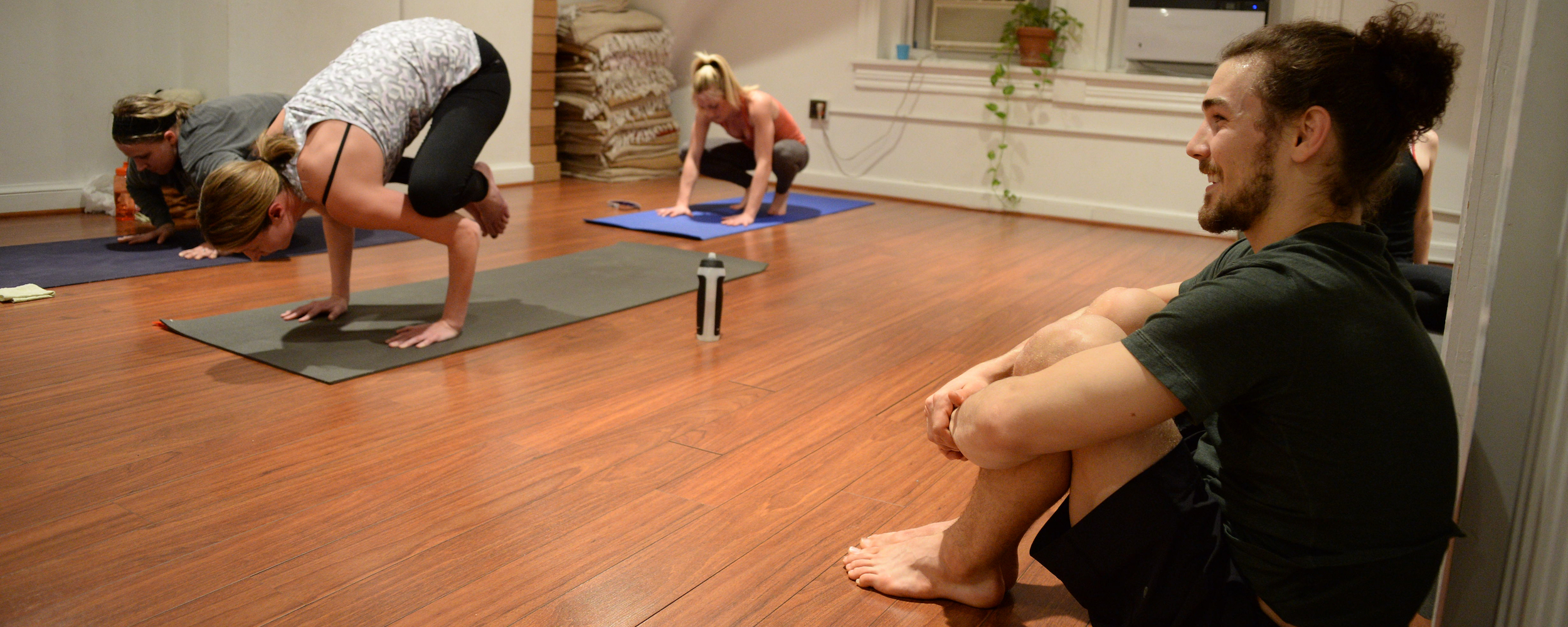 The diverse family of DC yoga teachers at Yoga District are dedicated to making yoga accessible to everyone through a huge variety of yoga class types, from vinyasa flow to restorative and beyond. Most Yoga District teachers are graduates of Yoga District's nationally-attended 200 hour teacher training program. All Yoga District classes focus on coordinating breath with body movement to promote flexibility, strength, and peace of mind. We strongly believe in yoga as therapy, so catch one of our classes whenever you need a healthy dose of self-care.
See all yoga teachers »

The Yoga District 200 and 500 hour teacher training certification programs, registered by the Yoga Alliance are unique in their emphasis on diversity of teaching styles studied, personal attention, and trauma sensitive yoga. It's no coincidence that Yoga District is regularly voted the leading studio in the nation's capital, and that most of its classes are taught by graduates of its training program. As a full time yoga school, small group trainings are led up to eight times a year by a dedicated faculty including Jasmine Chehrazi, contributor to the Harvard Karma Yoga Project teacher training, teacher training faculty at George Washington University, Yoga Alliance Standards Committee Advisory Board Member, Yoga Activist Founder, and Yoga Service Council Advisory Board Member. So take your practice and community involvement to the next level by joining a training. There's a reason why our graduates call the training "transformative."
Check out the yoga teacher training »